JACKSONVILLE – The life of an NFL rookie quarterback is glamorous when you're the No. 1 overall pick: The Draft, minicamp, the excitement that surrounds the first preseason appearance and the buildup to Week 1…
Then, the regular season begins. Then, it's really just hard.
Jaguars rookie quarterback Trevor Lawrence found out again Sunday you can't just overpower an NFL opponent. He said as much this past week, but with the rush bearing down on him in the third quarter Sunday, he went for it – off-balance – and threw off his back foot.
A beautifully-designed flea flicker became a ghastly mistake that cost the Jaguars a chance at their first win of the season.
"You look back now and I just … it's going to be a hard one to get out of my mind," Jaguars Head Coach Urban Meyer said of deciding to be aggressive with a 19-17 lead late in the third quarter of a 31-19 loss to the Arizona Cardinals at TIAA Bank Field Sunday.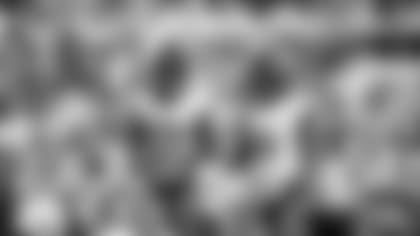 "I heard it go come the headsets and obviously I didn't stop it," Meyer added of the flea-flicker play that ended when Cardinals cornerback Byron Murphy Jr. returned an interception off Lawrence 29 yards for a touchdown and a 24-19 lead the Cardinals never relinquished.
Wide receiver DJ Chark had a step on his defender on the play, but pressure led to the costliest of Lawrence's two interceptions Sunday.
"I looked up and saw DJ behind the defense," Meyer said. "We were behind them and it was a big one and then I looked up and the ball is picked. That's a decision I made a long time ago to be aggressive. You've got to be smart but be aggressive."
Lawrence blamed himself for his seventh interception in three NFL games, but he isn't about to let rookie mistakes diminish his confidence in himself and his teammates.
"As far as making better decisions, that's got to change for sure," Lawrence said. "But I've got to be the same guy. I still have to go play, I can't play timid, not take any shots or chances. I feel like I am learning a lot."
"I thought, honestly, besides the one pick on the flea-flicker play I thought my decisions were great. I thought we moved the ball, we executed well, I thought I was a lot more accurate than I had been the past two games. I'm going to be the same person every day, that's not going to change, I think that's part of the reason why I am here. … We're going to be all right."
"He's a unique cat, now. I know what he's going to be like tomorrow, same way he was last week. He's one of the most consistent players I've ever been around…leadership, intangibles, the work ethic, character, the desire to be great, the support of his teammates and support of his teammates. He's a very unique guy. I've been really fortunate to coach some really elite, elite players and he's one of the most elite, just the way he handles himself." Head Coach Urban Meyer said of Lawrence
"Keep going," Jones said when asked his advice for Lawrence as the Jaguars prepare to play the Cincinnati Bengals at Paul Brown Stadium in Cincinnati Thursday. "I know the type of personality he is, and he'll keep going. That's all you say, that's all you need to say. He's very mature, especially for his age and being a rookie and I know nobody is going to work harder than him to go on Thursday and put up a good performance.
"Me, as a vet, I say, 'Go home and drink some wine.' That's what I'm going to do."
Jones has been in the NFL long enough to know how rare and special a "kick six" is. Jamal Agnew's 109-yard return of Matt Prater's 68-yard field goal attempt for a touchdown not only tied the NFL record for longest play, it was the first time a since 2013 when Cordarrelle Patterson did it for Minnesota and only the third time in NFL history there has been a 109-yard play. "When he touched it," Jones said when asked about when he knew Agnew was going to score. "That's my guy and I know when he gets the ball, and all those linemen were on the field, I was like 'It's over.' You know when the ball is in his hands and I said this when I first got here: he deserves all the hype that he gets because he's one of the best if not the best in the league. I wasn't too shocked, but it was a great moment for the team."
Meyer said following Sunday's game cornerbacks Tre Herndon and CJ Henderson are both expected to play against the Cincinnati Bengals Sunday. Henderson missed Sunday's game with a groin/illness issue and Herndon missed a third consecutive game to start the season with a medial collateral ligament injury. Rookie Tyson Campbell, a starter at nickel in Week 2, started opposite veteran Shaquill Griffin Sunday.
Agnew: "We're getting there. You can see from Week 1 to Week 2 to Week 3. Offensively, we're getting a little bit better. Defensively, we're getting a little bit better. Special teams, there are things we can clean up. We're trending upward."
Jones on Lawrence: "He's our quarterback. We rally behind him. He's very promising and the kind of throws he makes, you know he's going to be a great quarterback. As an offense as a whole, we need to find ways to make the big play constantly and we'll be right on track."