Head coach Urban Meyer showed little emotion on the sidelines Sunday, which was notable for a man who is known to express what he's thinking and feeling quite freely for all to see.
Part of that perhaps was the reality that the Jaguars weren't going to be able to overcome all of their mistakes Sunday. Meyer, who rarely lost during a 17-year college coaching career, has steeled himself for the ride with a team that has now lost 16 consecutive games.
He minced no words postgame and had the demeanor of a man who understands.
"I've been warned for a long time that this is a marathon, not a sprint," Meyer said following the Jaguars' 37-21 loss to the Houston Texans Sunday at NRG Stadium. "Calm down, relax, not relax but onward soldier. Let's go back to work on Monday.
"We're still a work in progress. I did not anticipate that today, I thought our guys worked really hard. I believe deeply in this team. We'll work our tails off and line up and go again."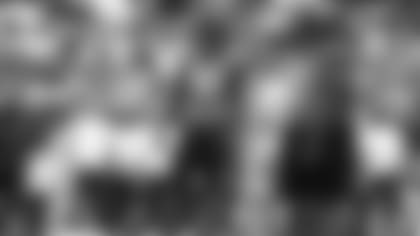 Defensive end Josh Allen has been down this road before. The Jaguars won only six games his rookie season and one in his second. Like Meyer, he didn't expect things to go sideways in Houston, but he isn't about to let a bad day take his focus away from what's important.
"It's one game," Allen said. "It's football and we're going to come back next week; we're going to work on the things we need to work on and we're going to come back swinging. That's all we can do. We're going to kick it, it's still going to be us, you know what I'm saying? By the end of the day ain't nothing going to change …this isn't going to define us.
"We lost and this is a bad feeling. I'm not going to say it isn't a bad feeling, it sucks. We've got to get better and for the team as a whole we're going to jell back. We're all grown men, we're going to look at this, make the corrections and we're going to move on."
Rookie quarterback Trevor Lawrence doesn't have the same experience as Allen. Sunday was the first time he has lost in the regular season in his entire football career.
But he, like the coach, knew things would be different in the NFL. He was focused in the post-game on figuring it out and coming back better next Sunday.
"We have to keep trusting it (Urban Meyer's process)," Lawrence said. "Obviously there's ups and downs. We didn't start great, but then right after that first drive we kind of had some momentum, started playing well and then just up and down the whole game.
'I just kept telling the offensive line, all of us just stick together, keep making plays and at the end I know it didn't change the game but going and scoring right there, I like how we fought and got that last drive, a two-minute drill, put it in, it looked clean that was great, I thought that was good for us…we kept playing."
The Jaguars have now lost seven consecutive games to Houston and in each of those they were outrushed and turned the ball over multiple times. On Sunday the Texans finished with 160 yards, 84 more than the Jaguars, and they had three interceptions. The rushing numbers were exaggerated by a team that didn't have to throw the ball in the second half and could just keep pounding. The lack of a single take-away bothered the third-year defender more than the rushing numbers. "We got to get the ball," said Allen. "That's one thing we have to really harp on is to get the ball. We didn't have that many opportunities to get the ball, but we've got to go get it. That's up to me and to all the other defensive players, we've got to get the ball, we've got to."
Lawrence hadn't thrown two interceptions in a game in nearly two years and threw three at NRG Stadium. He knew as soon as he let go of the ball on the first that he had made a mistake. "I'm kind of a perfectionist and it's frustrating because I did some things I don't normally do," he said. "The first one I knew the corner just dropped back into coverage and picked it. Right when it left my hand it was like 'damn, this is going to be a pick right here.' That's usually the case; right when you let it go you know what you did. I've got to get better, play smarter."