JACKSONVILLE – The Jaguars news Monday was there wasn't much news.
Trevor Lawrence sustained a knee injury Sunday, which made him the Jaguars' No. 1 storyline Monday. Head Coach Doug Pederson on Monday updated the quarterback's status.
"Day to day," Pederson said.
Jaguars backup quarterback C.J. Beathard played the final series Sunday, kneeling three times for losses of two yards to run the final 1:45 from the game clock. Pederson said Beathard and Lawrence could share practice repetitions this week.
"Possibly, if Trevor's sore," Pederson said.
Beathard took practice reps last season after Lawrence sustained a knee injury in a Week 13 loss to the Detroit Lions.
"We've done this before," Pederson said. "We did last year, where C.J. took the Wednesday reps and then Trevor took the rest of the week [and was] ready to play the game. It's possible that happens."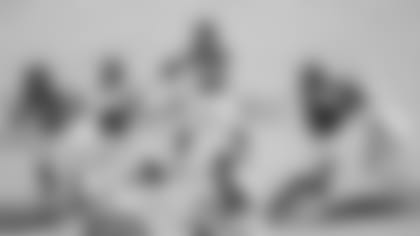 Beathard, a seven-year NFL veteran, has completed 302 of 512 passes for 3,546 yards and 18 touchdowns with 14 interceptions in 27 NFL appearances. He is 2-10 as an NFL starter, with all 12 starts coming with the San Francisco 49ers from 2017-2020.
Beathard has played in eight games in three Jaguars seasons, completing 11 of 15 passes for 77 yards and no touchdowns with an interception.
"A lot of confidence in C.J., if that's the case," Pederson said. "He prepares himself each week as if he's the starter. He does a great job in-game with Trevor, the communication there. I've seen it the last year and a half being around him. I know he'll be ready just like he always is."
Lawrence sustained the injury on a third-and-7 from the Colts 16 with 3:10 remaining Sunday. Lawrence on the play rolled to his left and was sacked by Colts linebacker Samson Ebukam for a 17-yard loss.
"I'm a hundred percent behind the play call," Pederson said. "It's part on us, part on players. We put our players in situations where we have to understand the situation. We had talked about taking the short sack in a situation like that. If you don't feel like you can get outside, you just go down. Part of that's on the player, and we can coach that better. We can emphasize that more.
"It's something a lot of teams do in situations like that, get the quarterback on the edge. Defensively, they're pinching gaps and edge pressures. It's a good way of getting your quarterback on the perimeter to get the first down and pretty much ice the game at that point.
"Then again, as coaches, too, we can instruct our quarterback better, coach him better and understand that if you can't get outside, just go down."
Cornerback Tyson Campbell likely will miss the New Orleans game with a hamstring injury sustained Sunday, Pederson said Monday. Pederson said right guard Brandon Scherff, like Lawrence, is "day-to-day" with an ankle injury sustained Sunday. "Both are feeling better today," Pederson said of Lawrence/Scherff. "They're sore, obviously, but they're day to day." Pederson said wide receiver Zay Jones and left guard Walker Little, both of whom missed Sunday after leaving a victory over Buffalo the previous week with knee injuries, remain day-to-day. "Obviously non-committal on this game just yet," Pederson said of Little/Jones.