JACKSONVILLE – Nothing about Darrell Bevell's week was easy.
And no, after less than 48 hours as the Jaguars' interim head coach, Bevell wasn't yet into a routine. Far from it.
"I'm not adjusted right now," he said, smiling.
This was Friday, the final time Bevell will speak to the media before the Jaguars (2-11) play the Houston Texans (2-11) at TIAA Bank Field Sunday at 1 p.m. Bevell became the Jaguars' interim head coach late Wednesday following the dismissal of former Head Coach Urban Meyer.
The time since has been expectedly full, with the unexpected element of the NFL on Thursday announcing new COVID-19 protocols. Among the changes: a return to videoconference meetings, with players and coaches meeting via Zoom from home before practicing at TIAA Bank Field late Friday morning.
"That's where I just came from," Bevell said Friday morning. "I'm trying to adjust the schedule and figure out, 'Do we do the virtual? Can we get them here?' We're trying to juggle that around. Today's schedule is set. Tomorrow's what we're working on right now."
"I like to have a structure and be able to have a schedule, but things come up and you have to roll with it."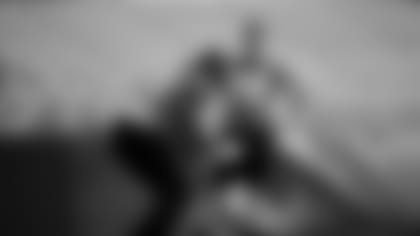 The Jaguars enter Sunday's game having lost five consecutive games, their second five-game losing streak of the season. They lost 20-0 to the Tennessee Titans last Sunday, their first shutout loss since 2009, and Bevell was asked Friday if lineup changes were possible.
"That's very much under consideration," Bevell said. "It's a business where you have to go out and you have to produce. If we're not producing, changes need to be made at times. One of the things we like to do here is make sure we handle things the right way. We don't say, 'Hey, you're done.'"
"It's important to say, 'Hey, here's what we see. You need to pick it up. If you don't pick it up, here are the ramifications.' At least give them the opportunity to pick up the level of play."
Bevell also said Friday the Jaguars won't play necessarily play young players the rest of the season just to see them play, emphasizing that the focus will remain on winning.
"That's communication amongst us, all as a staff, to find out who's ready to go and who's playing well," Bevell said. "I don't think we're going to just wholesale make changes to put guys in the lineup at this point. We have starters for a reason. We're going to continue to move with those guys to see where it takes us."
"I don't think we're going to just implement a young guy to see what he can do at this point."
Bevell said if rookie tackle Walker Little were to get an opportunity, the team is comfortable playing him at either tackle position— right or left.
Running back Carlos Hyde will miss Sunday's game after being in the concussion protocol since last Sunday's loss to Tennessee. He said all other Jaguars players on the injury report this week are expected to be available Sunday. The list: wide receivers Tavon Austin (rest, Wednesday) and Marvin Jones Jr. (rest, Wednesday), defensive end/linebacker Josh Allen (shoulder), center Brandon Linder (back), guard Andrew Norwell (back), right tackle Jawaan Taylor (ankle), guard Ben Bartch (back), running back James Robinson (heel/knee), linebacker Myles Jack (knee) and defensive lineman Malcom Brown (toe).