"Obviously a thing of beauty," said Jaguars Head Coach Doug Pederson, who said he "didn't say a word" to Patterson before the final kick. "Obviously this is a big moment for him, and for him to make that kick under these circumstances is great for his career, too."
The Jaguars trailed 27-0 in the first half, with quarterback Trevor Lawrence throwing touchdown passes on four consecutive possessions to trim the lead to 30-28 with 5:25 remaining. After the defense forced a Chargers punt without a first down, the Jaguars drove 61 yards to set up Patterson's field goal.
Patterson's field goal sailed just inside the right upright.
"Playoff game at home – like it doesn't get much better than that," Patterson said. "You dream of stuff like this as a kicker."
Patterson said he started thinking he might have a chance to tie the game and send it to overtime with the Jaguars trailing 30-20 at the end of the third quarter. Lawrence's two-point dive cut the lead to two and changed Patterson's thinking.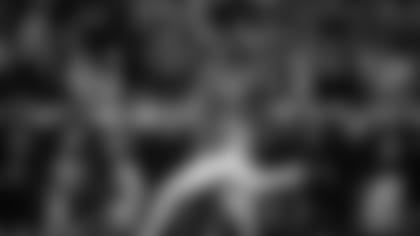 "I'm like, 'Wow, we could win this on a field goal,''' Patterson said. "But at the same time, we're professionals and try not to think too far ahead, just kind of stay in the zone and keep my heartbeat down and stay locked in as much as I can."
Patterson joined the Jaguars in late August off waivers from the Detroit Lions. He was the sixth kicker the team used in training camp – a list that included Andrew Mevis, Ryan Santoso, Elliott Fry, James McCourt and Jake Verity.
Patterson converted 30 of 35 field goals in the regular season, including 16 of his last 17 after converting three of six during a two-game stretch against the Las Vegas Raiders and Kansas City Chiefs.
"I'm just proud of him for battling through a little shaky start to start the season, but he's really locked in here at the end of the year, and nothing greater than that kick here at the end," Pederson said.
Running back Travis Etienne Jr. rushed for 109 yards on 20 carries, with the highlight a 25-yard run on fourth-and-one from the Chargers 41 with 1:30 remaining. Etienne lined up as the left-most back in a three-back set behind quarterback Trevor Lawrence, then ran around the right side of the line after a handoff. He then stayed in bounds, allowing the clock to run with Patterson's game-winning field goal coming two plays later. "I was just trying to win the game," Etienne said. "I was just trying to ice the game. I'm happy coach called my name, honestly, called my number. And I feel like anytime coach calls my number I'm ready and I was able to show it with that play."
The Jaguars' victory after trailing by 27 points marked the largest come-from-behind victory in franchise history. They had rallied from 17 points behind to win twice this season – in a 27-20 victory over the Las Vegas Raiders and a 40-34 overtime victory over the Dallas Cowboys. They trailed by 17, nine, 17 and 10 points in their last four regular-season home games before rallying to win. Saturday's victory marked the third-largest come-from-behind postseason victory in NFL history behind a 32-point rally by the Buffalo Bills over the Houston Oilers in 1993 and a 28-point rally by the Indianapolis Colts over the Kanas City Chiefs in 2014. "I told the boys, 'I don't like my odds, but I love my chances,''' linebacker Foye Oluokun said. "As long as there's a little probability of winning at all, we're going to keep fighting. We saw the tables start turning, we had momentum, we kept that, we keep getting the ball back to the offense and they started rolling."
Lawrence: "It's really cool to see what can happen when everybody believes. I wouldn't have been able to do what I did today if we didn't believe in one another. I threw four picks in the first half, and those guys beside me on offense and the guys on the other side of the ball didn't ever lose faith in me, and that's one thing that makes it easier, when you know you've got guys that believe in you, no matter what the circumstances are."