JACKSONVILLE – Close is no longer enough, and it never was.
And while the frustration felt by the Jaguars in recent weeks is real, quarterback Trevor Lawrence on Wednesday agreed with teammates that it's overshadowed by a resolve to end their ongoing, one-score losing streak and the accompanying frustration.
"I've said it before and I'm kind of sick of saying it, but we know we're a good team," Lawrence said Wednesday as the Jaguars (2-6) prepared to play the Las Vegas Raiders (2-5) at TIAA Bank Field in Jacksonville Sunday at 1 p.m. "At the end of the day, you've got to go win."
The Jaguars, after leading the AFC South at 2-1 in September, have lost five consecutive games – including a 21-17 loss to the Denver Broncos at Wembley Stadium in London last Sunday. Still, players on Wednesday said they have not given up on this season.
"I think we're still in a position to get to where we need to be," Jaguars outside linebacker Josh Allen said. "We don't want to get in a position where we're not playing for anything."
Said wide receiver Christian Kirk, "We all realize the opportunity in front of us and we still have nine weeks left. We can still make this thing into what we want to make it."
The Jaguars are in third place in the AFC South behind the Tennessee Titans (5-2) and Indianapolis Colts (3-4-1) with the Houston Texans in fourth place (1-5-1). The Los Angeles Chargers are in the seventh and final AFC playoff slot at 4-3 with all other AFC teams at or below .500.
"Right now, we're still in a position that we can still play for what we wanted to play for at the beginning of the year," Allen said. "It might not look like it, but it's really open for every team. We have to make hay where we do, and we have to win games.
"We have to win games right now. If we keep losing and we win games Week 15, it doesn't do anything for us. We've got to win now."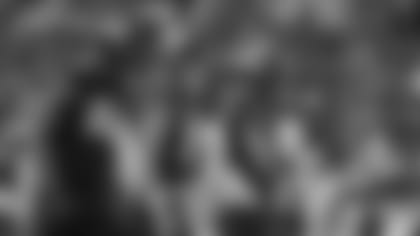 All five Jaguars losses this season have been by a score or less and they have led in every game they have played this season. They also have led by double digits in three of the last five games, with the defense allowing a go-ahead touchdown in the last six minutes in each of the last four games.
Lawrence during the five-game losing streak twice has driven the offense for go-ahead fourth-quarter touchdowns – against the Indianapolis Colts in Week 6 and against the Broncos Sunday. But he has struggled during the span in the red zone, three times throwing interceptions there – including an end-zone interception against the Broncos.
"The way it's gone, each game has kind of been its own story of what has happened, but still the same message of, 'Right there and losing by a possession,'" Lawrence said. "Obviously that starts to bubble up. People start to get frustrated.
"I was frustrated for a couple of days after the game and even carrying into today – it just gives us that edge to go back and work."
Lawrence also threw an interception against the Broncos on the Jaguars' final offensive play, a play that came with 1:43 remaining on the play following Denver's go-ahead touchdown.
"I know I didn't give us the best chance to win, and I'm disappointed in that," Lawrence said. "Guys work too hard for that. There's definitely frustration. Guys talk about it, and I think that's the great thing about our team. Guys communicate.
"You don't put on a smile and act like everything's all right. It's not. We've lost five in a row. Everybody's pissed and frustrated. Not at each other. There's no pointing the finger. But we all understand and have that dialogue of what we need to do.
"Everybody knows what we need to do. We just need to go do it."
Wide receiver Jamal Agnew was listed as practicing limited with a knee injury on the Jaguars' first injury report of the week Wednesday. Agnew has missed the last two games with the injury and was the lone player listed on Wednesday's report.