INDIANAPOLIS, Ind. – Trevor Lawrence's growth must continue.
The Jaguars' young, ascending quarterback made major strides in 2022 – strides that produced personal statistical improvement and equal improvement in the team's results. As Jaguars Head Coach Doug Pederson sees it, Lawrence can make more strides next season.
And he can make them in many significant areas.
"As good as he was at the end of the year, he can be better," Pederson said.
Pederson, now entering his second season with the Jaguars, spoke often during his first season about a potential "second-year jump" for Lawrence and the offense in a second season in Pederson's system. He discussed how that might look when speaking to the media this week at the 2023 NFL Scouting Combine:
"I think the next step for Trevor is just another step in the leadership role. Last year was probably about learning – learning a new offense, learning to play this game, learning the bunch of different aspects of playing quarterback in the National Football League."
"That's the next step," Pederson said. "That's the challenge for him, again – to take as great as he was and be better. That's the challenge that that we'll have for him when he gets back in April [for the Jaguars offseason program]. I know that'll be the challenge that he'll put on himself, too – to play and be a better version of himself moving forward."
He completed 15 touchdown passes with two interceptions as the Jaguars won seven of their last nine games.
"Where I saw him grow the most was just trust – trust within the process, what it takes to be a great player in this league at that position," Jaguars General Manager Trent Baalke said. "The trust he built up with the offensive staff, from Doug on down, is critical. Now he's going to have the chance to take what he learned this year and move forward into the same system with the same group of core playmakers potentially around him.
"I think those are the things you look at when you look at Trevor's situation right now."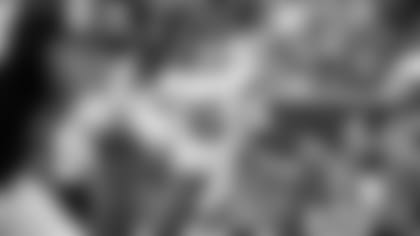 Pederson this week also discussed the importance of QB C.J. Beathard, who re-signed as Lawrence's backup last week: "It's an unselfish role. You have to take a back seat. Normally, it's hard for a quarterback, because you want to play. You want them to push the starter, but not threaten the starter. It was great to get C.J. signed for a couple of years. He's the perfect guy for Trevor because he's a veteran guy. He has started games in this league. He knows our offense and he can really be another set of eyes for Trevor. That's what a backup does. You push him from the standpoint of making Trevor better, but at the same time, you're never threatening that position. To me that's what makes a solid backup."
The Jaguars not only re-signed Beathard recently, they also signed defensive lineman Roy Robertson-Harris to a multi-year extension – two of what the team hopes will be multiple moves this offseason to keep much of the core of the 2021 AFC Champions together. Jaguars have multiple other key players scheduled to become unrestricted free agents at the March 15 start of the 2023 League Year – a list that includes right tackle Jawaan Taylor, tight end Evan Engram and outside linebacker Arden Key. Baalke said this week he has met with the representation of Taylor and Engram and that the sides are in the early stages of negotiating. "I think it's everything," Pederson said of roster continuity. "You try to keep your core together. You try to sign as many of your free-agent players as you can. In this business, you're going to lose some. We know that. You try to sign them all if you can. We've got some talented guys that we would like to have back, but we'll wait and see how the process plays itself out."