JACKSONVILLE – The Jaguars want improvement in many areas in 2023.
Among those areas: Travon Walker, Devin Lloyd and Chad Muma – a trio of young, front-seven defensive players who contributed significantly in 2022 and who ideally can contribute in a bigger way next season.
General Manager Trent Baalke this week said such improvement is possible for a simple reason.
"They know what it takes now," Baalke said during the 2023 NFL Scouting Combine. "They know how to prepare for the 18-week season, 17 games. That's a big part of it.
"Before we even got to the playoffs, these guys had played 21 football games, which is almost two full seasons in college football. So, it's a long grind."
Walker, the No. 1 overall selection in the 2022 NFL Draft, started 15 regular-season game as a rookie and registered 3.5 sacks with 10 pressures, a forced fumble, an interception and two passes defensed with five tackles for loss. He had 49 tackles, 24 solos.
Lloyd, selected No. 27 overall in '22, registered 115 tackles – second on the team – and tied for the team lead with three interceptions and defensed eight passes with two pressures and two fumble recoveries. He started 15 regular-season games.
Muma, a third-round '22 selection, started two games for Lloyd, and registered 37 tackles – 22 solos. He had 1.5 sacks with three pressures and three tackles for loss with a pass defensed.
Baalke said in addition to being more prepared for the length of season, young players often are more prepared mentally entering their second season.
"The mental part of the game is so much different at the NFL level, how much they have to process and understand within the system and what they're doing each week in the game plan," Baalke said. "In college, it's not as much. The playbook's not as thick, the adjustment packages aren't as much. The adjustments from week to week to week aren't what they are at this level.
"It's a mentally exhausting process to go through Year One. Seeing them understand that as they do now will always allow for that second-year jump."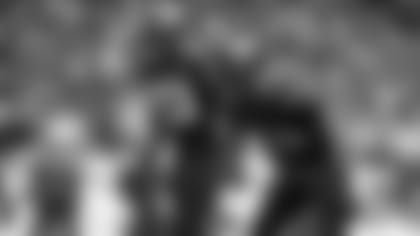 Head Coach Doug Pederson this week praised Travis Etienne Jr., who returned from a Lisfranc injury that cost him his 2021 rookie season to emerge as the team's starting running back in 2022. Etienne started the final 12 games, rushing for 1,125 yards and five touchdowns and registering five 100-yard rushing games in the regular season and another in the postseason. "I think the biggest thing for me was I loved his toughness, his physicality," Pederson said. "He is not a big guy, but he is very physical when he runs and he can be elusive. He has good speed and he's just going to get better as a runner when he gets a chance to go back and watch when he did last year in our system. There are going to be times when he's going to say, 'I should have hit it here.' That's the growth mentality that he'll have. I'm just excited for him, getting back in our system, to watch the growth in him."
Pederson on the 2022 season after being out of coaching in 2021: "It was a lot of fun for me. You know, '21 was big to take a step away from the game, to sort of refocus and recharge, then to come here in Jacksonville and be around the type of men that we assembled as a staff. Working with Trent Baalke and obviously the team, it just rejuvenates you even more. and you just want to keep pouring yourself into these players and keep watching. There's more out there for us. That's what I was trying to teach the team as the season progressed. There's more for us, there's bigger and better. Every team every year is wanting to win a world championship. Only one team can do it. Ultimately, we want to be one of those teams."
Baalke on the recent re-signings of backup quarterback C.J. Beathard and running back JaMycal Hasty: "We're trying to keep the core together and the core is not just frontline players; it's guys at every level of the 53, every guy on that team. When you're talking about 53 players, every one of those players is important. C.J. and JaMycal are two guys that are key guys in that locker room. They're key contributors, not only on the field, but in the community within the leadership of the team. There are a lot of things that go into that, but we're glad that they're aboard for another two years and looking forward."