INDIANAPOLIS, Ind. – This is a new era, a new circumstance.
When discussing moving forward into that time, Trent Baalke on Tuesday reiterated what he previously had made clear: The 2023 offseason won't look like recent Jaguars offseasons.
"We're at a point now where it's draft and develop," he said.
Baalke, entering his third full season as Jaguars general manager, spoke to the media Tuesday as the 2023 NFL Scouting Combine began at Lucas Oil Stadium in downtown Indianapolis – with Jaguars Head Coach Doug Pederson also speaking Tuesday. Both discussed multiple Jaguars-related topics, and both emphasized maintaining the momentum of last season's AFC South title-winning season.
"I feel like we've got the right guys, the right makeup, the chemistry," Pederson said. "The locker room is solid – and those are the things you build on."
That means taking a different approach from past offseasons.
Baalke said whereas the Jaguars "delved heavily into" unrestricted free agency the past two offseasons, this offseason is more about maintaining the core of the roster. That reportedly has meant restructuring the contracts of players such as linebacker Foye Oluokun, wide receivers Christian Kirk and Zay Jones and offensive lineman Brandon Scherff.
"We have a nice core of young players," Baalke said. "We feel really good about that group with a good mix of veteran guys with a lot of experience. The whole thing for us now is about the locker room, making sure we keep the locker room where we've got it."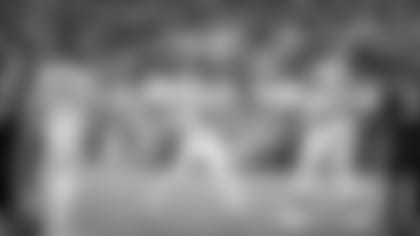 Multiple Jaguars players are projected to become unrestricted free agents at the March 15 start of the 2023 NFL League Year, with two of the more-discussed players of that group being tight end Evan Engram and right tackle Jawaan Taylor.
Baalke said he spoke with Taylor's representation Tuesday and has met with the representation of both players.
"We've just really begun negotiating phase," Baalke said. "We're just talking through things. We have a window here before free agency actually opens to try to close those deals."
Baalke said he, Pederson and Owner Shad Khan agree that it's "very important for us to keep our core players together."
"It has to make sense for both sides," Baalke said. "It has to be a win-win. We've told that to the players, and we strongly believe in keeping this group together. I think the actions we've taken over the last week, week and a half, are going allow us to do that, or at least put our best foot forward."
Multiple recent restructurings have involved moving a player's "salary-cap hit" from the 2023 season to future seasons, a process known in the NFL as "pushing money into the future" and something the Jaguars haven't done often in recent seasons.
"As long as it's the right guys, you have do it," Baalke said. "You have to do what it takes to keep those guys together. We're very fortunate right now we've got a great locker that's a bunch of guys that are committed to each other. They trust each other, they believe in each other. That's what you're looking for.
"Every player that we're trying to add or keep within that core are going to be guys that you feel fit the culture that we're trying to build."
Baalke said the Jaguars are in "good shape from a cap standpoint" following the moves.
"We met with ownership, the coaching staff and the personnel staff over the last couple of weeks to really hammer out what's best for us today and as we move into the future," he said. "It's that collaboration, the willingness of our ownership to step up and do what we needed to do financially to make this all come to fruition.
"We've still got a lot of work to do. We have to finish the race. That's where we're at right now."
Baalke and Pederson on Tuesday both discussed Calvin Ridley, saying they have heard nothing from the NFL regarding the reinstatement of the veteran wide receiver. Ridley, acquired by the Jaguars in a trade from the Atlanta Falcons last November, currently remains under the NFL suspension that kept him out last season. He reportedly applied for reinstatement on February 15, the first day he was eligible to do so. "That's a league matter right now," Baalke said. "We're going to let the league deal with it on the timeframe they see fit. We're looking forward obviously to getting our hands on Calvin and working with him, and getting to know him as a person and as a player. But right now that's in the league's hands and we'll let them deal with it."