JACKSONVILLE – There's front-line talent at running back. A lot of it.
Whether that means the position will be treated as such during the 2023 NFL Draft is a different question.
Bijan Robinson of the University of Texas is considered the best of a talented '23 running back class and is an elite player. But with the league increasingly devaluing the position, even a player as talented as Robinson may not be selected in the Top 10 come the end of April.
"It's a really solid group of running backs," NFL and Jaguars Media analyst Bucky Brooks told jaguars.com recently. "They're guys that are probably undervalued because of the trend in the National Football League. But these guys can play."
NFL Network Draft analyst Daniel Jeremiah called the running backs in the '23 class "Really solid. It's a really deep group."
The draft's unquestioned top player at the position is Robinson, who Jeremiah calls "not only the best running back in this class, he is one of the five best players in this class."
"He is elite," Jeremiah said. "He is, no doubt about it to me, one of the premier, premier players in the draft."
Brooks called Robinson the one running back in this class with "Saquon Barkley-type" ability.
"He can run, he can catch, and he can do special things with the ball in his hand," Brooks said. "He has the size and all the other things you look for in a workhorse back."
ESPN draft analyst Mel Kiper Jr. praised Robinson's balance and called him a "natural runner."
"He's very instinctive," Kiper said. "He'll block. He'll catch out of the backfield very effectively. He's anywhere from No. 6 to no. 9 on the Big Board. You grade on ability. You don't grade on philosophy. It just depends on what team values that player."
Jeremiah, speaking on a pre-draft conference call, then said even as good as Robinson is it's unclear just where he will be selected. He said he has asked officials from multiple teams that question.
"All of them say, 'I have no idea,''' Jeremiah said. "Does he go under the 20s? If he were to go in the Top 10 he would not get laughs around the league because people know how good this guy is. So, I just don't know where to put him."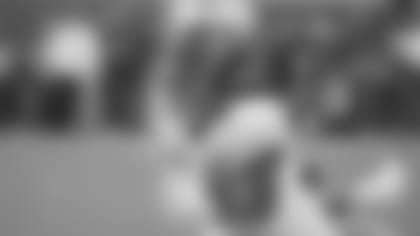 Many observers also consider running back Jahmyr Gibbs of Alabama a first-round talent, with multiple running backs – including Devon Achane of Texas A&M and Zach Charbonnet of UCLA – also considered worthy of being selection in Rounds 2 and 3.
Other potential Day 2 backs include Tyjae Spears of Tulane, Roschon Johnson of Texas, Tank Bigsby of Auburn, Zach Evans of Ole Miss, Eric Gray of Oklahoma and DeWayne McBride of Alabama-Birmingham.
"I have got 13 running backs that I gave top-three round grade," Jeremiah said. "Those are starter-level players, which means not all those guys because of the value of the position are going to go in the third round. Some of these guys are going to go in the fourth and fifth round this year. You are going to get good players."
Kiper on how the NFL views running backs: "They value them. They just don't prioritize them in the first round. I think that's what you have to differentiate there. They certainly have great value as players and what they mean to your team. You get immediate production out of a rookie. It's the only position in football where a rookie can be expected to play as good or better that year than he will his entire career. They are ready to go. As long as they can block, they're plug and play."
This doesn't appear to be a pressing need for the Jaguars entering the 2023 NFL Draft. Travis Etienne Jr., entering his third NFL season in 2023 rushed for 1,125 yards and five touchdowns on 220 carries in 2022 after missing his rookie season with a Lisfranc injury. The Jaguars also addressed depth here this offseason in a significant way when they signed fifth-year veteran D'Ernest Johnson as an unrestricted free agent from the Cleveland Browns; Johnson flashed at times in four seasons in Cleveland and gives the Jaguars physicality at the position. JaMycal Hasty, the backup running back last season, also will return – as will second-year veteran Snoop Conner, a fifth-round selection in the 2023 NFL Draft. The Jaguars also signed fourth-year veteran Qadree Ollison as a free agent this offseason. The Jaguars could address this position late in the draft, but perhaps not before.
CHANCE JAGUARS TAKE A RUNNING BACK IN ROUND 1
RBs ON THE JAGUARS ROSTER
Travis Etienne Jr.
D'Ernest Johnson
JaMycal Hasty
Snoop Conner
Qadry Ollison
BROOKS' TOP 5 2023 RUNNING BACKS
Bijan Robinson, junior, Texas
Jahmyr Gibbs, junior, Alabama
Zach Charbonnet, senior, UCLA
Devon Achane, junior, Texas A&M
Tyjae Spears, junior, Tulane
POSSIBLE FIRST-ROUND RUNNING BACKS