JACKSONVILLE – This was nothing special, as Zay Jones saw it.
The veteran wide receiver caught a highlight touchdown pass early Sunday and followed that with a fourth-down, fourth-quarter conversion. They were clutch plays at key times, the sorts of plays that have become normal for one of the most reliable players on a talented Jaguars offense.
"I kind of classify it as just doing my job," Jones said Monday, a day after catching five passes for 55 yards and a touchdown in a 31-21 Jaguars victory over the Indianapolis Colts in the 2023 regular-season opener.
If Jones is sometimes publicly overlooked on a Jaguars offense that includes two 1,000-yard receivers (Christian Kirk and Calvin Ridley), a 1,000-yard rusher (Travis Etienne Jr.) and quarterback Trevor Lawrence, know this:
Jones isn't overlooked around the Jaguars, and Head Coach Doug Pederson spoke Monday of the connection Jones has built with Lawrence in their second season together.
(Watch the catch again 👀⬇️)
"The reason he is so reliable, No. 1, is that the quarterback trusts him," Pederson said. "He (Lawrence) knows where he's going to be. They spent going on two years together. Zay is a tremendously hard worker, he's smart, he's an intellectual guy that just understands ball. He and Trevor have logged a lot of hours throwing and catching off to the side and working on different things.
"There's that trust factor with him. Not saying he (Lawrence) doesn't have trust with other players, it's just referring to Zay."
Jones, who caught 82 passes for 823 yards and five touchdowns in 2022 – his first season with the Jaguars – was key on multiple occasions against the Colts. Perhaps most notably: an 18-yard second-quarter touchdown that Jones caught just in bounds for a 14-7 lead.
"Just a great double move," Pederson called it.
As critical: A 4-yard reception on fourth-and-2 in the fourth quarter from the Colts 15. Rookie running back Tank Bigsby's one-yard touchdown run three plays later gave the Jaguars a lead they never relinquished.
"Really, the late in the game throw that Trevor made to him, just knowing exactly where he was going to be to make that throw … that's who Zay is," Pederson said.
Added Jones, "That's why I'm here, that's what I'm supposed to do. [Wide receiver] Christian Kirk said the other day: 'We really have to appreciate these third-down moments,' how important they are. We should want those moments.
"Then, [wide receivers coach] Chad [Hall] talked about how pressure is a privilege, to be in those moments and to not shy away from it. I think just revering that moment and revering that mindset for us of understanding, 'Okay, this is why we are here. We have enough to do it here, so let's get the job done.'
"I don't think it's more so pride as it is respecting and honoring my job and why I'm here."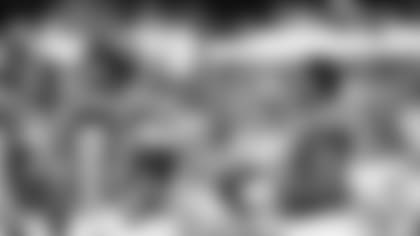 The Jaguars on Sunday held the Colts to one of five on fourth-down attempts – once at the Jaguars 16, twice at the Jaguars 42 and once at the Jaguars 1. "It's huge," Jaguars outside linebacker Josh Allen said. "If we want to be the team and the defense we know we can become, we have to make plays like that in big moments. We were in a lot of big moments this week and we capitalized, so we got to continue to go, continue to communicate well, continue to be in the right spot when you need to, and continue to make those plays. For me, it was just getting off the field. As a defense, we just think about getting off the field. That's what happens when we all communicate and when we all line up where we need to be; we all go out there and be relentless and try to make a play. That's our standard. If we continue to do that, I think we're going to have a lot of success this year."
Pederson on the importance of the home crowd when the Jaguars (1-0) play host to the defending Super Bowl champion Kansas City Chiefs (0-1) at EverBank Stadium Sunday at 1 p.m.: "I think it's going to be everything. I know it's an early start, might be a little warm, but we love to have a full crowd. Anytime you start your season at home with the defending Super Bowl champions, it's exciting. It's exciting for us as a team and for our fans. I expect a full crowd and I'm just looking forward to Sunday."
Jones: "We just hold ourselves to a high standard. We're not really not on the happy-to-be-here train. I think we're more so having unfinished business to do, and we know we can do it. I just think that we're still very hungry. Our mindset is just let's clean up the mistakes and go play a full game as an offense. A complete from first quarter to fourth quarter, I just think that's where we're at right now."