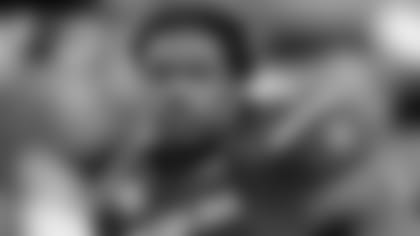 ](http://bit.ly/CombinePics022214)

INDIANAPOLIS – He stepped to the podium Saturday, and know this about Jadeveon Clowney:
He was physically impressive. Really impressive.
That could be said of many of the high-profile prospects who spoke to the media at the 2014 NFL Scouting Combine, but for Clowney – a defensive end from South Carolina long considered the most-talented player in this year's draft – physical gifts aren't the question.
And that wasn't what the media asked Clowney about Saturday.
They wanted to know about work ethic, love of the game and a lot of other intangibles, and those topics were the gist of the 15 minutes Clowney spent talking to the media at Lucas Oil Stadium Saturday.
The headline-drawing comments of South Carolina Head Coach Steve Spurrier, who in a recent NFL Network interview called Clowney's work ethic as "OK" before adding "when the ball is snapped he's got something no one else has."
"I don't really have nothing to say about it," Clowney said. "I believe I did work hard. You pull out any practice tape from last year, you'll see that. That's what I told them. I'll tell everybody that. I will always be working hard.
"No matter where I end up I am going to work hard and give a team everything I've got."
With the team holding the No. 3 selection in the 2014 NFL Draft, Jaguars Head Coach Gus Bradley was asked about Clowney when speaking to the media Friday.
"Everybody is different," Bradley said. "One thing we look at is, sometimes as a coaching staff, you may choose to attack a player but we choose to look at the positives and say, 'What traits do we like?' Maybe his junior year didn't completely go the way he wanted. Everybody is going to have struggles at times; it's about how they adjust to those and how they capture them and get better from those times."
Clowney registered three sacks in 2013 after 13 in 2012. He said on Saturday he likely would have declared for the draft last offseason had he been eligible to do so, and he likely would have been the first player selected in last year's draft.
Clowney said that season – and a highlight-of-the-year hit against Michigan in the Outback Bowl – raised expectations beyond reason.
"Yeah, coming into the next season after 'The Hit,' people were talking about sitting out, all of this, all of that," said Clowney, emphasizing the he did not play last season trying to stay healthy and protect his draft status. "A lot of people expected stuff that was impossible, like 10 sacks a game, 30 tackles-for-loss. I knew that wasn't going to happen, of course, but a lot of people expected it. I just went out there and played my game, hard and physical football, like I played my last two years there.
"Going into last season I had a lot of high expectations of myself. Things don't always happen like you plan on."
Clowney, like other top prospects such as quarterbacks Johnny Manziel, Teddy Bridgewater and Blake Bortles, said he covets being selected No. 1 overall by the Houston Texans.
"I came out of high school as the No. 1 player so I want to come out of here as the No. 1 guy," he said, and said, too, that those who question whether he will work hard after earning NFL money, are mistaken.
"I believe that once I get to the NFL, it's going to be up on my career," he said. "I just want to be the best, one of the greatest of all time. The NFL is just the next level, stepping stone in my way. Coming out of high school, I said I wanted to be one of the best in college and I think I proved that. Going to the NFL, I want to be one of the best in the NFL, go down in history as one of the best, so I have another stepping stone in my way and hopefully I will take care of business and accomplish that in the NFL."
Also around the combine Saturday:
*Bridgewater, a quarterback from Louisville who some project as a possibility for the Jaguars at No. 3, said his meeting with the Jaguars this week went well. "It was a great meeting – a lot of energy in the room," he said. "The general manager (David Caldwell) was in there. The owner (Shad Khan) was in there. I was up on the board talking football to those guys, and it was a great feeling." …
*Bridgewater, who said he will wait until his March 17 Pro Day to throw for general managers and scouts, weighed in this week at 214 pounds after finishing last season at 205. His weight has been an issue in pre-draft discussion because some believe he will have trouble putting on and maintaining enough weight for the NFL. "I just feel that to play this position you have to have durability, and I just want to prove that I can put on that weight and I am one of those guys who can last a full NFL season," he said…. Hopefully I relieved all doubts with my size. I know that I still have more weight that I can put on. Each day I'm still going to work hard, continue to add even more weight."…
*As expected, perhaps the biggest media gathering in the history of the combine surrounded Missouri defensive end Michael Sam, who shortly before the combine publicly discussed his homosexuality. Sam, who likely will become the first openly homosexual player to play in the NFL, opened his media session by saying, "Good afternoon. My name is Michael Sam. I play football for the University of Missouri. As you may know, Missouri is the Show Me State and you'd think I'd have shown you guys enough these last couple of weeks. But I'm learning with the media you guys still want more, so ask your questions and I'll answer them to the best I can."…
*Sam, who most analysts project as a third-day selection, said he has been preparing for the combine since making the announcement. He said though he didn't have a complete sense about the reaction to the announcement, the reaction he was aware of was predominately positive. "The positive outweighs the negative," he said. "I'm kind of surprised, actually. But there are a lot of supporters; a lot of people want this. There's just a lot of support out there." Sam spoke while wearing a "Stand With Sam" pride button. "I hope all you guys Stand With Sam, by the way," he said. "Please do. I went to the (Missouri) basketball game against Tennessee. A very kind lady gave it to me and I gave her a hug and I got a lot of support out there.''
*Sam also was asked his reaction if he encountered harassment or hostility in the locker room. "If someone wants to call me a name I'll have a conversation with that guy and hopefully it won't lead to anything else," he said…