JACKSONVILLE – Round 1 is in the books. At long last.
Maybe we're limping to the finish, or maybe we're peering into the glorious dawn of a new draft day to see the wonderful sight of the Jaguars' second-round selection on the crystal-blue horizon …
However you describe it, we have come at last to the end of Round 1 of the jaguars.com 2015 reader mock draft.
It wasn't always pretty, or pleasant, but we made it through selections Nos. 1 through 32. It seems a long time since Florida State quarterback Jameis Winston went No. 1 overall to the Tampa Bay Buccaneers in this draft, and it seems a while, too, since Southern California defensive tackle/end Leonard Williams to Tennessee was followed by Florida edge rusher Dante Fowler Jr. to the Jaguars with the Nos. 2 and 3 selections.
We followed the consensus of many analysts with some selections, and thought outside the box on others. When you look back, you see a pick or two that in retrospect seem like a miss or two and you see more than a few that look pretty good.
And when it all plays out on April 30, it all could get torn to shreds.
Such is the nature of the real NFL Draft, and such is the nature of the reader mock that we hurry through the final part of the first round in an effort to get back to the Jaguars' second-round selection. It's a Jaguars-oriented site, remember. Can we help it if attention spans are …well, short … between Jaguars selections?
We indeed cannot. So it was that the final 26 selections of this draft went off the board in less than a calendar week, and so it was that the final six selections of the first round went off the board in the past day.
The senior writer's offerings on the final day of Round 1 went as follows, with Kentucky edge rusher Bud Dupree to Dallas at No. 27, Florida State center Cameron Erving to Denver at No. 28, FSU defensive tackle Eddie Goldman to Indianapolis at No. 29, Connecticut cornerback Byron Jones to Green Bay at No. 30, UCLA defensive end Owamagbe Odighizuwa to New Orleans at No. 31 and Utah cornerback Eric Rowe to the New England at No. 32.
Those seemed to the senior writer to be solid selections, but while there was some support among the reader/mockers for Dupree, there was stronger thought that Dupree just didn't fit as well as Goldman from Florida State.
"It seems that Cowboys insiders are convinced that DT Eddie Goldman is headed to Dallas," reader/mocker Fred Barnes wrote. "I'll go with the insiders and say Goldman."
The senior writer's selection of Erving to the Broncos at No. 28 resonated with enough reader/mockers that he indeed got the nod there. That left Dupree of Kentucky on the board, but not for long.
While it seems highly that Dupree is available at No. 29, he's indeed there in this mock draft. The reader mockers didn't think he would make it past the Colts at No. 29.
"Robert Mathis and Trent Cole are both on the wrong side of 30, and Bjoern Werner has shown little to justify his first-round pedigree," reader/mocker Ben "J-School" Corbee wrote. "Dupree gives them a solid pass rusher to start the process of replacing all three."
The reader/mockers loved the senior writer's idea of a cornerback for the Packers at No. 30. What they liked less was his selection of Jones. Instead, the reader/mockers liked cornerback Kevin Johnson of Wake Forest there.
"I just think Johnson is slightly better and I've seen him going before Jones in most mock drafts," reader/mocker Raven wrote.
(Well, if other mock drafts say it …)
The readers were split a bunch of different ways for the Saints at No. 31, and there were legitimate arguments for tight end, cornerback and pass rusher. The suggestion that stood out belonged to Raven again. He selected UCLA quarterback Brett Hundley, a surprising selection but not a bad one.
"I've probably seen 10 different names going to the Saints, so instead of who I think might go here, I'm going with who I think SHOULD go here," he wrote. "Hundley is a little bit of a project, but if he can sit two-to-three years and learn under Drew Brees, he has the potential to be a pro-bowl caliber QB in the future."
Maybe, maybe not, but it was interesting. And while the Patriots' selection at No. 32 wasn't quite as out there as the Saints' selection, it made sense considering New England's need for a cornerback that the reader/mockers mocked Jones to the Patriots at No. 32.
That meant after the first round, the 2015 jaguars.com reader mock draft looks like:
1.Tampa Bay | Jameis Winston, QB, Florida State
2.Tennessee | Leonard Williams, DE, Southern California
3.Jacksonville | Dante Fowler Jr., DE/LB, Florida
4.Oakland | Amari Cooper, WR, Alabama
5.Washington | Vic Beasley, OLB, Clemson
6.New York Jets | Marcus Mariota, QB, Oregon
7.Chicago | Kevin White, WR, West Virginia
8.Atlanta | Randy Gregory, OLB, Nebraska
9.New York Giants | Brandon Scherff, OT, Iowa
10.St. Louis | Andrus Peat, OT, Stanford
11.Minnesota | Trae Waynes, CB, Michigan State
12.Cleveland | Danny Shelton, DT, Washington
13.New Orleans | Shane Ray, DE, Missouri
14.Miami | DeVante Parker, WR, Louisville
15.San Francisco | Arik Armstead, DT, Oregon
16.Houston |Breshad Perriman, WR, Central Florida
17.San Diego | Melvin Gordon, RB, Wisconsin
Kansas City | Jalen Collins, CB, Louisiana State
19.Cleveland | La'el Collins, OT, Louisiana State
Philadelphia | Landon Collins, SS, Alabama
21.Cincinnati | D.J. Humphries, OT, Florida
22.Pittsburgh | Marcus Peters, CB, Washington
23.Detroit | Malcom Brown, DT, Texas
24.Arizona | Todd Gurley, RB, Georgia
25.Carolina | Ereck Flowers, OT, Miami
26.Baltimore | Jordan Phillips, NT, Oklahoma
27.Dallas | Eddie Goldman, DT, Florida State
28.Denver | Cameron Erving, C, Florida State
29.Indianapolis | Bud Dupree, DE/LB, Kentucky
30.GreenBay | Kevin Johnson, CB, Wake Forest
31.New Orleans | Brett Hundley, QB, UCLA
32.New England | Byron Jones, CB, Connecticut.
And so we move into Round 2. We'll offer up Pittsburgh offensive tackle T.J. Clemmings at No. 33, remembering while we do it that he was a Round 1 guy at Senior Bowl time. We'll also offer Texas A&M offensive tackle Cedric Ogbuehi to Tampa Bay at No. 34 and Oregon offensive tackle Jake Fisher to the Oakland Raiders at No. 35. After that, it's time for the Jaguars' second-rounder and time to wrap this thing up for real.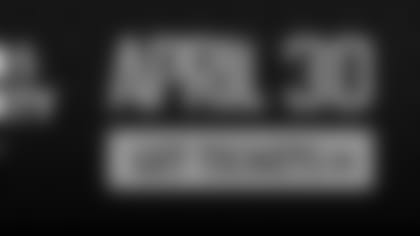 ](http://bit.ly/1fPJ9eJ?src=DPcontftban "Draft Party")