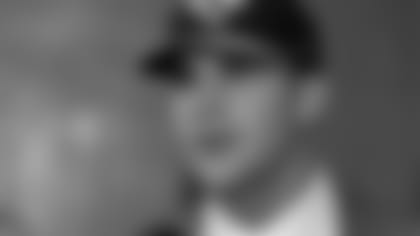 ](http://www.jaguars.com/media-gallery/photo-gallery/Inside-the-Jaguars-War-Room/1d9c9a0b-21a4-4ca2-923b-c9a048f97c29)

JACKSONVILLE – Blake Bortles didn't know the future.
Few prospects do when preparing for the NFL Draft, but before becoming the No. 3 overall selection by the Jaguars in the '14 draft Thursday, Bortles did know what he wanted.
Bortles, a quarterback from Central Florida, said he wanted to be selected by the Jaguars, and he said he wanted it enough that he was disappointed during the pre-draft process to see few draft analysts had him projected to Jacksonville.
"I saw that nobody had me coming here," Bortles said during his introductory press conference at EverBank Field Friday afternoon. "I don't know … If I didn't have the opportunity to come here, it would've been, 'I wish I could've gone there.'"
Bortles, who played at Oviedo (Fla.) High School near Orlando, said he became enamored with the idea of playing for Jacksonville when meeting with General Manager David Caldwell and Head Coach Gus Bradley during the pre-draft process.
He also shares representation with Jaguars wide receiver Cecil Shorts III and guard Zane Beadles.
"I think just keeping hope, and throughout this whole process and all of those mock drafts, there's just little information, especially this year," he said. "Nobody was really saying anything. There was always hope."
He added, "Every time I met with Coach Bradley and everybody here I left thinking, 'That was awesome.' I felt that this was the best place and this was the place I wanted to be when I left and was on a visit here. I was ecstatic about it. When my phone rang and when it was Dave, it was an unbelievable feeling. You can't put it into words. I'm happy to be here and happy to start competing and to get after it."
Also at the introductory press conference Friday:
*Bradley, Caldwell and offensive coordinator Jedd Fisch each talked about Bortles' ability to respond well after poor plays or series as a reason for the selection. "He bounces back well," Fisch said. "If you watch the series after the interception, he has a lot of success."…
*Fisch also said he liked that Bortles participated in all drills at the NFL Scouting Combine in February, something not all highly-rated prospects – particularly quarterbacks – do. "The fact that he did it is exciting," he said. "You get to see the guy."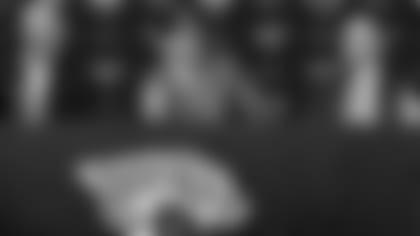 ](http://www.jaguars.com/media-gallery/photo-gallery/Blake-Bortles-at-EverBank-Field/b0ff9245-f7b1-4fb5-a886-e41a4d829e95)
*Bradley said Bortles' prototypical size was a factor in the decision, with the belief being a bigger quarterback could be more durable long-term. "He's 6-5, 238 pounds and it gives him a chance to take some hits," Bradley said. "To have that size is a benefit, so that was one thing that we looked at as well as his leadership skills. The team really gravitated towards him and I think it really came naturally for him to lead. I think those traits that you have – the leadership, the durability, the competitiveness all those things are really what went into the decision making."…
*Fisch reiterated a point made by Bradley and Caldwell that the team doesn't plan to move Bortles into the starting lineup before he is ready. The idea is for veteran quarterback Chad Henne to likely start the season. "We really do believe in the developmental process and we don't want to put him in a bad position," Fisch said. "We've all been on teams or covered teams that that's happened, and we're really very protective of that. We want to be here and build this thing for the long haul and with that we don't feel like he needs to be thrown into the fire right away."…
*Fisch on Bortles' personality: "One of the things that you get in our deal is that you have to spend a lot of time with these people. One of the things that Gus and Dave asked me is, 'Is this the type of guy that you want to be with every day all year round for a lot of years?' And it was 100 percent yes."…
*Bortles on being selected by Jacksonville: "An unbelievable honor."