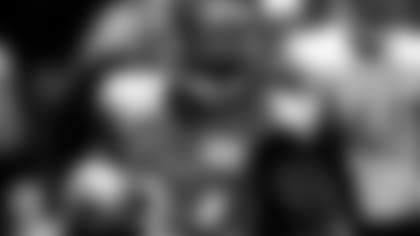 ](http://www.jaguars.com/media-gallery/photo-gallery/Storm-Johnson/39d7bba2-f4e7-4203-b308-f0dc9b321662)

JACKSONVILLE – The Jaguars are wasting no time.
One day after announcing the first signing in the 2014 rookie class, the Jaguars announced a second on Tuesday, with this one again coming from the later rounds.
Storm Johnson, a seventh-round selection in the May 8-10 NFL Draft, on Tuesday signed his rookie contract, becoming the second of the Jaguars' nine 2014 draft selections to sign with the team. Sixth-round center Luke Bowanko signed his contract Monday.
"It's a new feeling – I can't really explain, but it's a good feeling at the same time," Johnson said.
Terms of the deal were not disclosed. All rookie contracts aside from first-round selections are four-year deals.
"I knew I was a Jaguar, but I guess now it's written on paper and I'm officially one," Johnson said. "I'm really blessed to be in this position."
Johnson said while a player knows he's in the NFL when drafted, there is a different feeling at the signing of a first contract.
"It is a dream come true," he said. "My parents and a lot of people put a lot of time and work in. A lot of people in my circle have put a lot of time and work in. To see it all pay off and pulling in the right direction is a wonderful feeling."
Johnson (6-feet-0, 216 pounds), who played collegiately at the University of Central Florida, was the No. 222 selection in the draft, having transferred from the University of Miami, where he played as a freshman in 2010.
Johnson rushed for 119 yards and a touchdown on nine carries at Miami, then rushed for 507 yards and four touchdowns on 113 carries in five starts and 13 games in his first season at Central Florida in 2012.
He moved into the starting lineup as a junior this past season, starting all 13 games and rushing for 1,139 yards and 14 touchdowns on 213 carries. He finished his collegiate career with 1,765 yards and 19 touchdowns rushing on 213 carries.
He also caught 41 career passes for 289 yards and three touchdowns.
"It's just the beginning," Johnson said of signing his contract. "It's just the foot in the door. It's just going to drive me to work harder and strive to take that next step and see what the next door to open is."
Johnson, who participated in this past weekend's rookie minicamp, is one of several running backs expected to compete for playing time in a young Jaguars backfield. Veteran Toby Gerhart, an unrestricted free agent from Minnesota, is expected to start, with second-year veteran Jordan Todman and second-year veteran Denard Robinson also expected to play key roles.
"I feel like I did well," Johnson said of the rookie camp. "I feel like I know what to expect and I know what's expected of me. I also know I have my basic fundamentals of the playbook down and the only way from here is up. I know I'm excited and blessed at the same time."
The signing leaves seven players from the Jaguars' 2014 draft unsigned: first-round quarterback Blake Bortles (Central Florida), second-round wide receiver Marqise Lee (Southern California), second-round wide receiver Allen Robinson (Penn State), third-round guard Brandon Linder (Miami), fourth-round cornerback Aaron Colvin (Oklahoma), fifth-round linebacker Telvin Smith (Florida State) and fifth-round defensive end Chris Smith (Arkansas).