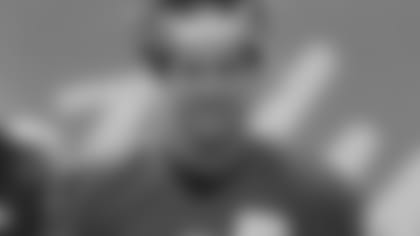 ](http://bit.ly/Day6pics060514)

JACKSONVILLE – The quarterbacks did some throwing Thursday.
That wasn't new for Chad Henne and Blake Bortles, but the fans did some watching on Thursday, too – and in the context of Jaguars 2014 organized team activities, that last part was new.
Thursday was the first Jaguars 2014 OTA practice open to the public, which meant it was first time fans got a chance to see Henne and Bortles – the Jaguars' starting quarterback and the No. 3 overall selection in the 2014 NFL Draft, respectively – on the same field.
Henne and Bortles had been working together for much of the last month.
But the doing it publicly part, in front of 1,787 fans …
Well, Bortles said that was pretty cool.
"It was awesome," Bortles said of the crowd Thursday following the sixth of 10 scheduled 2014 OTA practices at the Florida Blue Health and Wellness practice fields.
The Jaguars held two open rookie camp practices May 16-17, two days that marked Bortles' first work in front of Jaguars fans. Thursday was the first time Jaguars veterans had worked in front of fans during this offseason.
Neither Henne nor Bortles threw downfield much Thursday, a day when the Jaguars were limited to four receivers because of injuries at the position. During team-oriented drills, Henne and Bortles mostly threw short and to tight ends and backs out of the backfield.
Henne looked solid in the hour-and-a-half work, with Bradley – as he had done throughout OTAs – praising not only Henne's approach, but his on-field performance.
"He had another good day today," Bradley said, calling Henne's first two weeks of OTAs "good – really good."
Henne has focused throughout the offseason on taking ownership of the quarterback position, and on Thursday said he feels the offense is improving each day.
"Overall, as an offense we're starting to gel," he said. "Our run game looks pretty good. The pass game's coming along with the parts we have, and overall it has been good."
Henne also said he continues to feel comfortable personally.
"There are always things I can improve on," he said. "Overall, I feel good with how I'm throwing, making decisions quickly and getting the ball out. Even with the missing parts, those receivers have really stepped up and made some really good plays out there."
Bortles, who struggled in Monday's OTAs before performing better Tuesday, impressed again Thursday.
"His poise out in the field today was excellent," Bradley said of Bortles. "He had a comfort level. I talked to him out in the field and you could just see his poise was there."
Bortles said he was unhappy with Monday's session because he wasn't sharp and was too late on some throws.
"Those things are going to come," he said. "The biggest thing now is getting everything down, the things we're working on – footwork and things like that. We'll continue to work on that stuff and stay focused."
Bortles impressed Bradley with his approach after Monday's practice, going to Bradley and saying he wasn't happy with the practice, and asking how to improve. Bradley said at the time that was what they expected from Bortles when drafting him.
Bradley said Bortles made significant progress Thursday, with consistency a key moving forward.
"He should think this: that today was a big step for him in how he handled it," Bradley said. "I know he had a couple of incompletions here and there but it wasn't bad body language afterwards. He had the poise and he took control of the huddle and those things.
"That part is a great accomplishment. Now he's just got to stack it up."
Also around the Jaguars Thursday:
*Bradley said overall practices improved Tuesday and Thursday. He disliked the tempo of practice Monday enough to stop the session midway through and talk with players. "I think since then we've really picked it up and did a nice job," he said, adding of Thursday, "We moved the ball at the very end. Although it wasn't a lot of play, it just got our guys into the rhythm of moving the ball, substitutions and the communication that takes place on the field."…
*Bradley on the first two weeks of OTAs: "Overall, yes a lot is being accomplished."…
*Wide receivers Marqise Lee (ankle) and wide receiver Allen Robinson (hamstring), the team's second-round selections in the 2014 NFL Draft, missed a third consecutive practice Thursday. Robinson is expected to miss multiple weeks, while Lee is considered day to day. …
*Aside from Lee and Robinson, rookie wide receiver Lamaar Thomas (knee) missed practice, as did veterans Tandon Doss (calf), Mike Brown (groin), Ace Sanders (thigh) and Cecil Shorts III (calf). All except Shorts missed practice Tuesday, with Shorts leaving practice that day with tightness in his calf. Shorts said the area felt significantly better Thursday than the previous two days….
*With seven receivers out, rookies Allen Hurns and Damian Copeland, veteran Kerry Taylor and first-year veteran Chad Bumphis took all the reps at the receiver position Thursday. "It's a challenge for them just to be conditioned," Henne said. "We're running them to death.'' …
*Bradley said while the coaches adjusted work for the receivers in special teams and individual drills they didn't reduce team segments because of the injuries. "I thought those guys picked it up," he said. "A lot of those guys got multiple reps and they did a great job competing throughout. … I thought we adjusted. (Offensive Coordinator) Jedd (Fisch) did a really good job. We can't slow down too much because we have to evaluate and help the corners, linebackers, d-line, the running backs and the offensive line so we were just smart with individuals with that one position group, so we could really capture all the reps we needed."…
*Cornerback Aaron Colvin (knee), safety Josh Evans (foot) and linebacker Dekoda Watson (groin) missed practice. They have not worked in OTAs….