JACKSONVILLE – The group is good – and deep, too.
That makes the 2022 NFL Draft good for teams seeking offensive linemen, particularly at offensive tackle – where potential elite players are projected at the top of the draft and deeper into Round 1.
As notably, there are potentially good players into Days 2 and 3.
"You're going to be able to find tackles pretty much throughout the draft," NFL Network Draft analyst Daniel Jeremiah said.
Fifty-eight offensive linemen have been selected in the last 10 drafts, including 32 offensive tackles. That's an average of nearly six offensive linemen and a little more than three offensive tackles per year – and the '22 draft projects as a potentially stronger group.
NFL Media and Jaguars analyst Bucky Brooks described the draft as having "a lot of talent at offensive tackle," with the first tier of the position including potential top five selections such as Evan Neal of Alabama, Charles Cross of Mississippi State and Ikem Ekwonu of North Carolina State.
"Rock solid from Day 1," Brooks called the trio. "There are a ton of guys on the edges that can pass protect, fill the edges and do it the right way in a passing league."
Tackles such as Trevor Penning of Northern Iowa and Bernhard Raimann of Central Michigan and Boston College guard Zion Johnson and Texas A&M guard Kenyon Green are also projected first-round selections by many.
The offensive line group also includes center Tyler Linderbaum of Iowa, a player considered by many the draft's clear top center. He could be selected in Round 1.
"He has really caught the attention of scouts," Brooks said.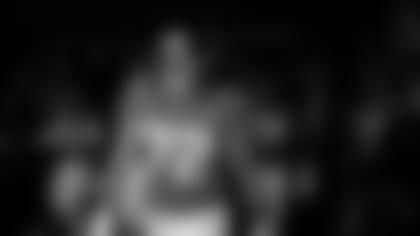 QUOTABLE
Brooks on the offensive tackle class: "I would say the Top 5 can play right away. The Top 3 have Pro Bowl-type potential. They have All-Star potential immediately."
HANDICAPPING THE JAGUARS
This is an intriguing position for the Jaguars in the '22 draft, and offensive line could be a Jaguars storyline throughout draft weekend. Many analysts have projected they will select an offensive tackle such as Neal or Ekwonu of No. 1 overall. Those projections haven't been as common since the team placed the franchise tag on left tackle Cam Robinson, but offensive tackle at No. 1 can't be ruled out. Another position to watch: interior offensive line. Tyler Shatley is currently projected to start at center, but Linderbaum is considered a likely long-term starter at the position and could be available when the Jaguars select at No. 33 overall. The Jaguars added Pro Bowl guard Brandon Scherff as an unrestricted free agent, but it wouldn't be surprising to add another potential 2022 Week 1 starter somewhere on the line during the draft.
PROJECTED POSSIBLE FIRST-ROUND OFFENSIVE LINEMEN
Table inside Article

| Name | College |
| --- | --- |
| Evan Neal | Alabama |
| Ikem Ekwonu | North Carolina State |
| Charles Cross | Mississippi State |
| Tyler Linderbaum | Iowa |
| Bernhard Raimann | Central Michigan |
| Kenyon Green | Texas A&M |
| Zion Johnson | Boston College |
| Trevor Penning | Northern Iowa |
| Daniel Faalale | Minnesota |
| Tyler Smith | Tulsa |
CHANCE JAGUARS TAKE AN OFFENSIVE LINEMAN IN ROUND 1
OL ON THE JAGUARS ROSTER
BROOKS' BREAKS DOWN THE CLASS
It is hard to find another position with as much depth and talent as the 2022 offensive line class. Whether searching for a franchise tackle with length and nimble feet or identifying an interior blocker with explosive strength and power, this year's collection of frontline blockers features plenty of intriguing prospects to address any needs. The offensive tackle group, in particular, could have as many as six first-round players by the end of the process. Neal, Ikownu and Cross are the headliners of the class, but Penning and Raimann could also garner interest as first-round prospects. On the interior, Johnson and Green are the marquee prospects to watch in this class. As big-bodied blockers with outstanding movement skills and power, they can excel in a gap scheme or a zone-based system. With Linderbaum flashing all-star traits at center, the 2022 class features a solid collection of players who should make key contributions from Day 1.
BROOKS' SLEEPER
Tyler Smith possesses all the traits that scouts covet in an offensive tackle but lacks the technique and polish to play at an all-star level as a rookie. However, if the Tulsa standout is a quick study, he could emerge as one of the best players at his position in a few years. From his impressive athleticism to his nasty disposition and aggressive finishing skills, Smith has the tools to play at a high level in a system that enables him to play to his strengths as a bully on the edges.
BROOKS' BEST
Neal is a technician with outstanding balance, body control and hand skills. He operates like a dancing bear on the edge with enough agility to shadow box quick pass rushers while also displaying enough lower body strength and flexibility to handle power players attacking the pocket with bull rush maneuvers. Although his game is not perfect, Neal's technical skills, position flexibility and high IQ makes him a "can't-miss" prospect as a top pick.