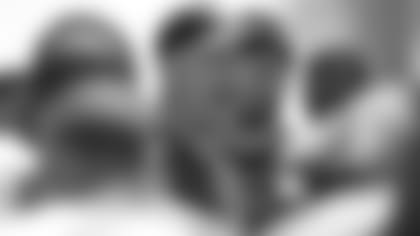 ](http://www.jaguars.com/media-gallery/photo-gallery/Jaguars-Rookie-Minicamp---Day-1/19d1e9fa-20db-49eb-a59b-a3bec3985a2c)

JACKSONVILLE – Now, this was a day to remember.
Really? In mid-May? A hot day, maybe. And a picturesque day, certainly, but …
Isn't saying, "Day to Remember" about a mid-May rookie practice just a wee bit premature? What about the fall? What about the real games?
Sure. No doubt. At the same time, there's no question there was a special, memorable feeling around the Jaguars at the Florida Blue Health and Wellness Practice Fields Friday. A good feeling. An optimistic feeling. And it was a different feeling at the first day of the 2014 rookie minicamp than maybe has been felt around the Jaguars in a while.
And that was true for bigger, longer-lasting reasons than the nearly perfect, sun-splashed, cloudless day that was early afternoon in downtown Jacksonville Friday.
"How about this atmosphere?" Jaguars Head Coach Gus Bradley said after a two-hour practice featuring nine drafted rookies, 16 free agents and 26 workout players.
A reported 2,054 attended, with players and coaches signing autographs for an extended time afterward.
"The fans were incredible," Bradley said. "To have a crowd like this, and for our rookies to experience that is awesome. It's awesome stuff."
And you know what? It was sort of awesome.
The presence and debut of Blake Bortles was one reason. The presence and debut of a much-praised rookie class that could feature four or five eventual starters was another.
But that wasn't all that made it memorable. Not even close.
What made it memorable was the energy, buzz and good feeling of the fans that packed the practice field stands, and while that energy had a lot to do with a chance to see Bortles – the Future Quarterback Who Will Eventually Be the Guy – it also had to do with something else.
That was real, and if you were there on Friday you could feel it. Shoot, you could maybe feel it in our jaguars.com live video coverage.
People are excited about this team, and the excitement is real.
"It was an amazing feeling," rookie running back Storm Johnson said. "Usually, practice would be closed and you don't get to see people. When people actually get to see you working hard, and working on your craft – not just in the game, but they get to come to practice – it means a lot to the players. It makes you feel great about yourself and push yourself to be the best."
And the rookie quarterback? He darned sure felt it.
"It was awesome," Bortles said. "The fans were unbelievable. I've never seen so many people at a practice before. It was a lot of fun. The energy was great. It was unbelievable and we had a blast practicing for the first time."
Excitement. Energy. They're hard to define, but they're maybe about more than just seeing the rookies. They're maybe about the feeling people have about the direction of the franchise. They're maybe about the feeling you get when you look up from the practice fields and see the state-of-the-art, Worlds-Largest Video Boards being installed at EverBank Field. For real. For good.
Or maybe it's seeing the plan of General Manager David Caldwell and Bradley being played out, and about knowing that the team is staying true to the plan, giving it a chance to work.
Maybe it's a little about seeing just about every pundit and analyst who analyzed the 2014 NFL Draft last weekend fall over themselves to praise the Jaguars' draft. Mel Kiper. Pete Prisco. Rotoworld. Fox Sports. etc., etc.
The Jaguars got high marks from all, and while that means little until it plays out, the perception that the Jaguars are headed in the right direction is real. And after years of that not being the case, and after years of being ignored or criticized by national media … well, it's hard to blame fans if that's one of the reasons they're maybe a little more excited this weekend than some months of May past.
As for what went on the field Friday, it was what you'd expect, and now is probably not the time for gleaning and conclusion-drawing. Bortles threw, and wide receivers Marqise Lee and Allen Robinson – the team's two second-round draft selections – caught passes. There were good plays. There were OK plays. There were rookie plays.
Afterward, Bortles talked about his day and Bradley talked about it and there were the expected smiles and good feelings. The real assessing and the real figuring out how these guys will or won't contribute next season won't come until August, and that's what training camp and the preseason are about.
Friday was about the preliminaries and teaching these guys the basics, and that's what Saturday will be about, too.
It's also about a good feeling, optimism and hope for the future. It's about a belief that the franchise is moving in the right direction. And without question there was a whole lot of that around the practice fields Friday.
Which meant that even though it was mid-May, it was still very much a day to remember.