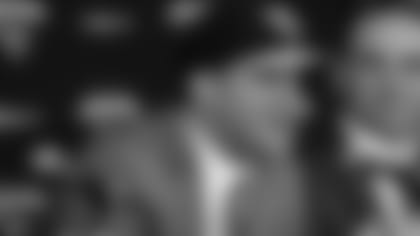 ](http://www.jaguars.com/media-gallery/photo-gallery/Blake-Bortles-at-EverBank-Field/b0ff9245-f7b1-4fb5-a886-e41a4d829e95)

JACKSONVILLE – He is The Guy now. At least he will be – later rather than sooner, but soon enough.
Blake Bortles visited EverBank Field Friday, a significant visit because although he had been here before – fairly often, in fact – this was the first time here in his new role as The Guy. And the first visit to your workplace in that role …
Well, it's just different. Really, really different.
"It's an unbelievable feeling," Bortles said. "You can't put it into words."
This was the scene at EverBank Field Friday, one of coolest days on the NFL calendar. And for the Jaguars Friday, it was maybe cooler than usual, and it sure had added significance.
Any introductory press conference for a first-round selection is big. It's the first day of the rest of the prospect's life, a day when dreams have come true on a stunning scale, and a day when the player's NFL story still lies ahead.
It's even bigger when it's a first-round quarterback, a No. 3 overall selection, the earliest-drafted quarterback in the history of a franchise that has been looking for a franchise quarterback for a while.
Bortles' introductory press conference Friday had all the requisite elements.
Jaguars Owner Shad Khan stood on one side; Bortles' family on the other.
In the crowd were front-office employees, as well as scouts, coaches and personnel officials, pretty much all of whom believed Bortles was the right choice, the only choice.
Jaguars Head Coach Gus Bradley sat to one side of Bortles, and General Manager David Caldwell sat to the other, and make no mistake:
There was a bigness to this moment, a significance. Because while Bortles almost certainly won't start over veteran Chad Henne immediately, he will start soon enough – and even more certainly, he is expected to be very good for a very long time after that.
Bortles on Friday talked about the feeling he had when meeting Jaguars personnel people that morning, knowing that these people had chosen him, and in a sense, staked much of their futures on him.
"It's awesome," Bortles said. "To walk in when I first got here, and to see Mr. (Jaguars Owner Shad) Khan and to see (Jaguars Senior Vice President of Technology and Analytics) Tony (Khan) and Dave and Gus and know that they decided to take me and they believe in me is an unbelievable feeling."
A sense of responsibility with that?
"Definitely," he said. "Definitely. In a big way."
That sense of responsibility? That ability to grasp the importance, bigness of the role?
That was nearly as critical as Bortles' ability on the field. Caldwell on Friday said he knew after Bortles' game against Penn State last September that this was the player he wanted. He told no one else, not wanting to influence scouts and coaches. But skill wise, prototype guy-wise – all that quarterback stuff that Caldwell really, really liked about the 6-feet-5, 232-pound, oh-so-prototypical Bortles … all of that Caldwell said he knew since that Saturday last fall.
As far as off the field, Caldwell said although there was no game-changing moment, Bortles' experience under Central Florida Head Coach George O'Leary helped a lot.
He also said there's just a feeling you get from Bortles.
"I go back to when I played high school and college – do I want to be on this guy's team?" Caldwell said. "Or, if we're playing around in a park, 'Do I want to pick this guy to be on my team?'"
The answer was yes, which was a pretty common refrain Friday.
"The very first time he walked into the (NFL Scouting) Combine interview room (in late February) was the first time I had a chance to truly meet him," Jaguars offensive coordinator Jedd Fisch said. "You felt his presence immediately. He had great energy. He had great enthusiasm. He knew everyone in the room and just came in excited."
Fisch said he liked his moxie, his ability to bounce back after an interception or tough series. He liked, too, his presence.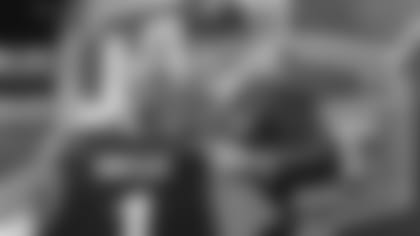 ](http://www.jaguars.com/media-gallery/photo-gallery/Inside-the-Jaguars-War-Room/1d9c9a0b-21a4-4ca2-923b-c9a048f97c29)
"He loves ball," Fisch said. "It's like when (South Carolina Head) Coach (Steve) Spurrier says he doesn't like to be known as a football coach but a ball coach because a ball coach can coach any sport? You kind of feel like he's just a ball player who happens to play quarterback. That's what's best about him."
And Jaguars Head Coach Gus Bradley, who values competitiveness above all else, said Bortles had that – and something perhaps as important.
"He's really mature, extremely competitive," Bradley said. "He had a really good mindset. Just sitting there talking to him you say, 'It's pretty good now. I can see why Dave really likes him.' I guess it's yet to be seen, but he felt mature.
"It didn't seem like it was going a million different directions. It didn't feel like that with him."
No, to listen to Bradley, Caldwell, Fisch and whoever else was talking about Bortles Friday, what they felt when talking to Bortles was something quite the opposite. You got the feeling they felt they were talking to someone ready for what lies ahead, for what will be demanded.
You got the feeling they felt they were talking to a guy capable of being The Guy. Which is, of course, just what he'll be.
If not immediately, soon enough. And ideally, for a very long time.