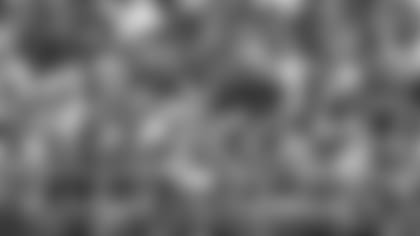 ](http://www.jaguars.com/media-gallery/photo-gallery/Jaguars-Rookie-Minicamp---Day-2/42134de7-baae-477d-825a-a50f1e20ab62)

JACKSONVILLE – Talk about jumping the gun.
How else to describe Friday? That was the day a certain senior writer was impressed enough with the energy and excitement on Day One of Jaguars 2014 rookie minicamp to dedicate an entire editorial documenting the whole scene of it all.
And it was a scene. More than 2,000 fans attended. On a Friday afternoon.
That seemed impressive. "A Day to Remember," Friday's jaguars.com editorial enthusiastically called it. And it was.
And Saturday just plain blew Friday away. All the momentum? The good stuff around the Jaguars? The vision of Owner Shad Khan, the plan of General Manager David Caldwell, the energy and enthusiasm of Head Coach Gus Bradley?
It's wrong to say they peaked Saturday, because Saturday felt more like a start than a peak. But if Friday was impressive, then Saturday was downright unreal.
"This far outpaced in terms of a one-day showing what we thought we were going to do," Jaguars senior vice president of fan engagement Hussain Naqi said.
Consider that: 6,214 fans. We're talking about practice. A rookie camp practice.
Usually, you don't write the same story on consecutive days. That's not a golden rule of Sports Writing 101, but it's up there. Usually, when you write about the energy and the growing good feeling of a fan base one day, you switch up the next day, and make no mistake:
There were plenty of topics on Saturday.
For one, it was the second public practice for new quarterback Blake Bortles, who looked better than Friday. Offensive coordinator Jedd Fisch likes a lot about this guy and said he's seeing good things in terms of pocket presence and the ability to be coached, two pretty critical things for a young quarterback.
It was also Day Two for fans to see Allen Robinson and Marqise Lee. Wide receivers coach Jerry Sullivan said Saturday each has a long way to go, but he, too, likes what he sees. Lee has natural skills that can make him a big-play player, and Robinson has physical gifts that, once honed, will make him a tough cover.
Those players weren't going to emerge from this weekend as polished players. What you wanted to see from them and the rest of the rookies were signs their feet were under them, that they had the stuff in person the Jaguars had seen scouting them.
But all of those are normal storylines, many of which you can find at many NFL rookie camps. The main story in this Jaguars rookie minicamp remains off the field, in the growing momentum around the franchise. And if Friday was special and memorable in that area, than a sun-splashed Saturday in downtown Jacksonville was downright spectacular.
You of sensed it coming late Friday, with reports of nearly 6,800 people having registered for passes for Saturday. A big number, but surely they wouldn't all come for a minicamp practice, right?
The answer was, "Yeah, pretty much." The lines extended half the length of EverBank an hour before the 1:10 practice, and kept growing as the silver bleachers inside the Florida Blue Health and Wellness Practice Fields filled.
Then the areas around the bleachers filled. Then the standing area around the Field One end zone filled. Then Field Two. When that filled, the Jaguars had to close practice for a few minutes to create room down near Field Three.
"We didn't want to turn anybody away, but we had to make adjustments for security purposes," Naqi said. "It was a Chamber-of-Commerce Day. It was awesome."
All through this pictures were being Tweeted and retweeted, and if the overhead views are the most striking … well, they were all pretty striking. The same was true of what happened near the end of practice.
That was when the Jaguars moved the ropes that were keeping fans off Field Two and Three, allowing fans to pour onto Field Two for a better view of the team portion of practice.
And pour they did. The immediate rush was frenetic and wild: hands waving, arms raised, cheers from the stands. And while some were undoubtedly vying for a better view of Florida Times-Union icons Gene Frenette and Vito Stellino, you got a real idea the cheering, laughing and smiling was mainly about people loving being around this much fun.
Moments later, before he spoke to the media about the football part of the weekend, Bradley pointed to a group of fans peeking through the practice field fence.
"Underneath the banners?" Bradley said, almost shouting. "Huh? How about that? The fans? Are you kidding? That is awesome."
Bradley continued, "What a credit to Shad, his vision and the organization. We talk about, 'Connect with the following and try to help them go along this journey with us.' We're going to do this thing together, and to be able to see a group of people who are that passionate is something."
No doubt. It was something, and if Friday was "A Day to Remember," then Saturday was something more. It was sure memorable and electric – and it was meaningful, too, in terms of what it said about the passion of the fan base and the growing reconnection between this team and its fans.
The Jaguars – Khan, Bradley, Caldwell – are embracing the fan base, and once again on Saturday, the fans embraced back. So forget Sports Writing 101. This is real. This is exciting. The Jaguars know it, and fans are getting it, too. So, we jumped the gun by a day? Yeah, so what?
Some stories are worth retelling.