It's been said that a picture is worth a thousand words.
Whether it's a picture of a rookie making his first touchdown or an emotion-filled shot of a Jaguars fan at TIAA Bank Field, photographs tell stories.
Each week during the regular season, we will show you team photographer Rick Wilson's favorite photo from game day. This week's photo is Rick's favorite photo from the first half of the season.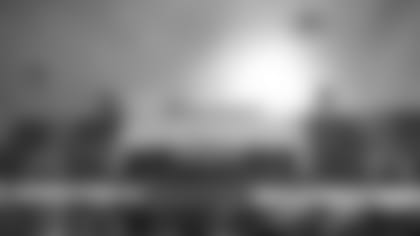 Lens: Nikkor 24mm-120mm f/4 at 24mm
Exposure: 1/800sec @f/18, ISO 400
I can't recall if the Jaguars had ever had B-52s perform a flyover for the national anthem so I wanted to make sure I commemorated the occasion. I chose a wide angle lens and a position where I could capture the planes flying over the TIAA Bank Field videoboards. I pre-focused and pre-exposed for the image and afterwards it was a pleasant surprise to capture mini rainbows from the refraction of the sunlight through the lens. In honor of all the veterans that have served our country!