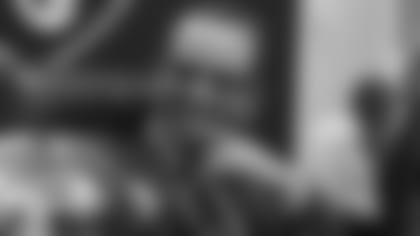 ](http://www.jaguars.com/media-gallery/photo-gallery/2014-Bud-Light-Draft-Party-presented-by-PRI-Productions/53ff27d8-edac-4859-8b79-288affc7afe0)

JACKSONVILLE – What a night.
And yeah, what a day, too. Because while the Jaguars' version of the 2014 NFL Draft got good and dramatic – really, really dramatic; nay, shocking – at night, it was really good all day, particularly if you were living, breathing and Tweeting the pre-draft buildup for the Jaguars and the rest of the NFL throughout afternoon.
Then, came the night—you know, the draft itself.
And remember all those people who said this draft was going to be unpredictable? Remember all the people who said there were going to be shocks and surprises?
The drama started with the Jaguars …
With the No. 3 overall selection in the '14 NFL Draft, the Jaguars selected Central Florida quarterback Blake Bortles, and here's the thing about that selection:
It was a surprise. No doubt.
Few people had Bortles going to the Jaguars, and there were Jaguars fans expecting the team to go a different direction. But this player? This selection? This quarterback?
This was the player the franchise wanted. This was the player the scouts believed in, that the head coach believed in, that the general manager believed in. Right down the line.
"(We) felt really good about him; strong all the way through," Jaguars General Manager David Caldwell said.
"We just think very highly of him," Jaguars Head Coach Gus Bradley said.
Those were the quick quotes, the standard after-the-pick stuff from the coach and the general manager. What wasn't standard was what Bradley said when asked what the Jaguars would have done had Jadeveon Clowney – the highly regarded defensive end from South Carolina – been available at No. 3.
Bradley, a defensive-minded coach who loves few things more than a dominant pass rush, smiled and admitted it would have been a difficult dilemma. But he said that in the end, Bortles would have been the choice.
"If Clowney would have fell we would have still made this pick," Bradley said.
Nothing standard or ordinary about that quote, and there was nothing standard or ordinary about just how much the Jaguars' organization agreed on this selection.
The mock drafters may have been projecting Khalil Mack or Sammy Watkins or even Johnny Manziel to the Jaguars. In retrospect, it's obvious Caldwell was very, very content to let the mock drafters and Jaguars followers believe that.
But inside EverBank Field the consensus was strong, and very much a consensus.
"When our college staff got together and our coaching staff got together he was a unanimous consensus of the guy that we all wanted," Caldwell said. "I never let my feelings known to the personnel staff, never let them known to the coaching staff. Independently the coaches, quarterbacks coach and offensive coordinator did it without any collaboration with the scouts, without themselves and everybody kind of came up with the same guy we wanted with the first pick and that was Blake Bortles.
"We feel great about it, and now he's a Jaguar."
The choice was popular among players, too. Wide receiver Cecil Shorts III, who met Bortles on the quarterback's pre-draft visit to EverBank Field, said while he very much didn't want to play scout, he saw similarities between Bortles and Pittsburgh Steelers quarterback Ben Roethlisberger.
"I do like what I see," Shorts said. "He's a big guy. You can see some similarities."
Mostly, Shorts said his visit with Bortles at EverBank Field impressed him.
"I thought he just fits our culture here," Shorts said. "He's a competitor. The way he was talking to me, he seems very, very hungry. He has something to prove, not in an arrogant way. He wants to go out and play football. He said, 'I'm a football player. It's what I do.'"
Shorts said he also liked that Bortles came through in big games last season, and cited a victory over Louisville, as well as a Fiesta Bowl victory over Baylor. The Knights lost just one game last season – 28-25 to then-No. 12 South Carolina.
"In his biggest games, he came through in the most clutch times," Shorts said.
What the Jaguars hope now is those traits translate to the NFL, and the franchise's task at hand is to ensure that happens. The task will emphasize thoroughness over quickness, and Bradley and Caldwell each said the stated offseason plan of starting veteran Chad Henne remains in place.
Caldwell on Thursday said the organization already has a plan in place for Bortles next season including extra practice repetitions, coaching, seven-on-seven and team repetitions.
"Stuff like that to really have him develop," Caldwell said.
The pace at which Bortles develops no doubt will be a major storyline in the coming months, and there will be pressure and expectations from outsiders who don't grasp that a quarterback can go No. 3 overall and not play right away.
But expectations or not, that's the plan. And there's no reason to think that plan will change in the short term.
"It's such an important position in this League and you want to do it right and that's what we're about is doing it right," Caldwell said. "Coach Bradley always preaches, 'Let's do it better than it's been done before and that's for us to make this decision work.' We have to work to make it work. We just can't throw him out there and think; we see what happens when that happens."
This isn't the end-all story on Bortles, of course. Rather, it's the first story, the rough draft of a story that will get written and discussed and analyzed constantly in the coming weeks, months and years.
The Bortles story is that important. The selection is that important. What happened Thursday, and how it plays out, will define the franchise in the coming seasons, not to mention the Jaguars careers of Caldwell and Bradley.
And make no mistake: That's what the Jaguars wanted, from the head coach, to the general manager, everyone. Right down the line.