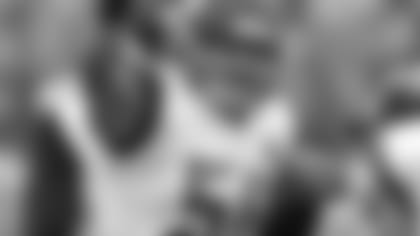 ](http://bit.ly/CCpics031314)

JACKSONVILLE – We'll let the voice of experience speak first…
"The sky's the limit. I don't want to put a limit on getting better or on greatness when it comes to getting after the quarterback …"
The voice belongs to Jason Babin, a veteran defensive end and one of three defensive linemen signed by the Jaguars Thursday, the third frenzied day of a frenzied first week of 2014 Jaguars free agency.
We let Babin speak first not only because he – like the two other players signed on D-Line Day – has been involved in very good NFL pass rushes, but because he knows well what the Jaguars' pass rush has been in recent years.
Well, it ain't been great. And while Thursday's moves may not take the pass rush to Babin's place in the sky – they may not necessarily make it "great" immediately – they certainly could make it much better, which the Jaguars very much need to happen as this build gains momentum.
Defensive end Chris Clemons.
Defensive tackle Ziggy Hood.
All signed with the Jaguars Thursday, with Hood joining as a free agent after five seasons with Pittsburgh, Clemons joining as a free agent after his release by Seattle this week and Babin re-signing after spending last season and part of the 2012 season with the Jaguars.
Add defensive tackle Red Bryant, and you have a deeper, more-talented line than a week ago.
Bryant, signed last Saturday, wasn't brought in for pass rush, specifically. He's a five-technique end, which means he is key against the run, but the idea is to stop the run on early downs and get into pass-rushing situations.
Pass effectively and disrupt the passer. You must do both to win in professional football, and if there has been a long-standing glaring hole around the Jaguars' defense it has been the inability to do the latter.
The hope around the Jaguars is that changed Thursday. And on paper, at least, it may have.
We'll start with Clemons, because on a day when Jaguars Twitter blew up and hurt itself with virtual high-fives, Clemons' signing blew an already giddy day to particularly giddy level.
Clemons gives the Jaguars experience. He is a respected voice in the defensive line room.
"I'm a more 'show you' than 'tell you' kind of guy," he said. "I don't give you hoorah speeches or anything like that. I'm going to show you and I would expect you to follow it."
On the field, and most importantly, Clemons is a pass-rusher. He has 38 sacks in the last four seasons, and although he had 4.5 last season after tearing his anterior cruciate ligament in a playoff victory over Washington the previous January, he had 33.5 in the three seasons before that.
Those were the three seasons he played under Jaguars Head Coach Gus Bradley, then the defensive coordinator in Seattle.
The Jaguars signed Clemons for a number of reasons. He fits. He knows the defense. As is the case with Bryant – who played for Seattle the last six seasons – he knows Bradley's defense. He knows the techniques taught by defensive line coach Todd Wash, Seattle's defensive line coach in 2011-2012. No adjustment period. No new language. That's why the signings made sense, even if Clemons is 32 and Bryant is 29, which means they're outside the ideal free-agent target age.
The Jaguars know what they want from those players, and the players know what's expected.
Never underestimate that when navigating free-agency's slippery slope.
As for Hood, six of his 8.5 career sacks have come in the last two seasons. Asked his role with the team, he said although he's capable of playing the five-technique end, he expects to play inside more. His role will be about getting up the field, disruption.
"I think I was built for pass rushing and so I'm going to use those skills," Hood said.
The move to re-sign Babin surprised some, coming as it did moments after the Clemons' signing, but the saying "You can't have too many pass rushers" is a saying because it's true.
And as Babin sees it, the group with which he re-signed is a good one. He said throughout the offseason he wrote on Wash's dry-erase board names of linemen who might come available in free agency. Babin called it "subliminal messaging."
"It's exceeded my subliminal messaging I think as far as the upgrade," he said, laughing.
Babin said Thursday he wants to finish his career in Jacksonville. He will turn 34 in May. He had 7.5 sacks last season, and now instead of being the primary, must-get-a-sack-guy on an unproven line he is part of a deep, experienced group. He has a chance to be part of a rotation.
And that may be the most critical thing about Thursday. A major Jaguars objective entering the offseason was reducing the snaps along the defensive line. Tackle Sen'Derrick Marks played 946 snaps last season. Babin played 779 and end Tyson Alualu played 754.
Seattle's defense – which ranked No. 1 in the NFL last season playing essentially the same scheme as Jacksonville – didn't have a lineman play more than 600 snaps and the top seven linemen played between 488 and 617 snaps.
That's not to say this group is Seattle, a team that pressured quarterbacks this past season on a level few teams have matched in recent years. This group is older, and as with any group that features four free agents – three of them new – there will be much to prove. Thursday's excitement aside, expectations should be kept in perspective. The Jaguars are still building, and there still must be growth, and realistically, there needs to be a lot of each.
At the same time, there's little doubt the Jaguars' pass rush is better than a week ago, which is why those online high-fives felt real and felt pretty cool to people who follow this team.
When it comes to getting to the quarterback, maybe the sky's the limit and maybe it isn't.
But at the very least, it's suddenly looking a whole lot brighter.
DL Ziggy Hood: "You come to a new team – it's a new beginning. It's a second opportunity and a second chance." READ: http://t.co/dxtFbpIydu — Jacksonville Jaguars (@jaguars) March 13, 2014