1. Desperate times. The Jaguars yet again had a chance in the second half Sunday. That chance yet again turned into a loss – their fifth consecutive defeat to start the season and their franchise-record 20th consecutive loss dating to Week 2 of the 2020 season. Meyer was direct when asked how desperate the team is for success. "Pretty desperate," Meyer said. "Desperate for a win. The way they go to work each day, each week … desperate for a win. You can't worry about the past. You worry about the future. We've got to try to get a win … but yeah, they're desperate for a win." Meyer was asked at what point does the team "go back to the drawing board" and reevaluate everything. "We're there," Meyer said. "It's my job to do that every day. I see a group of warriors. I see a group of players I love to death. I see a group of players who are spilling it on the field. We're not closing it out."
2. So close. A major post-game storyline as expected focused on a missed chance by the Jaguars early in the fourth quarter. Trailing 31-19, the Jaguars drove to the Titans four-yard line, with quarterback Trevor Lawrence running for an apparent touchdown. Officials ruled Lawrence inches short, setting up fourth-and-goal from there. Though running back James Robinson rushed for a career-high 149 yards and a touchdown on 18 carries Sunday, the Jaguars ran running back Carlos Hyde up the middle – a play that lost four yards, ending the Jaguars' best chance to make it a one-score game. "I don't micromanage who's in the game," Meyer said. "James is running it really hard. So is Carlos." Meyer added that Lawrence isn't "quite comfortable" with a quarterback sneak in that situation yet. "I know that might sound silly, but we've never done it," Meyer said. "That's something we need to continue to make that so you can make that call in that critical situation."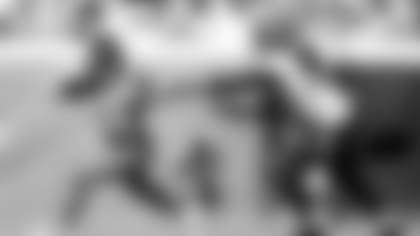 3. Still believing. Meyer on Sunday reiterated what he has said throughout the preseason and regular season – that his faith in Lawrence remains strong. Lawrence, the No. 1 overall selection in the 2021 NFL Draft, completed 23 of 33 passes for 273 yards and a touchdown with his lone interception coming on the game's final play with the outcome decided. It was Lawrence's second consecutive game without a meaningful interception after throwing seven in the first three games. "I'm waiting to see Trevor with the ball in his hand with a chance to win the game," Meyer said. "Trevor Lawrence is a warrior. I love that guy. We all do. He's going to be great for Jacksonville. He's awesome. His practice habits, toughness and leadership are getting better each week."
4. Better than expected. Meyer's post-game press conference as expected at 0-5 wasn't fraught with happiness. But there was a sliver of good news, with Meyer saying an injury sustained by center Brandon Linder may not be as severe as initially thought. Linder sustained the injury on Hyde's four-yard loss on the goal line – but although he left the field on a cart, Meyer said afterward it was believed he sustained an ankle/medial collateral ligament injury. "He's like a son," Meyer said. "He's everything this team stands for. It looks like it's not as bad as first thought."
5. Communication breakdown. Meyer on Sunday was asked if it seemed the Jaguars had too many communication problems in coverage, with it seeming at times as if some members of the secondary are playing man-to-man coverage while others are playing zone defense. "I had to ask that same question on the sideline," Meyer said. "We've got to get that corrected. I see the same thing you see. I see a defense that at times plays outstanding, elite-level football and then we put pressure on the quarterback and the guy is wide open and there's miscommunication."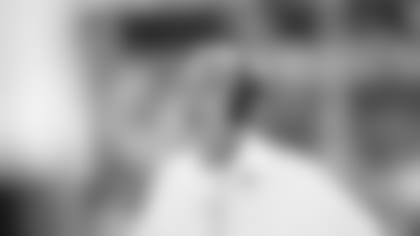 6. Keeping it simple. Meyer said the Jaguars had inside linebacker Damien Wilson and safety Rayshawn Jenkins wearing the so-called "green dot" on their helmets Sunday, meaning they were responsible for getting the defensive call from the sideline and relaying it to teammates. This was a role held by veteran linebacker Myles Jack in the first four games of the season. "It's something we've been working on," Meyer said. "We just did some research. He plays best when he doesn't have to make the call. We gave it to Damien and also Rayshawn."
7. No effect. Meyer said he saw no ill-effects on the team of a difficult week around the Jaguars, with a video of Meyer going viral last weekend – and with the aftermath of that event being a week-long discussion point on social media and around the NFL. "I didn't," he said. "I apologized earlier in the week. Players had really an excellent week of practice. We put ourselves in a position to win a game." Meyer also was asked if the team "took a step back" after improving from a 37-21 Week 1 loss at Houston until a 24-21 last-play loss at Cincinnati in Week 4. "I don't think so," Meyer said. "They laid it all on the line. You get out there and you punch that thing in [when Lawrence's touchdown was reversed in the fourth quarter] and you're within striking distance of winning the game."