EverBank Field; Jacksonville
Scobee Feat:Converted field goals of 54, 54, 22 and 51 yards for only Jaguars points in upset victory over Baltimore in the Jaguars' most-recent victory on Monday Night Football.
Scobee Memory:"It wasn't just one kick; it was the whole game. It was a boring game for viewers and a boring game for everyone but me and the defense. The last field goal was 51 yards. Fourth down's coming and [then-Jaguars Head Coach] Jack Del Rio is trying to decide whether to kick or punt or go for it. I didn't even give him the opportunity to make the decision; I just took off running out onto the field. I drilled it, then came back to the sideline and gave him a big high-five and told him I was going to make it. That kick was a lot of fun, but my wife had just had our first child in mid-August. This was mid-October. It was a late game. She was a new mother. I called her and she hadn't seen a minute of the game. She had fallen asleep at, like, eight o'clock. I called and I was waiting for, 'Way to go, babe … way to go.' She literally hadn't seen a single minute of the game. I knew that kid already was more important than me."
4. Jaguars 31, Steelers 29
Heinz Field; Pittsburgh, Pa.
Scobee Feat:Converted a 25-yard field goal with 37 seconds remaining in the Jaguars' most-recent postseason victory.
Scobee Memory:"It was an amazing game; a great football game. We were up big early. Pittsburgh came back and went ahead late and we were down, 29-28, with a handful of seconds left. [Jaguars quarterback] David Garrard had scrambled 32 yards to the Steelers 11. I had missed a kick earlier in the game, so I was really wanting that redemption – and to finish off the game on a good note. We were trying to run out the clock, got all the way down to a few seconds, then took a purposeful penalty – a five-yard penalty to run out the clock. All I'm thinking is, 'We're backing it up more yards,' because the field is all chewed up and it's a playoff game. Regardless of how long it is, there were no easy kicks. It was 25 yards and I still had to give it my full concentration. That place was loud, to say the least. When I made it, the place just drained. The only people you could hear was our sidelines going nuts and our group of fans that were there. That was a really fun and cool moment. I didn't think about it at the time, but afterwards I was like, 'If I had missed that kick I could possibly get cut.' If you make it, it's, 'Hey, good job.' If you miss it you possibly get cut. You try not to think of those things during the moment, but that's reality."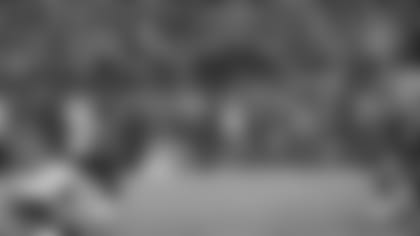 Lucas Oil Stadium; Indianapolis, Ind.
Scobee Feat:Converted a 51-yard field goal with four seconds remaining in the Jaguars' first victory at Lucas Oil Stadium in Indianapolis.
Scobee Memory:"It was a 51-yarder, right hash. I had a lot of confidence in that kick – and I drilled it. It would have been good from 65, probably, as hard as I hit. I had it planned out that I was going to take off running as soon as I kicked it and knew it was going in; I was going to run down and grab the ball. I sprinted around the line, got down there and the ball went in. The ball boy grabs the ball and I try to grab it from him. He doesn't want to give it to me, so I rip it out of his hands and kind of run 30 or 40 yards with the ball in the air, getting booed like crazy. The following season, we hired the Colts' special teams coach, Russ Purnell. The first day he gets here we have a chat and he tells me I actually grabbed the wrong football from that ball boy. So, I have the wrong football sitting at the man cave in my house."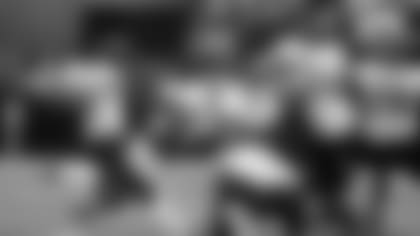 RCA Dome; Indianapolis, Ind.
Scobee Feat:Converted a 53-yard field goal with 38 seconds remaining to move the Jaguars into first place in the AFC South by a half game over Indianapolis.
Scobee Memory: "That was my rookie year. We were tied, so that's a better scenario than being down by one or two or three at that point because you know if you miss the kick there's the possibility of going to overtime. So, the pressure is a little bit less but for me being a rookie the pressure was still there and evident. It was so loud in the RCA Dome. It was a small area and packed as full as it could get. I could feel my facemask and helmet rattling because it was so loud; I loved playing there – especially after that game. I remember this calmness I had, just knowing that this was the first big kick I was going to have in my career. I knew I was going to make it. I've seen the video replay of that, the TV copy, and right when I take my three steps back and look up and I take a big smile. Who smiles at that point? But I knew I was going to make it. It's a great feeling to have that come over you in such a cool situation.* *It's a funny story with that: I make the kick and one of the Colts players rushing on the outside barely clipped my knee. I spun to the ground and I'm thinking, 'Maybe they'll throw a flag if miss it.' I saw it [the kick] go up, but I didn't know if it was going to go in or not. I think, 'I'll do a little acting job and roll around on the ground and see if something happens with a flag.' No flag was thrown and I'm still on the ground. My holder says, 'Stay down.' The trainers come running out. They're examining my knee and I'm telling them I'm fine. One of the trainers is standing over me. He does something to my knee and my leg reflexes and I kick him right in the groin. I'm telling him I'm ready to get up and now he can't get up and he's saying, 'Give me a minute. Give me a minute.' It's overblown completely. They knew I wasn't hurt. I was going to run back out for the kickoff, but the rule is an injured player has to sit out one play. We call a time out so I can go in. I go in and kick off and the fans are booing as loud as it could possibly be. We tackle them inside the 15 and the fans are still booing the crap out of me. I just throw my arms in the air, saying 'Give me some more.' I threw my hands up and taunted them a little."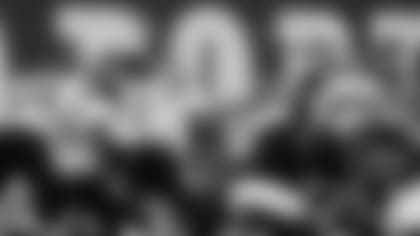 EverBank Field; Jacksonville
Scobee Feat:Converted a 59-yard field goal on the game's final play. It was the longest field goal in Scobee's career and remains the longest field goal in franchise history.
Scobee Memory:"That will be the one I remember the most, because it was the longest kick I ever made and it was basically every kicker's dream scenario. When you kick as long as I did, you're always wishing for that opportunity. You always dream about the last-second kick. Mine was always a 60-yarder to win the game with one second left. It happened to be 59 yards. (Laughs) I was thinking about taking a five-yard penalty and having it be a 64-yarder, but that's the one I'll always remember. I see the replays now and you can tell I knew I didn't hit it perfect because of my reaction. I normally kick it and don't need to look up; I know where it's going. This one I hit a little high, so it had two or three yards to spare – and in those conditions that day, if I'd hit it better it would have had five or 10 yards to spare. So, when I hit it I knew it had a good chance to go in, but I knew it wasn't my cleanest strike. There's a different type of energy at home compared to on the road when you hit a game-winner. On the road it goes dead silent; at home, everybody goes nuts. That was the amazing part of being able to hit that kick at home – the fact that the fans didn't leave the stadium for a while. After the game, you could still hear them going nuts five minutes later. I saw videos people sent me afterward of fans walking down the escalators and ramps chanting my name. That's something I'll always remember."