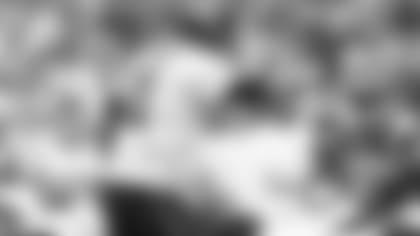 Gabbert throws for a career-high 260 yards; posts career-best 96.1 rating
Blaine Gabbert opened up his second NFL season by recording a career-best 96.1 passer rating and throwing for a career-best 260 yards.  Gabbert completed 23 of 39 passes and matched his career-high with two touchdown passes.  The 23 completions set a career-high for Gabbert.  It marked his third career game with multiple touchdown passes and he has at least one touchdown pass in 11 of his first 15 starts.  Eight of his 14 career touchdown passes have come in the last six games dating back to 2011.
Gabbert hooked up with tight end Marcedes Lewis for a one-yard touchdown pass in the second quarter and put the game into overtime with a 39-yard touchdown pass to Cecil Shorts with 20 seconds remaining in regulation.
Offense comes up in clutch in fourth quarter
Trailing 20-15, the Jaguars regained possession with 1:18 remaining in the game in need of a touchdown.  Blaine Gabbert hit on four of six passes for 76 yards with the last a 39-yard touchdown pass to Cecil Shorts.  Shorts began the drive with a 20-yard reception. The six-play drive lasted 58 seconds. 
Lewis records 18th career touchdown reception; finishes with five receptions
Tight end Marcedes Lewis hooked up with Blaine Gabbert for a one-yard touchdown in the second quarter.  Lewis moved into a tie with Reggie Williams in seventh place with 18 career touchdown receptions.  It was Lewis' first touchdown reception since Jan. 2, 2011 at Houston, a span of 16 games. Lewis tied for the team-lead with five receptions for 52 yards with a long of 18 yards.
Cecil Shorts put his rookie season in the rearview mirror on Sunday.  Shorts, who had only two receptions for 30 yards in 2011, finished with four catches for 74 yards against the Vikings including his second career touchdown. 
Jaguars open game with 17-play drive; put together three drives of 10-plus plays
The Jaguars opened the game with a 17-play drive that covered 72 yards and concluded with a 19-yard field goal by Josh Scobee.  It marked the longest drive on the opening possession since Oct. 7, 2000 at Kansas City (18 plays) and the first time since week five of the 2011 season against Cincinnati (Oct. 9, 2011) the club scored on their opening drive.  The Jaguars controlled the ball for 9:22.  The 17 plays were the seventh-most in team history.
Quarterback Blaine Gabbert also directed drives of 11 plays (Marcedes Lewis touchdown) and 10 plays (Scobee field goal).  The Jaguars controlled the ball for 37:49, the highest time of possession since the 2011 season-opener against Tennessee (39:38).
Jaguars without two defensive starters
The Jaguars began the 2012 regular season without two of their defensive starters in linebacker Daryl Smith (groin) and cornerback Derek Cox (hamstring).  Prior to Sunday, Smith had missed only three games in his career due to injury and it was first missed start since Dec. 18, 2008 vs. Indianapolis.  Cox played in only six games a year ago due to injuries and missed the final six games after suffering a season-ending knee injury on Nov. 20 at Cleveland.
Pot Roast records sack/forced fumble
Terrance Knighton sacked Christian Ponder and forced a fumble in the third quarter that was recovered by defensive tackle C.J. Mosley.  The turnover led to a Josh Scobee field goal.  The sack was Knighton's first since Nov. 21, 2010 vs. Cleveland and marked his second career forced fumble.  He has registered 6.5 career sacks.
Alualu registers seventh career sack
Third-year defensive tackle Tyson Alualu sacked Christian Ponder late in the third quarter.  Alualu, who has seven career sacks, started his 33rd consecutive game to open his career.
Jones-Drew sees action in reserve role
Running back Maurice Jones-Drew was activated to the club's 53-man roster on Saturday and saw action against the Vikings on the club's second play from scrimmage which resulted in a three-yard run.  Jones-Drew missed the entire preseason before reporting for work on Sunday, Sept. 2.  It marked the first time Jones-Drew played in a game without starting since Nov. 23, 2008 against Minnesota. 
Jones-Drew wasted little time getting involved in the offense, finishing with 22 touches for 95 yards from scrimmage.  He rushed for 77 yards on 19 carries and added three receptions for 18 yards.  Eleven of his carries were in the second half.
Jones-Drew sees action as punt returner
Maurice Jones-Drew returned two punts in the first half, his first action as a punt returner since the 2009 season.   He has 15 career punt returns for 133 yards.
Jones-Drew eclipses 1,500 career carries; nears 7,000-yard mark;
Maurice Jones-Drew had 19 rushes on Sunday against the Vikings, increasing his career total to 1,503.  Jones-Drew became only the fourth active player to accomplish the feat, joining Steven Jackson, Willis McGahee, Frank Gore and Cedric Benson.  Jones-Drew also continued his climb to 7,000 career rushing yards as he finished with 77 yards on 19 carries.  Jones-Drew has 6,931 yards since entering the NFL as a second-round pick in 2006.
*                          JAGUARS CAREER RUSHING LEADERS*
RK      PLAYER, YEARS                                          YARDS      ATT
* *1.       Fred Taylor, 1998-2008                 11,271     2,428
*2.       Maurice Jones-Drew, 2006-12    6,931     1,503         *
3.       James Stewart, 1995-99                 2,951         765
*           JAGUARS CAREER YARDS FROM SCRIMMAGE LEADERS*
RK      PLAYER, YEARS                                          YARDS      GAMES
* *1.        Fred Taylor, 1998-2008                 13,632           140
2.        Jimmy Smith, 1995-2005             12,286           171
3.        Maurice Jones-Drew, 2006-12    9,422              94
4.        Keenan McCardell, 1996-2001   6,393              95
*                 JAGUARS CAREER ALL-PURPOSE YARDS LEADERS*
RK      PLAYER, YEARS                                          YARDS      GAMES
* *1.        Fred Taylor, 1998-2008                13,632           140
2.        Jimmy Smith, 1995-2005             12,875           171
3.        Maurice Jones-Drew, 2006-12 11,609              94
Extra point attempt blocked
Josh Scobee had his extra point attempt blocked in the second quarter.  The last time the Jaguars had an extra point blocked was Nov. 11, 2009 at Tennessee. 
Scobee hits on all four field goals
Josh Scobee connected on all three field goal attempts, hitting from 19, 26 and 47 yards.  Scobee tied long-time kicker Mike Hollis for the most points in franchise history with 764.
*                 MOST POINTS IN JAGUARS HISTORY*
RK      PLAYER, YEARS                                       POINTS
1.       Mike Hollis, 1995-2001                         764
*           Josh Scobee, 2004-12                             764*
3.       Fred Taylor, 1998-2008                         424
*                    HIGHEST FIELD GOAL PERCENTAGE*
RK      PLAYER, YEARS                                       PCT.
1.       Mike Hollis, 1995-2001                    80.6 (175 of 217)
2.       Josh Scobee, 2004-12                        79.1 (170 of 215)
*           MOST CAREER FIELD GOALS IN JAGUARS HISTORY*
RK      PLAYER, YEARS                                       FGs
1.        Mike Hollis, 1995-2001                   175 (217 attempts)
2.        Josh Scobee, 2004-12                       170 (215 attempts)
Scobee remains hot in September
Kicker Josh Scobee has connected on his last 13 field goal attempts in September including three on Sunday at Minnesota.  Scobee is 6 for 6 in his career against the Vikings. 
Blackmon in starting lineup; eight rookies see action
2012 first-round pick Justin Blackmon became the first rookie to start at wide receiver since Reggie Williams in 2004.  Blackmon finished with three receptions for 24 yards with a long of 13 yards.  Defensive end Andre Branch did not start but was in on the second play from scrimmage.
In addition to Blackmon and Branch, rookies seeing action in the opener included punter Bryan Anger, defensive back Antwon Blake, linebacker Brandon Marshall, linebacker Julian Stanford, center Mike Brewster and wide receiver Kevin Elliott.
There was a familiar face in the Jaguars starting lineup Sunday in center Brad Meester as he started his 59th consecutive game.  Meester opened the season as a starter for the 11th time in 13 seasons.  He is the only player to play for the three head coaches in Jaguars history (Tom Coughlin, Jack Del Rio, Mike Mularkey).  He missed the first four games of the 2007 season after breaking a bone in his ankle during training camp and the first six games in 2008 with a biceps injury suffered in training camp.
Bradfield earns starting job
Second-year pro Cameron Bradfield made his third career start on Sunday after earning the starting right tackle job in the preseason.  Of his three career starts, all on the road, two are at right tackle and one on the left side.  He earned a roster spot in 2011 as an undrafted rookie out of Grand Valley State.
Fourth-year pro Eben Britton returned to the starting lineup after being hampered by injuries the last two seasons.  Sunday marked his first start since Oct. 2, 2011 vs. New Orleans and only his third career start at left guard.  The 2009 second-round pick missed 12 games in 2011 with a back injury and was slowed by a shoulder injury in 2010 that limited him to only seven games. 
Allen gets opening day start for first time
Linebacker Russell Allen has played in 49 straight games to begin his career since earning a roster spot as an undrafted free agent in 2009.  Allen, who has started 16 games, opened the season as the starter for the first time in his career.
Smith makes long-awaited NFL debut
Defensive tackle D'Anthony Smith waited two years to play in a regular season game after being selected in the third round of the 2010 draft.  Smith suffered an Achilles injury in training camp and missed the entire 2011 season with a toe injury.
The 23 points scored by the Jaguars were the most in a road game since Dec. 18, 2010 at Indianapolis (24 points).  The Jaguars scored 23 or more points only once in 2011 (41, Dec. 11 vs. Tampa Bay).
The Jaguars converted 9 of 18 on third down while holding the Vikings to 2 of 10. 
The Jaguars rushed for 113 yards on 34 carries, the ninth straight game the club has eclipsed 100 rushing yards.
In his Jaguars debut, wide receiver Laurent Robinson led the team with 66 yards on five receptions including a 26-yard catch in the second quarter.
Running back Jalen Parmele made his Jaguars debut and recorded his first carry since Dec. 13, 2009 vs. Detroit as a member of the Baltimore Ravens.
Inactives Sunday were wide receiver Brian Robiskie, cornerback Derek Cox, linebacker Daryl Smith, guard/center Josh Beekman, defensive end George Selvie, defensive end Austen Lane and defensive tackle Jeris Pendleton.
Third-year pro Kyle Bosworth made his first career start in place of Daryl Smith (injured).
Fourth-year pro William Middleton started at RCB for injured Derek Cox.  Middleton has played in 40 games with 10 starts.
Safety Dawan Landry extended his streak of consecutive starts to 49 games.