The weather remains a factor, but as Jaguars Head Coach Mike Mularkey sees it, the work has won out, anyway.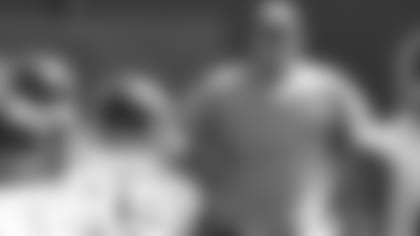 The Jaguars Thursday afternoon worked for about 45 minutes on the Florida Blue Health and Wellness Practice Fields before lightning forced them to finish the ninth practice of 2012 organized team activities on an upper level inside EverBank Field.
It was the second time in three days weather has forced the Jaguars inside. They moved the entire practice inside Tuesday.
They also had moved a practice inside during a three-day veteran orientation in April, but Mularkey said the team remains on schedule.
"I'd say we are," Mularkey said. "We're missing on the physical part of going outside, and a lot of individual work and film work that's critical for teaching. We've missed a couple of individual periods that are one on one instruction.
"We have to deal with the weather and the guys have been outstanding in their ability to adjust, to go out and do what we did on the field today, stop, come back in and change shoes and still finish the practice with all the reps."
Mularkey said the Jaguars on Thursday did a few things players weren't expecting.
"That's what you want – you want a bunch of guys who don't flinch," he said.
The Jaguars continue to work toward signing their 2012 draft class, on Thursday announcing they have signed sixth-round selection Mike Harris.
Harris, a cornerback from Florida State, was the No. 176 overall selection in the 2012 NFL Draft and is the second of the Jaguars' six draft picks to sign a contract. The Jaguars earlier this week signed defensive end Andre Branch, the team's second-round selection.
Duration and terms of the contract were undisclosed.
JOHNSON SIGNED, TRENT RELEASED
The Jaguars on Thursday also re-signed rookie free agent cornerback and return specialist Dontrell Johnson, waiving veteran cornerback Morgan Trent.
Johnson, a two-time second-team All-Ohio Valley Conference selection at Murray State, originally signed a contract with the Jaguars as a rookie free agent on May 3. He was waived on May 14 after the team signed Brandon Coutu.
Trent, a four-year veteran, played in six games with the Bengals, one game with the Indianapolis Colts and five games with Jacksonville in 2011 after being waived twice during the season.
WHAT MULARKEY SAYS ABOUT DE AUSTEN LANE
"He practices like he's never had an injury. He has a motor on him that's 100 mph, but he did spend a lot of time rehabbing (from a season-ending shoulder injury) and coming back to pretty much full strength. We were limiting him early on, and he has been very productive. When you don't hear a lot about a guy that's a good thing. He's doing things right. He's been a pleasant surprise."
On Thursday, we not only saw about 300 high school coaches attending practice, we saw them watch about 45 minutes of practice before moving inside because of threatening lightning. The coaches were attending as guests of the team as part of the Jaguars North Florida and South Georgia coaches clinic. Mularkey had run a similar clinic in Buffalo as the head coach of the Bills from 2004-2005, and the Atlanta Falcons ran a similar program under head coach Mike Smith when Mularkey was there as offensive coordinator the past four years. "We're really happy with the response," Mularkey said. The Jaguars practiced at 3 p.m. rather than 11 a.m. to allow the coaches to attend the practice prior to dinner and evening coaching sessions.
With the high school coaches in attendance, the Jaguars quarterbacks appeared to have a good day in the time available outside. The Jaguars worked the two-minute drill for the first time in OTAs, with starting quarterback Blaine Gabbert and backup Chad Henne each getting a chance to work extensively in the pass-oriented drills. Each player looked accurate and comfortable during the drill, with each completing all but two or three passes. Third-team quarterback Jordan Palmer also completed several long passes during the end of the drill. "I felt like watching their body language and their command, they were very comfortable," Mularkey said, adding that the entire offense performed well on the drill, particularly for the first time running two-minute.
Most of the 90 Jaguars players on the off-season roster will participate in organized team activities practices through Friday, June 1. The team's mandatory mini-camp is scheduled to run June 12-14. Training camp is scheduled to begin in late July.
*Mularkey said wide receiver Mike Thomas is getting extensive work at various receiver positions, "and has handled it pretty well. He's been grasping things more than the other guys. He's been around. He has done well. As he gets it, he gets better and better. He has had a good camp." Mularkey said Thomas right now is the Jaguars' most versatile receiver because of his experience and his ability.
*Fullback Montell Owens returned to practice Thursday, while linebacker Clint Session and cornerback Aaron Ross missed for the third time this week. Others missing the voluntary workout were tight end Marcedes Lewis, kicker Josh Scobee and running back Maurice Jones-Drew. Lewis had practiced the first two days of the week. Defensive linemen Aaron Kampman, Tyson Alualu, Terrance Knighton continued to work on the side, as did cornerbacks Rashean Mathis and Ashton Youboty.
*Mularkey also threw out the first pitch at the Jacksonville Suns' game against the Mobile Bay Bears at the Baseball Grounds of Jacksonville Thursday evening. Mularkey said while he used to throw batting practice to his sons, it has been a few years since he threw extensively. "I have a ball on my desk and I will throw a couple before I go over there," he said.