JACKSONVILLE – The AFC South could be decided in the final weeks.
As for the early part of the Jaguars' 2016 regular-season schedule … you know that home game against Aaron Rodgers and the Green Bay Packers many fans coveted?
They won't have to wait for it.
The Jaguars will open the 2016 regular season at EverBank Field against the Packers on September 11, and a schedule that includes six games against 2015 playoff teams – including the defending Super Bowl champions – will close with three consecutive games in the AFC South.
Those are some of the highlights of the Jaguars' 2016 schedule, which was released with the entire 2016 NFL regular-season schedule Thursday at 8 p.m.
The Jaguars' lone '16 national-television appearance will be against the Tennessee Titans in Nashville Thursday, October 27. The game will be televised on NFL Network.
The Jaguars' two games against defending AFC South champion Houston are November 13 at home and December 18 in Houston. The December 18 game is the first of a three-game, season-ending AFC South stretch in which the Jaguars will play at home against Tennessee on December 24 before visiting Indianapolis in the regular-season finale January 1.
The Jaguars will play host to defending Super Bowl champion Denver at EverBank Field on December 4. That's one of six games against '16 playoff teams, with the others being against Houston (two), Green Bay, Minnesota and Kansas City. The Jaguars will visit Kansas City November 6 and play host to the Vikings on December 11.
After opening against Green Bay, the Jaguars will travel to San Diego in Week 2 followed by home games against Baltimore at EverBank Field September 25 at 1 p.m. and against the Indianapolis Colts at Wembley Stadium in London on October 2 at 9:30 a.m. ET.
The Jaguars have their bye week following the London trip, then play three of four games on the road at Chicago (October 16), at Tennessee and at Kansas City (November 6). The home game during that stretch is against the Oakland Raiders October 23.
The game against Tennessee marks the third consecutive season the Jaguars' lone prime-time game has been an NFL Network game against the Titans.
The Jaguars then will play Houston at EverBank Field followed by out-of-division road games at Detroit and Buffalo before playing host to Denver.
They open the final quarter of the season with a home game against Minnesota before the three-week, season-ending stretch of AFC South games.
The schedule features home games against two teams that – like the Jaguars' selection of Blake Bortles – took quarterbacks early in the 2014 NFL Draft: Oakland (Derek Carr) and Minnesota (Teddy Bridgewater). It also will mark the Packers' first appearance at EverBank since 2008 when the Jaguars beat Green Bay 20-16 in Rodgers' only previous game in Jacksonville.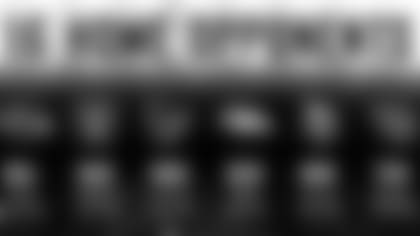 ](http://www.ticketmaster.com/artist/805954?&brand=jaguars)
*September 11: Green Bay Packers, 1 p.m. (FOX)
*September 18: at San Diego Chargers, 4:25 p.m. (CBS)
*September 25: Baltimore Ravens, 1 p.m. (CBS)
*October 2: Indianapolis Colts (London), 9:30 a.m. (CBS)
*October 16: at Chicago Bears, 1 p.m. (CBS)
*October 23: Oakland Raiders, 1 p.m. (CBS)
*October 27: at Tennessee Titans (Thursday), 8:25 p.m. (NFLN)
*November 6: at Kansas City Chiefs, 1 p.m. (CBS)
*November 13: Houston Texans              , 1 p.m. (CBS)
*November 20: at Detroit Lions, 1 p.m. (CBS)
*November 27: at Buffalo Bills, 1 p.m. (CBS)
*December 4: Denver Broncos, 1 p.m. (CBS)
*December 11: Minnesota Vikings, 1 p.m. (FOX)
*December 18: at Houston Texans, 1 p.m. (CBS)
*December 24: Tennessee Titans (Saturday), 1 p.m. (CBS)
*January 1: at Indianapolis Colts, 1 p.m.  (CBS)