JACKSONVILLE – His confidence is as high as his goals are clear.
Outside linebacker Josh Allen is key entering Jaguars 2022 Training Camp, as important as any story outside quarterback Trevor Lawrence. The Jaguars need the No. 7 overall selection in the 2019 NFL Draft to play well, to be a dominant player and a face of the franchise.
Allen expects that – and maybe more.
"I feel like this offseason I prepared, and I worked my butt off," Allen said Tuesday on Day 2 of '22 training camp, being held at the Knight Sports Complex of the Episcopal School of Jacksonville. "I've learned. I grew. I got physically stronger. I got mentally stronger.
"I feel like, 'OK, nobody's stopping me.' I feel like I'm going to be the best player in the National Football League."
Allen, a fourth-year veteran who led the Jaguars in sacks in 2019 and 2021, spoke to the media Tuesday after practice. He covered multiple topics, including his habit of working with young Jaguars defenders of all levels extensively after many practices.
That's a trait of Allen's that defensive coordinator Mike Caldwell discussed Tuesday, too.
"It's a sign of him being a leader, a good teammate and also being the man he is," Caldwell said. "'However you got here, you're here. Now, you're in Jacksonville. You can help us. We're going to try to get everything we can out of you.'
"He's a guy who has been through it. He understands it. He's able to spill his knowledge to the young guys. They're gravitating to him."
Allen, who has 20.5 sacks in three NFL seasons, spent this offseason focused largely on improving and preparing for the season. He not only spent extensive time in Arizona early in the offseason working with former Cardinals defensive end Bertrand Berry at Exos Athletic Training, he participated in All-Pro Von Miller's Pass Rush Summit in June.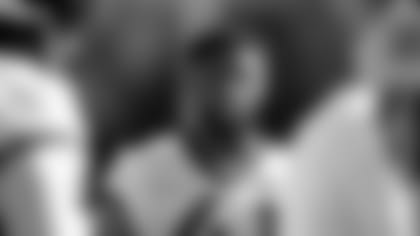 He then arranged for former Indianapolis Colts All-Pro pass rusher Robert Mathis to work with the Jaguars' pass rushers in the weeks leading to training camp.
"This offseason was a great offseason for me," he said. "I got to be around a lot of different players, a lot of legends … a lot of guys I could pick their brains and learn from. I'm at the stage now I just need to prep and prepare and get my mind right, get a schedule and work every day.
"It's about the things you do over and over again. That was the main message I got from all of those guys. I appreciate all of them and I can't wait to show it on Sundays."
Allen, a Pro Bowl selection following the 2019 season, enters this season eligible for a contract extension for the first time in his career. The Jaguars exercised his fifth-year option for the 2023 season, and he is currently playing on his rookie contract.
"I'm ready to play some football that speaks for itself," Allen said Tuesday.
Allen said his main objective entering 2022 is improving each day and focusing on details, and that how he approaches the game mentally will determine his season. He also called the Jaguars' talent around him this offseason "phenomenal," smiling when asked about the difference this season under Head Coach Doug Pederson from Urban Meyer last season.
"It feels good to be a part of a professional locker room – not only in the locker room, but when you talk to the coaches, it's a professional setting," he said. "It's not getting on you. It's telling you what's right and what's wrong. He talks to us in a way we can understand it and grow. He's not getting on us. He's letting us know what's real and he's talking to us like grown men."
Of Pederson's background as a Super Bowl-winning head coach with the Philadelphia Eagles following the 2017 season, Allen said:
"He has the respect in his resume. We want to be an organization where we get to that point someday. If we do things right and we listen, I feel like we can get to that point."
And after a focused, dedicated offseason, Allen is confident he can reach just that point individually as well.
"I know the work I've put in," Allen said. "I know the sacrifice and the discipline I've put in to get to that level. It's really up to me. I believe that and I'll continue to believe that until the end of the season and the postseason. I'm going to work like that every day."
Caldwell on being an elite defense: "That's the goal. That's what everyone works towards. You want to be elite. You come out here every day in training camp and our message to them is, 'You have to build and it's a process.' You build and you work every day and at the end of the day, what happens happens."