It was the seventh day of the second training camp under Head Coach Doug Pederson, featuring a padded practice at the Miller Electric Center. Each day throughout camp, four members of Jaguars Media – senior writer John Oehser, senior correspondent Brian Sexton, senior reporter/editor J.P. Shadrick and team reporter Kainani Stevens – will share an observation.
Here are Wednesday's "campservations:"
John Oehser, Jaguars Senior Writer…
Wednesday's two-hour, 15-minute practice was '23 camp's longest to date – but it was far from the most aesthetically pleasing. Jaguars skill players dropped multiple passes in multiple drills, with one count having wide receiver Calvin Ridley dropping four passes. One highlight came early in practice with an uber-competitive one-on-one wide receiver-cornerback drill. While there dropped passes and penalties in this drill, that didn't make the competition less intriguing. That was particularly true when Ridley was working against cornerback Tyson Campbell, with the duo's one-on-one work throughout camp one of the highlights of the first week. "I love every bit of it," Campbell said. "It's going to make Sundays so much easier for me. I'm going to do the same for him. I love to compete. He's a great player. That's just how we are. We just love to compete."
Brian Sexton, Jaguars Senior Correspondent …
I really enjoyed watching Ridley against Campbell Wednesday. It was alpha versus alpha. That kind of competition is fun to watch, but it also sets the tempo for the other receivers and cornerbacks. This is a game of human confrontation, and even though they're teammates, they were about one thing for those 20 seconds: The ball. I found myself wondering what it must have been like watching Hall of Fame cornerback Deion Sanders versus Hall of Fame wide receiver Jerry Rice when they were teammates in San Francisco. This isn't quite that, but it sure is fun to watch.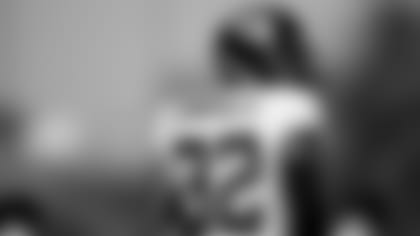 J.P. Shadrick, Jaguars Senior Report/Editor …
Wednesday's practice was not the cleanest, and a lot of things seemed just a tick off. The offense had some issues with drops, especially early, but tight end Evan Engram had two touchdown catches late in team drills in the red zone. The Jaguars cornerbacks for the most part won the day in one-on-one routes against wide receivers, when there weren't penalty flags thrown for holding or pass interference. In general, the offensive line had a good day in one-on-one pass rush drills against the defensive line. Safety Daniel Thomas was flying around in team work. The Jags are back in helmets and shells Thursday before a day off Friday. Head Coach Doug Pederson said the true dog days of camp start Saturday with three consecutive padded practices.
Kainani Stevens, Jaguars Team Reporter/Producer ...
Day 7 was marred with drops and mistakes across the board. Perhaps that was the result of some fatigue after a tough practice on the first day of pads Tuesday. It's not unusual for days like this in training camp but things from an observer's perspective just looked sloppy. Tuesday was just one of those days.