JACKSONVILLE – The DaVon Hamilton news Thursday was positive.
The veteran defensive tackle who has been away from the Jaguars since this past weekend with a "non-football-related" back issue could return to EverBank Stadium next week, Head Coach Doug Pederson said Thursday.
"He's doing extremely well," Pederson said before Day 21 of Jaguars 2023 Training Camp at the Miller Electric Center.
Pederson addressed multiple injuries Thursday as the Jaguars prepared to play the Miami Dolphins in the 2023 preseason finale at EverBank Stadium Saturday at 7 p.m. He also discussed injuries to offensive linemen Josh Wells and Cooper Hodges.
Pederson opted against providing timelines on injuries, but said the Jaguars were "happy" about the news regarding Hamilton. Pederson said he would be comfortable playing the fourth-year veteran in a regular-season game even if he didn't practice extensively leading to the game.
"As a veteran player, you know what he can do," Pederson said. "I wouldn't have any problem with that. It'd be more about where he was physically at the time."
Pederson said Hodges – a seventh-round selection in the 2023 NFL Draft – definitely will not play Saturday and said placing Hodges on injured reserve "a real possibility." Pederson added Hodges' patella injury sustained in a Preseason Week 2 victory over the Detroit Lions last Saturday is not expected to require surgery.
"There's going to be some time missed," he said of Hodges. "I don't know how much time, but it just depends on the healing process."
Wells, a 10-year veteran who signed with the Jaguars this past offseason to be a swing tackle, has not played or practiced since sustaining an adductor injury in practice against the Detroit Lions last Wednesday.
"He's another one that's going to miss some time," Pederson said.
Pederson on Thursday said third-year veteran Blake Hance could be the swing tackle in Wells' absence. Rookie Anton Harrison is expected to start at right tackle, with third-year veteran Walker Little starting at left tackle. Cam Robinson, the starting left tackle from 2017-2022, will be suspended for the first four games of the season because of a violation of the performance-enhancing drugs policy.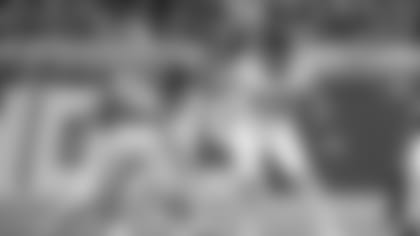 "Right now, if this were Week One, it would be Blake," Pederson said.
The Jaguars as the preseason approaches an end have dealt with multiple health issues along the offensive line in addition to Wells and Hodges. Veteran swing guard Tyler Shatley has been out since early August after an atrial fibrillation and lineman Chandler Brewer was in the concussion protocol early this week.
Harrison has played and practiced through a shoulder issue in recent weeks, and veteran guard Ben Bartch is expected to make his '23 preseason debut Saturday after beginning camp on the Physically Unable to Perform list. Bartch sustaining a torn anterior cruciate ligament in Week 5 last season.
The Jaguars and all NFL teams must reduce their rosters to the regular-season limit of 53 by Tuesday at 4 p.m.
"If these injuries were going to happen, you would love for them to be at the beginning of camp and now they're getting healthy," Pederson said. "We've got some time obviously this week and next week, then we do have to make decisions fairly early next week.
"It's just the nature of the business. We'll sit down as a staff with [General Manager] Trent [Baalke] and his staff, go through and talk about everybody and come away with the final 53."
Shatley worked limited during a light practice Thursday, with Wells and safety Antonio Johnson (hamstring) not practicing
Hodges (patellar) and defensive lineman Foley Fatukasi (foot) did not attend practice, and Hamilton remained out
Defensive lineman Dawuane Smoot (Achilles) remains on the Physically Unable to Perform list to start camp
Long snapper Ross Matiscik (shoulder) remained out of practice