He likes the potential of his position group, and there are many reasons he believes the Jaguars' wide receivers can be very good in 2023.
The addition of Calvin Ridley to a group that already includes Kirk and Zay Jones is one reason. Another is the overall depth of the group. But Kirk on Tuesday said perhaps the biggest reason is the chemistry and approach of a group with potential to be among the NFL's best.
"It's just a lot of fun getting to go to work with these types of guys," Kirk said.
The reason, Kirk said, is the cohesion of the group and "bonds and relationships we've created." Those elements began growing in 2022, when Kirk and Jones combined for 1,931 yards and 13 touchdowns. Kirk said they have continued since Ridley joined the team for the '23 offseason program after being acquired in trade last November from the Atlanta Falcons.
"Everybody's just bought in," Kirk said. "We're all bought into winning. We all understand that there are a lot of mouths to feed, that we have a lot of talent and there's only one ball, but nobody really cares about that. Everybody's focused on winning one week at a time and taking this thing as it progresses.
"It's cool to have everybody on the same page, bought into the goal and what we're trying to accomplish.
Kirk, a sixth-year veteran who led the Jaguars with 84 receptions for 1,108 yards and eight touchdowns last season, said that approach and the talent of the group could make this a special receiving corps.
How special? Enough that it might eventually be as good as the Arizona Cardinals receiving group with which Kirk played from 2018-2021. That was a group that not only included veteran Larry Fitzgerald near the end of a Hall of Fame career (2018-2020), but All-Pro DeAndre Hopkins (2020-2021) in his prime seasons and All-Pro A.J. Green (2021) near the end of a likely Hall of Fame career.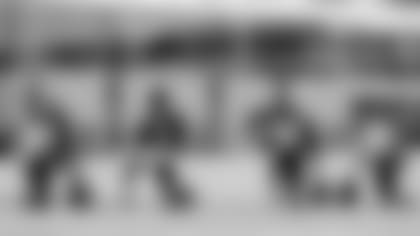 "I've been a part of some special ones," Kirk said. "I've been in the room with a couple Hall of Famers. We have the potential. I wouldn't say we're there yet, but we have the potential top to bottom, not only production-wise, but just from a professionalism and character standpoint.
"With the type of guys we have in our room, we definitely have everything that it takes to be special."
Kirk on Tuesday also said he likes the depth of the Jaguars' receiving room, and said he is more confident as a vocal leader in his second season with the team compared to his first season. And he said while his own focus – and that of the receiver room – is very much on team goals, he personally has the same motivation as when he arrived in Jacksonville in the 2022 offseason.
"I definitely feel like there's always something to prove," he said. "I know within myself, there's a lot that I want to prove. I may feel overlooked at times and that's just part of it. It has kind of been the story of my career. I never really lose that edge.
"I always walk away from a season saying that that wasn't good enough in certain areas. It's still the chip on my shoulder, trying to not only prove to myself, but to this team, to this league, that I can be one of the best in the league consistently.
"Everybody can do it one year. The thing I mainly want to prove to myself is doing it consistently year in and year out."
Defensive coordinator Mike Caldwell on Tuesday discussed the team's nickelback situation, saying the competition between second-year veteran Greg Junior and sixth-year veteran Tre Herndon "will continue." Caldwell said Herndon did not play in a Preseason Week 2 victory over the Detroit Lions Saturday because he is "considered a starter for us right now. He's in a good position. He makes plays and he's that veteran presence that steadies the secondary." Junior, a sixth-round selection in the 2022 NFL Draft, has an interception, a forced fumble and a fumble recovery in two preseason games. "Junior's had a heck of a camp," Caldwell said. "He has been making plays all over the field."
Caldwell on roster decisions as the August 29 date to reduce the roster to 53 players approaches: "Coaching-staff wise, we talk about it, but we really haven't talked about it yet. Those decisions are coming next week and players make those decisions. We'll grade everything throughout camp. When you're making plays and you're doing what you're supposed to do, that makes the decision easy for a coach."
Caldwell on the importance of special teams to deciding roster spots: "From Day One, I tell my guys that if you're not one of the 11 that run out there on the first play, you better be able to contribute on special teams. That's the message around here: 'If you're not one of those starting 11, and you can't contribute on specialty, it's going to be hard for you.' That's the message they get. They take it. They understand it. Special teams is a big part."