JACKSONVILLE – His confidence is high, personally and as an offense.
Trevor Lawrence on Wednesday said there are multiple reasons for that as the 2023 preseason finale approaches, with the regular season soon to follow. Among the biggest?
The confidence and preparation of the entire offense.
"We have a really clear vision of what we want," Lawrence said Wednesday.
Lawrence, the Jaguars' third-year starting quarterback, spoke to the media following Day 20 of 2023 Training Camp at the Miller Electric Center Wednesday. The Jaguars will play host to the Miami Dolphins at EverBank Stadium Saturday at 7 p.m., with offensive coordinator Press Taylor on Wednesday morning saying he likes what he has seen from Lawrence as camp approaches an end.
"It seems like he's kind of picked up where he left off at the end of the season and carried that through the entire offseason," Taylor said of Lawrence, who threw 15 touchdown passes and two interceptions as the Jaguars went 7-2 over the last nine games of the 2022 regular season to win the AFC South.
"It feels like we're light years ahead as an offense where we're at this time last year," Taylor added. "But in this league, you have to prove it every single down. It doesn't matter how you feel, it matters how you perform. That's what we want to continue to see from all our guys."
Lawrence, who threw 25 touchdowns with eight interceptions last season after throwing 12 and 17, respectively, as a rookie, cited multiple reasons he feels good entering '23. Among them: Steadily increasing chemistry with a group of receivers that improved late in '22 and continues to do so.
"I feel really good," Lawrence said, adding that he also is quickly gaining comfort with veteran Calvin Ridley. "We've built a lot of chemistry even more in this training camp. Obviously, we had a lot with the guys that were here last year. I like the direction we're heading.
"We just have to keep getting better every day. It's such a long season. You just have to get better every day, every week."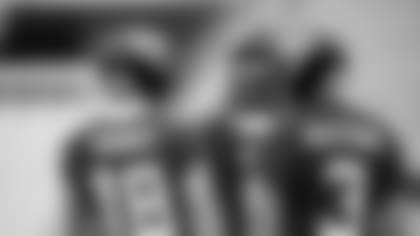 Head Coach Doug Pederson has talked often of the potential for improvement for Lawrence and the offense in the second season player in Pederson's system. Players have talked throughout camp of feeling such a difference, and Lawrence on Wednesday talked of the "consistency" and "communication" that comes with familiarity with the offense.
"We have a better idea of what we're good at and offensively what we want to try to do," Lawrence said. "We're in a good spot there, and there's a rapport with the guys offensively. Whether it's the receivers, tight ends, offensive line, running backs – all those guys, we're just a close group.
"That gives everybody confidence. You can count on the guy next to you. The guys have played well, performed really well, and even our depth throughout the preseason has looked great. It's just encouraging for everybody.
"Everybody feels like they can go play free. I just like where we are right now."
Lawrence on balancing playing time and wanting to stay injury-free in preseason: "It's kind of a tough situation. You want to keep everybody healthy and we've had some [injuries]. You want to get repetitions and you want to get into a rhythm. Then, you play two drives and that's when you kind of start to get a rhythm, so it's, 'What's the best thing?' It's kind of a fine line and I think our coaches have done a great job of handling that. It will be good to get a little bit more work this week."
Taylor on whether to keep two or three quarterbacks on the 53-player regular-season roster: "We've had those conversations here and there. It's really kind of a case-by-case, week-by-week basis. There may be a situation where you keep that [third] guy on the 53, but if you're light at another position, you need the bodies and you're a healthy quarterback, maybe that week you don't have a third quarterback. Like anything in this league, things could change so quickly. Everything's down-to-down, game-to-game, whatever it is. I don't know that there's one blanket philosophy we have on that situation necessarily."