JACKSONVILLE – Ben Bartch is back – and after a long 10 months, that's a good feeling.
That's good news for a Jaguars offensive line that has sustained multiple injuries in the last week – and particularly good news for Bartch, who spent the last 10 months rehabilitating after sustaining a torn anterior cruciate ligament in Week 5 last season.
"It's been a journey," Bartch said. "It's been a lot of highs and lows, a lot of winding roads and different challenging experiences. So, it's been definitely a journey."
Bartch, a fourth-round selection in the 2020 NFL Draft from St. Johns (Minn.) University, has started 17 games in three seasons. He started the first five games at left guard last season, and his return this week is particularly important with Tyler Shatley – who started in Bartch's place last season – remaining out after having an atrial fibrillation in training camp.
Multiple Jaguars reserve offensive linemen sustained injuries in practice last week and in a Preseason Week 2 victory over the Detroit Lions Saturday, with Jaguars Head Coach Doug Pederson saying Monday of Bartch, "We're going to increase his reps this week and he'll have a chance to play in the Miami game and give us some quality reps there."
Bartch called his return "very exciting."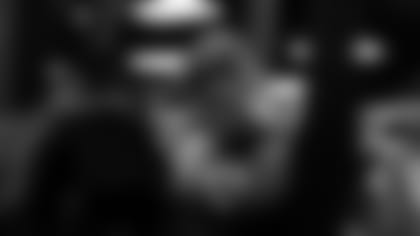 "It's just exciting to be back with all the guys and back to working hard and playing," he said, adding that he feels he will be 100 percent Week 1: "I feel that way. I just kind of take it day by day."
"They kind of let me know, but from my understanding of what I know, yeah," he said.
When he does play for the first time this season, Bartch said he will do so with a greater appreciation for football.
"Every day's a gift," he said. "That kind of your view. Time's valuable and it's about making the most of every opportunity after being away from it and having it taken from you. It's made me appreciate things more and see football through a different perspective.
"I've done a lot of growing for sure over the last 10 months."
Bartch called being away from the team tough, with "a lot of monotony just a lot of lonely, lonely, repetitive quiet days."
"It's incredibly difficult, the psychological, emotional part of it," he said. "You're so invested in something, then you watch it unfold without you. That makes this week all the more sweet, finally being kind of at the end of that road.
"I'm going to work incredibly hard to be better than I was before. Ultimately that will help us win games for this team and city, which is the goal."
Pederson praised Walker Little's performance against the Lions and was less pleased with the performance of Cam Robinson. Robinson has started the last six seasons at left tackle, with Walker expected to start the first four games of the 2023 regular season with Robinson serving a league suspension for performance-enhancing drugs during that time. With most starters not playing against Detroit, Little started at left guard with Robinson at left tackle. "I thought Walker did a nice job at left guard," Pederson said. "He looked comfortable in there, he's a big body, he moved well. We wanted to see him, so we set up a couple of runs where he could pull just a little bit. We wanted to see that and loved his physicality in there." Pederson added of Robinson, "Probably not his best game. I thought he was on the ground a little bit too much and beat a little bit. For somebody his caliber, he should play better. He knows that and he understands that. It was good to see both of those guys together, though, and see the communication and dialogue that those two had during the game. Hopefully, that sets us up for things to come here in the near future."