LONDON – Trevor Lawrence put it succinctly and clearly.
The Jaguars' starting quarterback threw two interceptions Sunday in the team's fifth consecutive late-game loss, with both turnovers coming at critical times.
"I've got to look in the mirror and I've got to play better," Lawrence said after the Jaguars' 21-17 loss to the Denver Broncos at Wembley Stadium Sunday afternoon.
Lawrence, the No. 1 selection in the 2021 NFL Draft, completed 18 of 33 passes for 133 yards and a touchdown Sunday. He threw a first-quarter touchdown pass to give the Jaguars an early lead and he led a clutch fourth-quarter drive to give them a late one.
But he also threw a second-quarter end-zone interception. That was his first interception Sunday. His second interception ended the Jaguars' hopes at a comeback.
"Listen: We still have a lot of trust and a lot of faith in him," Jaguars Head Coach Doug Pederson said. "We're just going to continue to grow. We're going to grow together. I just told him to keep his head up, stay confident. I want to put the ball back in his hands and just show the trust that we have, that I have in him and that the team has.
"He knows that we've got to be better in a few situations, but again, those are really good learning opportunities for Trevor."
Teammates agreed, with running back Travis Etienne Jr. saying, "I was just telling Trev: 'It's never on you; it's a team sport."
"Football is played with 11 men on the field at that time a time and not one man is going to be the whole show," said Etienne, Lawrence's teammate for three seasons at Clemson University. "We just have to get 11 on the field, each of us doing our job, and that's how we're going to be better."
Lawrence this season has thrown six interceptions, including three in the red zone. Two of the red-zone interceptions have come in the end zone – one in a 13-6 loss to the Houston Texans in Week 5 and another in the end zone Sunday. Sunday's came on first-and-goal from the one with the Jaguars leading, 7-0, with 12:48 remaining in the first quarter and safety Justin Simmons intercepting Lawrence a yard deep in the end zone.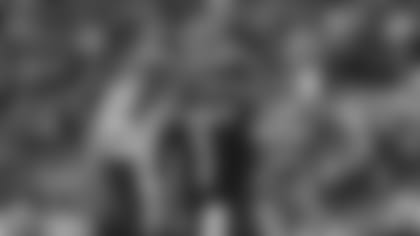 "There's a sense of urgency where we have to be better," Lawrence said. "That's like you talk about: The turnovers in the red zone we've had. We had one last week, had another one this week, and those are just points you're taking right off the board.
"We've got to be better in that way. I thought our defense did a great job today of keeping us in the game when we sputtered on offense, but if you look back at that possession where we're on the goal line, should have scored, that's big. That's a seven-point swing."
Lawrence's second interception came after the Broncos took the lead with 1:43 remaining. Lawrence on first-and-10 from the Jaguars 25 threw to wide receiver Christian Kirk, with cornerback K'Waun Williams intercepting to preserve the victory.
"We had all the confidence in the world stepping out there, and then first play I threw it a little bit behind Christian, and the nickel made a good play and picked it," Lawrence said. "There's a couple plays I really want back, but you don't get them back at this point.
"I've got to play better, and I'll leave it at that. I didn't play well enough today to win."
Etienne rushed for a career-high 156 yards and a touchdown on 24 carries Sunday, his second consecutive game with more than 100 yards rushing. His carries were 10 more than his previous NFL career high. "I'm a running back, and I feel like you ask any running back that question and we get better as the game goes because now they tackle us," Etienne said when asked how he handled the increased workload. "I feel like we get better as the game goes, the offensive line keeps rolling. And I want to give my shoutout to them. They played a hell of a game. I feel like as a running back you're a competitor. Then the team needs you, you make those plays. I feel like throughout the game I just kept getting better and better of just getting in that zone. I feel great right now. I'm pretty sure I'll wake up sore a little bit, but that's just football."
Lawrence: "We know how close we are, but that's not really the point of this thing. It's to go win games. Moments like this will make it a lot sweeter when we do turn that corner and we start winning a bunch of games and doing all the things we know we're capable of here, and I've got no doubt that's going to happen. I believe we're going to do it, but gosh, I wish it would have started today. That's what's really disappointing, is we felt like it was going to start today and just didn't finish."