JACKSONVILLE – Trevor Lawrence looks at Saturday from both sides.
Lawrence, the Jaguars' second-year quarterback and a player with extensive big-stage experience, knows that night will be big. And exciting. There will be pre-game hype and in-game intensity.
He also knows the buildup matters little compared to the moment.
"It feels good to be in a big-time game like this," Lawrence said Wednesday as the AFC South-leading Jaguars (8-8) prepared to play the Tennessee Titans (7-9) at TIAA Bank Field Saturday at 8:15 p.m. "But you can't make it bigger than it is. We've still got to go out and execute and play well."
Saturday's winner will win the South, with the Jaguars winning the division if the teams tie. It's a huge game, one teammate on Wednesday said they expect Lawrence – the No. 1 overall selection in the 2021 NFL Draft – will handle ably.
"He's played in a national championship football game that has 100,000 fans," Jaguars wide receiver Christian Kirk said of Lawrence, who played in two College Football Playoff National Championship Games at Clemson. "To play in games like that, and atmospheres like that, it's no different. I don't think it can get any bigger for him.
"You're doing it at a little bit of a higher level, but it's no different. I know he's primed for it. We've trained very hard. We trust our training. That will help us be successful."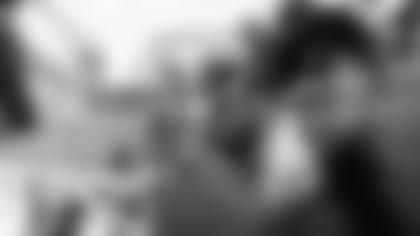 Jaguars offensive coordinator Press Taylor on Wednesday said he "is very confident" in Lawrence entering the biggest game of his two-year NFL career.
"We're very confident in the guy that he has shown us to be so far," Taylor said. "We don't expect anything different from him. He has been in big-game atmospheres before – whatever level that was, whatever that meant at the time.
"We're very excited he's leading our team."
The Jaguars, after a 2-6 start, have won six of the last eight games – and four consecutive games to rally from what once was a three-and-a-half game deficit in the division. They have victories in that span over two teams – the Baltimore Ravens and Dallas Cowboys – that have qualified for the postseason. Two victories in the last month have been over the Titans and New York Jets, two teams competing for the postseason at the time of the game.
"If you look at our season, he's definitely prepared for this moment," Jaguars wide receiver Marvin Jones Jr. said. "We've had to win the games we've won to be in this position. You're talking about going against some playoff-caliber teams. If we don't win those games, we're not sitting here talking about anything. All season we have been in close games with high stakes.
"It's a reflection of what we have been through. It's a reflection of our team to be on the run we've had. It's not done. Everybody's ready and it's all about us."
Among the challenges facing the Jaguars Saturday: Preparing for a Titans offense that will start quarterback Joshua Dobbs, who will make his second NFL start in the game. Dobbs, a sixth-year veteran who played for the Jaguars in 2019, completed 20 of 39 passes for 232 yards and a touchdown with an interception in his first NFL start – a 27-13 loss to the Dallas Cowboys last Thursday. "As coaches, you always want to go back and turn over every stone," Jaguars defensive coordinator Mike Caldwell said of Dobbs, who signed to the Titans' practice squad on December 21 after spending time with the Cleveland Browns and on the Detroit Lions' practice squad this season. "We went back and watched the preseason. We played him in the preseason [against the Browns]. You go back and you talk to as many people as you can. You study the film. You go back with our scouting department. He's a real smart kid. He handles their system well. He can make the throws. He's athletic. It's a challenge for us."
Press Taylor on preparing for a winner-take-the-AFC South game: "It's an emphasis of relying on our process. The thing that put us back in a situation where this is a relevant game … you kind of just want to fall back on that a little bit more and kind of double back on our process, the things that got us here. We say to our guys, 'We need to tighten things up, but we don't need to tighten up.' We understand there are going to be emotions. There are emotions in all these playoff-atmosphere games. We want our guys to lean on their preparation and be confident in that."