JACKSONVILLE – He knew the moment was coming.
But some events transcend expectation – and being selected by the Jaguars in the 2023 NFL Draft was such a time for Tank Bigsby. A surreal feeling, a special feeling. A feeling of a lifetime.
"I keep thinking about it when I wake up every morning," Bigbsy said. "When I got that call, my heart dropped. It was just special, you know. Words can't explain the feeling that you get on draft day."
"I always had the number since I was in rec league, so I always just rock with it," he said. "It means a lot to me because they say you get three strikes. How about you have a warm heart and give somebody another strike? That's the fourth strike. That's how, that's how I rock with four. I love it."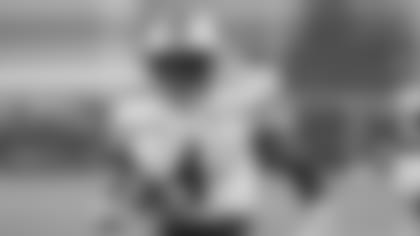 Bigsby (6-feet-0, 210 pounds) played three seasons at Auburn, rushing for 2,903 yards and 25 touchdowns. He rushed for 970 yards and 10 touchdowns this past season and 1,099 yards and 10 touchdowns in 2021. He also caught 62 passes for 448 yards in three seasons.
Bigsby played for two full-time head coaches at Auburn – Gus Malzahn and Bryan Harsin – and the Tigers finished with losing records the past two seasons, the program's first back-to-back losing seasons since 1998-1999.
"The things we went through at Auburn, it made me a better person," he said. "It grew me as an athlete. We were trying to overcome adversity, overcome what we were going through. I'm a family guy, but it taught me way more about family. It taught me about teammates coming together, being a player-driven team. That's what it did for me.
"I think it got me ready for adversity. A lot of guys don't go through adversity in college. Everything is smooth. We had a lot of bumps in our roads. I feel like when adversity comes in the league, it'll be something I can overcame because of the adversity I went through."
And in an era in which athletes routinely transfer, why did Bigsby stay at Auburn?
"I'm a loyal guy," he said. "I promised Auburn when I signed with them in 2020 that they were going to get everything out of me and I was going to be the best athlete I could be every week and every weekend. There was a time I considered leaving, but I looked myself in the mirror and said, 'The grass may not be green on the other side.' I stayed down and told myself, 'We're going to overcome this. 'I'm very proud that I didn't leave because it made me a strong young man that I am today."
For the entire O-Zone Podcast with Bigsby, click below. To listen to other episodes of the O-Zone Podcast, click HERE.