John Oehser, Jaguars Senior Writer
Credit where it's due. This was an impressive victory. Not that it was pretty, necessarily, and it may not be the game fans remember most from this remarkable late-season run. But the Jaguars for a second consecutive week did something they needed to do – that is, win a very winnable road game to maintain momentum toward qualifying for the postseason. The Jaguars on Sunday were very good offensively on an early drive to gain a 7-0 lead, then they got the explosive run they needed against the Texans' bend-but-don't-break Cover 2 defense – a 62-yard touchdown run by running back Travis Etienne – to get a two-score lead against an outmanned opponent. They were able to play relatively stress-free after that, which tight end Evan Engram called "A great sign." Engram added quickly, "Definitely as an offense, we're going to want to be a lot better," but he said the big picture of winning when the Jaguars perhaps didn't play great was significant. "We can walk away from this game, dominate, and know we can get better," he said. "That's what we're trying to work toward. We want to work toward being a team that can win and still want to improve. It says a lot about our guys, how far we've come this season and how hungry are right now." The Jaguars weren't spectacular often Sunday. But they were methodical and professional, and the result was an impressive late-season victory.
And here we go … The Jaguars and Head Coach Doug Pederson deserve some significant credit for Sunday: They were motivated and focused – even though Sunday's game meant nothing in terms of the AFC South race. That's not always easy, and it shows again that this team is trending in an encouragingly strong direction as season's end approaches an end. It also was the perfect way for the Jaguars to enter what is arguably their biggest regular-season game in franchise history – and crtainly the biggest since they beat the Atlanta Falcons in the 1996 regular-season finale to advance to the postseason in the franchise's second season. Next week's Week 18 regular-season finale against the Tennessee Titans will decide the AFC South, with the Jaguars winning the division with a victory or tie. As of this writing, the Jaguars still had a chance at a wild-card spot with a loss in that game, but that won't be the focus this week. The focus will be on winning a second AFC South title. And, oh yeah: Beating a hated rival. "This is what you want for your football team," Pederson said. "You want to be in the conversation and you want to be playing for us, for the AFC South. We haven't done anything yet. They're still the champs until something happens." It's Titans week with everything at stake. It gets no better than this, folks. Enjoy. And hate, of course.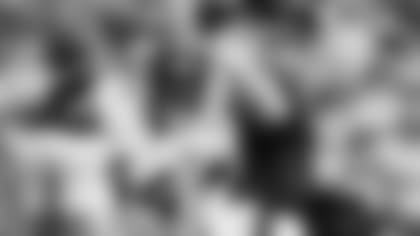 Brian Sexton, Jaguars Senior Correspondent…
Enough is more than enough. Pederson and his coaching staff knew they didn't have to take too many chances to beat a Texans team with a below-average roster that had many of its best players on injured reserve, and they didn't. They were content to run against the NFL's worst run defense and take some calculated shots down the field. There were plenty of short throws on intermediate routes that allowed the receivers to make plays, and they did. It proved quite helpful when the defense came up with a huge play in the second quarter – an 18-yard fumble return for a touchdown by cornerback Tyson Campbell – that pushed the lead to 21-0 and essentially slammed the door on the Texans. Pederson was able to get players such as quarterback Trevor Lawrence, Etienne and right guard Brandon Scherff – out of the game and cruise in the second half. They did enough to get their eighth win and get out of NRG Stadium in good health – and they did more than enough to set up next week's AFC South showdown with the Titans.
Trifecta. Sunday gave the Jaguars their first win over all three division opponents in the same season since 2010. That's a more important streak for Pederson's team to end than the road losing streak that hit 19 games this season and – and it's more important than the streak of consecutive losses to NFC teams that reached 20 before the Jaguars beat the Dallas Cowboys a few weeks back. Winning the South is the guaranteed path to the playoffs – and as the Jaguars ended a nine-game losing streak to the Texans Sunday, they also sent a clear message about the direction the South is headed. The Indianapolis Colts likely will have a rookie quarterback. The Titans are uncertain about the future of their quarterback and running back Derrick Henry will be 30 in 2023. The Texans might pair a new head coach with a rookie quarterback. Sunday was the first time in 12 years the Jaguars have beaten the Texans, Colts and Titans in the same season but it's likely to happen on a regular basis with Pederson and Lawrence in Jacksonville.