With a wife and three daughters, US Navy Commander Todd Libby knows personally about what it means to have to leave your family for months at a time in service to your country.  As the Commanding Officer of US Navy Patrol Squadron EIGHT prepares his crew of 65 officers and 300 enlisted personnel for a 7 month deployment to Bahrain and El Salvador in early December , the importance of family and friends was on his mind, knowing they will miss Christmas and other holidays together.  That's when the Jaguars came into the picture.
Since 1997, the Jaguars Foundation, through its "Honoring Our Troops" program has been providing complementary tickets to troops from the Navy and other military branches, guard and reserve units that are on deployment in Afghanistan, Iraq and elsewhere in the world.  The Jaguars Foundation partners with the Greater Jacksonville Area USO to offer families on deployment, recently back from deployment or readying for deployment, "family time" together at a Jaguars home game. 
At each Jaguars home game, up to 125 game day tickets are donated to the USO for the Honoring Our Troops program.  Each child and accompanying adult receives a complementary game-day ticket and an "Honoring Our Troops" t-shirt.  Each child also receives complementary Jag Dollars for food or souvenirs.  Mike O'Brien, Executive Director of the Greater Jacksonville Area USO Inc.* *stated, "The opportunity for a family to spend time together and do something fun by going to a Jaguars game is immeasurable in terms of what it means to these families.  We thank the entire Jaguars organization for their support of our men and women in uniform and their families."
US Navy Patrol Squadron EIGHT was selected to attend the September 29th Jaguars game against the Indianapolis Colts.  During the game, representatives from the Squadron were invited to the Owners Suite where Mr. Khan personally thanked them for their dedication and service to our nation.   The Squadron presented Mr. Khan with a picture of the Squadron and a P-3A Orion aircraft they fly as a memento of their appreciation.  CDR Libby said, "The opportunity to meet Mr. Khan and hear his heartfelt words of thanks was an inspiration to us and one we will never forget.  We are proud to be based in Jacksonville with such a supportive NFL team."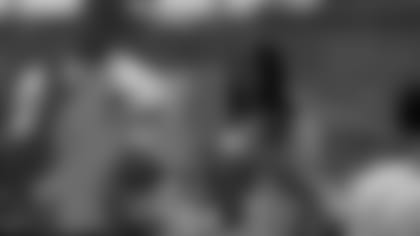 Before heading out for deployment later this year, Aviation Ordnance man 2nd Class Anthony Lewis and his wife Brandy Lewis enjoy the Jaguars game with their children.