33-year-old Tyler Derby lives in the quiet, little town of Kouts, Indiana, a stone's throw from the Illinois border and just a little further down the road to Chicago. By day he manages the transmission lines that provide natural gas for an energy company which is a pretty important job, especially as the winter weather sets in around him as the calendar turns to December.
It's Derby's passion for football keeps him warm and specifically keeps bringing him to the sun and warmth of Jacksonville, Florida and his favorite team, the Jaguars. The southward pull began more than 25 years ago when a seven-year-old pee-wee football player fell in love with a new team and made it his own. His dad took him to Cincinnati in 1999 for his first in-person visit with the Jaguars and the affinity for teal and black has grown with him into his adult years.
The Jaguars front office couldn't help but notice this amiable young man who showed up both in Jacksonville and at various stops along their schedule always smiling and sitting close to the bench. His undeniable passion and genuine enthusiasm made him a worthy choice to nominate for the Pro Football Ultimate Fan Association which is affiliated with the Professional Football Hall of Fame in Canton, Ohio and into which he was inducted in 2018, further cementing his relationship with his favorite team.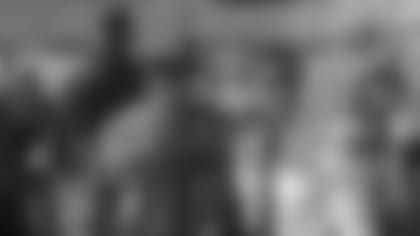 "It means the world to me," Derby said the day before Thanksgiving. "As a kid, growing up playing football, you know I've been a fan since Day One. I grew up watching the Brunell's, Boselli's, Taylor's, Smith's and those legendary guys. Those were my hero's. It's been really humbling to have the organization welcome me and support my efforts. I got to know a few folks and made friends and what's cool is it's all organic. I could go on and on with the things I've done and places I've been and it's something I would never have expected it in a million years."
The Pro Football Ultimate Fan Association opened another door for Derby, and it took him still further inside the Jaguars organization. The PFUFA has a Charity Challenge and Tyler took it from his counterpart with the Texans. The challenge focused on raising money in the name of their respective teams with the prize being a Championship Belt, not unlike the one Tony Khan might use for his All-Elite Wrestling endeavors. Derby made that belt his mission.
"Each fan picks their own charity, and the challenge starts," he explained. "I chose the Jaguars Foundation. I connected with a few folks I know in the Jaguars organization that I met over the years, and they got word to Peter (Racine, the Senior Vice President of the Jaguars Foundation) and we came up with a plan to use social media to raise awareness. Facebook, Twitter, David Garrard did a video for me encouraging folks to donate and I was told a few former and even some current players donated. In five weeks, we were able to raise more than 10-thousand dollars for the Jaguars Foundation. I wanted to win because I wanted to share that belt with Tony Khan, I thought he would really appreciate it."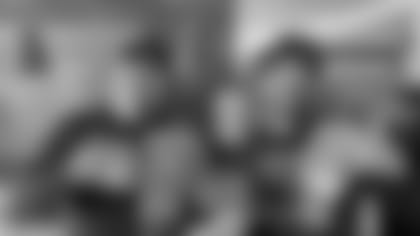 That Herculean effort in the name of the Jaguars Foundation didn't go unnoticed or unrewarded. Racine made a few calls and when Derby showed up in Jacksonville for the game against the 49ers he thought he was going to have a photo or two taken on the sidelines and maybe even have a chance to present the belt to Tony and Shad Khan. He ended up doing just that and then spending the rest of the day in Shad's suite.
"Not in a million years would I have imagined that opportunity," Derby said. "I was speechless. Sitting and talking with Shad and Tony and Mark was beyond my expectations and just validated my belief in the Jaguars and what they're doing in Jacksonville."
The entire experience of the PFUFA and the charity challenge and the visit with the Jaguars brass also presented him with a simple truth.
"It was about so much more than just football," he explained. "It's bigger than just the record, it involves the connections and the relationships and the people I know in the building. I want them to win every game, I'm rooting for them every step of the way. But the entire organization has shown me what kind of people they are and where their heart is. It's so much bigger than just the on the field score. It's about people and I'm proud to represent the Jaguars."
Derby is excited about what he's seen from this year's team and is hopeful that with quarterback Trevor Lawrence better days aren't far away.
"They have a lot of moving pieces with new coaches and a lot of new players," he offered. "That was always going to make this season tough. But with Lawrence at the helm, I am definitely excited because he's a cornerstone we can build around. I know they're headed in the right direction."