JACKSONVILLE – The noise is real, and it's deafening.
That's reality for the Jaguars and quarterback Trevor Lawrence this week as they prepare to play the Seattle Seahawks at Lumen Field in Seattle – a venue with a well-earned reputation as one of the toughest in the NFL for opposing teams.
Lumen Field is … loud, distractingly so.
"For an outdoor stadium, it's about as loud as it can be; there are great fans there," Jaguars offensive coordinator Darrell Bevell said Thursday as the Jaguars (1-5) prepared to play the Seahawks (2-5) Sunday at 4:05 p.m.
Bevell and defensive coordinator Joe Cullen both spoke to the media Thursday, with Bevell discussing multiple topics – including what coaches learned when analyzing he first six games of the 2021 season. But a major topic for Bevell was the noise at Lumen, where he coached seven seasons as the Seahawks' offensive coordinator from 2011-2017.
"For us, the first thing is understanding it's going to be loud … but then your poise and functioning in that atmosphere," Bevell said. "Obviously out here in practice we have it cranked up in all the periods. The thing it does is affect your communication, so we have to really be on point with that.
"You have to have the non-verbal communication, you have to have your signals … all those things."
Bevell said a major key is maintaining proper pace.
"It can speed you up in your mentality," Bevell said. "You have to stay poised and understand the [play] clock is still 40 seconds and all those things, and get your stuff done and orchestrated in a timely fashion."
Bevell was asked how rookie quarterback Trevor Lawrence might handle such a situation.
"He has been very poised since he has been here," Bevell said of the No. 1 overall selection in the 2021 NFL Draft, a player who twice played in College Football Playoff National Championship Games while playing at Clemson University. "He really has impressed me with that and none of the situations has been too big.
"He has been in big moments. He has been in huge moments – national championship games, those kinds of things. I'm not expecting him to get rattled. You have to be able to handle the elements, whatever they are."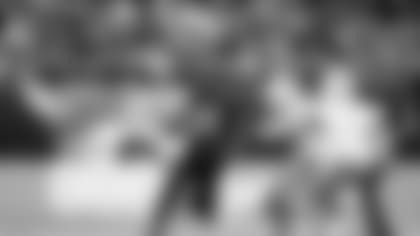 Bevell said the self-scouting conducted by Jaguars coaches over last week's bye led to a focus on third-down efficiency. "We've got to be much better there, really across the board," Bevell said. The Jaguars currently rank 31st in the NFL in third-down efficiency, converting 31.34 percent. Bevell said the Jaguars have been penalized seven times on third downs with eight dropped passes. "We can't inflict it on our own selves," he said. Bevell also on Thursday discussed the wide receivers through six games: "The one thing that stood out to me is our improvement. I like the trajectory we're on. We're going to continue to move those guys around. We'll use second-year receiver] [Laviska [Shenault Jr.] in the slot. We'll use him outside. We'll try to be smart with the things we're asking, really, every player to do."
Cullen: "We always say, 'If we can get the ball two times on the plus side of the 50 … [Head] Coach [Urban] Meyer about it all the time, 'When have them (the opposing offense) backed up and you make a stop, that's big.' If you stop them, it's like a turnover. Those are huge plays of the game because now your offense doesn't have to drive 80 yards to score. We have to continue to do that. We're stressing that."
Rookie defensive tackle Jay Tufele (hand) missed practice for a second consecutive day Thursday, with guard Tyler Shatley (groin), long snapper Ross Matiscik (hamstring), defensive tackle DaVon Hamilton (shoulder) and rookie cornerback Tyson Campbell (toe) all limited for a second consecutive day. Linebacker Myles Jack (back) and guard Ben Bartch (concussion) practiced full Thursday.