He's the new Jaguars' play-caller entering Sunday, but that's hardly a new professional task for the team's passing-game coordinator.
Schottenheimer, in his first season with the Jaguars, has 12 seasons of experience as an NFL offensive coordinator – six with the New York Jets (2006-2011), three with the Los Angeles Rams (2012-2014) and three with the Seattle Seahawks (2018-2020). He took over play-calling duties this week for Interim Head Coach Darrell Bevell.
"My job, my responsibility, is to just be me," Schottenheimer said Thursday as the Jaguars (2-12) prepared to play the Jets (3-11) at MetLife Stadium in East Rutherford, N.J., Sunday at 1 p.m. "I'm going to call the game the way I call games, the way I've done it the past 13 years. I'm going to try to get our players involved the right way and have nice balance."
"What it looks like will depend on how the game's going."
Lawrence, the No. 1 overall selection in the 2021 NFL Draft, has struggled at times this season along with a Jaguars offense that hasn't scored more than 20 points in any of their eight games since a Week 7 bye. Lawrence has nine touchdown passes with 14 interceptions this season, with one touchdown pass in his last seven games.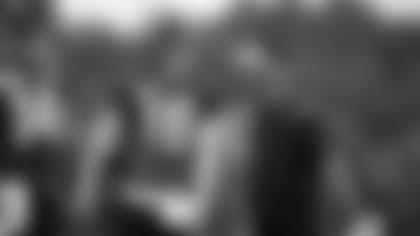 "You can't not progress when you're playing as much football as he's playing," Schottenheimer said. "There are things he's learning every day. He's the ultimate, ultimate student – truly unbelievable in the classroom with taking notes and learning. His preparation has really grown."
"The things I get excited about are some of the 'Wow' plays he has, some of the 'Wow' throws he has. That gets me excited. He's going to be a terrific player."
Bevell this week praised Lawrence's handling of a difficult rookie season, a season that included last week's dismissal of Head Coach Urban Meyer. Schottenheimer reiterated that Thursday.
"The maturity he came in here with was very evident," Schottenheimer said. "He's just a very down-to-earth, humble guy. He has handled all those things very, very well. He just has his head in the right spot. He has not come in after a long stretch of some games we've struggled in and held his lead low."
"He has come in on a Monday or Tuesday ready to get to work, ready to get better. That shows you a guy who's going to work through the issues, work through the problems and become a championship-type player."
Schottenheimer said he plans to call plays from the upstairs booth Sunday. Bevell called plays from there the first 13 games of the season as coordinator before calling them from the sideline this past Sunday. "I'm going to go up," Schottenheimer said. "Just talking through it with Bev, you see it better up there. There's no question about it. You do see it better up there. Trevor and I will still be in good communication. I'm very comfortable going up that I'll see it better and still have no problem with communication with myself, Bev and then Trevor."
Defensive coordinator Joe Cullen on rookie safety Andre Cisco, who played 47 percent of the team's defensive snaps against the Houston Texans this past Sunday following a season-ending injury to starter Rayshawn Jenkins: "I told him this week, 'Hey, you get an opportunity to start – go shoot your gun. Let the chips fall.' I think you're going to see some good things. He has the athleticism and the speed. It's his opportunity really to showcase that he can be starter in the league."
Four Jaguars players missed practice Thursday: defensive lineman Jihad Ward (back), running back James Robinson (knee), linebacker Myles Jack (knee) and defensive lineman Malcom Brown (toe). Six players practiced limited: wide receiver Laviska Shenault Jr. (shoulder/foot), defensive end/linebacker Josh Allen (shoulder), defensive end/linebacker Lerentee McCray (ankle), guard Andrew Norwell (back), guard Will Richardson Jr. (back) and tight end Chris Manhertz (shoulder). Kicker Matthew Wright (personal Wednesday), linebacker Damien Wilson (rest Wednesday) and left tackle Cam Robinson (neck) practiced full.