JACKSONVILLE – Tyson Campbell's objectives are simple, for team and self.
"I just want to show that I'm a great football player," he said.
Campbell, a second-round selection by the Jaguars in the 2021 NFL Draft, increasingly has shown just that in two NFL seasons – and he now is considered by many one of the NFL's top young cornerbacks entering the 2023 season.
"I just love the way he came back [this season]," Head Coach Doug Pederson said of Campbell recently. "He really has embraced being in that conversation of one of the top corners in the league.
"He's picking up where he left off and doing well."
That approach has been evident early in camp during Campbell's multiple one-on-one matchups with new Jaguars wide receiver Calvin Ridley. While Ridley has stood out early in camp out for his speed, athleticism and route-running, Campbell has been far from overmatched and often has won the matchup.
Campbell was asked Wednesday how many receivers better than Ridley he expected to face this season.
If working against Ridley will help prepare him for other top wide receivers, Campbell said that's the idea – and he said he covets the opportunity to "follow" the opponents' best receivers by covering those players man-to-man most of the game.
"I embrace that," he said. "As a corner, you live for moments like that, to be able to shut down No. 1 receivers on teams and take them out of the game."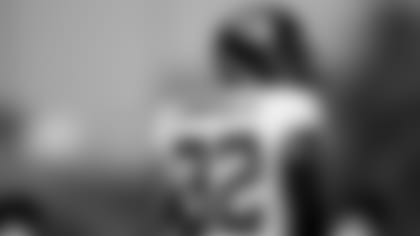 Campbell, who has started 32 games in two seasons with five interceptions, registered three interceptions last season and 15 passes defensed. He said his football IQ has improved entering 2023, and that the game has slowed in his second season in defensive coordinator Mike Caldwell's scheme.
"I want to prove to myself I can be the best corner in the NFL," he said. "That's the mindset you have to have. I just want to win. Whatever it takes to win, that's the mindset."
Campbell said his goals for the team reflect the same approach – and that he, like many Jaguars defensive players, ignores what outsiders say about a defense that ranked 12th in the NFL in points scored last season and fourth in turnovers forced.
"At the end of the day, people are going to think what they want to think," he said. "The guys in the building, we know what our goal is. We just be where that be where our feet are at, let bygones be bygones and just focus on this."
Second-year inside linebacker Devin Lloyd on the 2023 defense: "We're feeling good and everybody is really just more comfortable going in. The defense is in its second year. Everybody knows where we're supposed to be. We're working off each other. I just get chills thinking about it, knowing all the big, physical, smart, fast people we have on our defense – and on the offense as well. We're going to have an elite offense and we're going to really have a relentless defense that's going to be much improved from last year. We expect to be a Top Five defense. That's our mindset. Jenks (Safety Rayshawn Jenkins) said it the other day and I echo that. That's just our mentality and we know that from last year to this year, it's going to be two different defenses."
Pederson on Wednesday praised left tackle Cam Robinson and Walker Little for their approach during training camp. Robinson, the starting left tackle in 2017-2022, has been working as a backup in camp and will begin the regular season under a four-game suspension because of a violation of the performance-enhancing drug policy. Little, a third-year veteran who started five games (three regular season, two postseason) at left tackle after Robinson sustained a season-ending knee injury last season, has been working with the first team to prepare for his first season-opening NFL starting opportunity. "I appreciate that with the players because they understand that this is not about one guy," Pederson said. "It's about us as a football team. Guys are very unselfish that way. They just want to win no matter what combination of guys are on the field. If I got a lot of guys speaking that type of language, that's a positive. That can carry us through a lot of different situations." Pederson added, "We communicated with both guys. You nip a lot of things by being open and honest and having those conversations. Even though they might be difficult for a player to listen to, that's reality. That's the biggest thing is just having that open communication."