That's true even though the Jaguars' second-year running back didn't practice Wednesday – and Head Coach Urban Meyer said it could be true even if Robinson has little preparation the rest of the week.
Robinson, who sustained a bruised heel in a loss to the Seattle Seahawks this past Sunday, is expected to be "day-to-day" this week. That's according to Meyer, who said Robinson progressed significantly on Tuesday.
Robinson, a 1,000-yard rusher as a rookie last season, has rushed for 482 yards and five touchdowns on 88 carries and entered the Seahawks game as the NFL's eighth-leading rusher. He had 22 yards on four carries and one reception for 17 yards before his first-half injury.
Meyer said he believes players earn the right to play even if they can't practice during the week.
"It depends who the individual is," Meyer said. "We do something called mental reps. So, he'll be at practice. They stand behind their position and move their feet so they're actually getting reps. They're just not the game reps that the guy is actually getting."
Meyer on Wednesday also reiterated what he has said often in recent weeks – that speed among offensive skill players is a major issue, saying it will be "way up there" in terms of offseason priorities.
"A year ago, the Jaguars had very little explosive plays," Meyer said. "We've had some this year, but not near [what's necessary]. [In] professional football, as is the highest level of college football, it's hard to take the ball and drive it 80 yards without big hits in there. We've always had those.
"You need speed. Do we have enough? It remains to be seen. Do we have enough to hit some big plays? Sure. We just have to execute."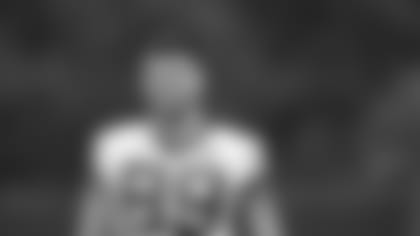 Meyer on Wednesday praised rookie tight end Luke Farrell, who six receptions for 49 yards this season. The Jaguars selected Farrell in the fifth round of the 2021 NFL Draft. Meyer had recruited Farrell to Ohio State, where he played four seasons. "He's great," Meyer said. "As our staff says, 'There's a lot of tread on those tires.' He wasn't used as a route guy at Ohio State much. There were so many other guys around him [at tight end]. We love his progress. He will be an NFL player for a long time."
Meyer on the Jaguars not making a trade before the NFL's trade deadline Tuesday at 4 p.m.: "Not much happened in the NFL. We all watched, and that's obviously [General Manager] Trent [Baalke]. I would come in every day. We'd sit and talk. We had a few conversations, but nothing materialized."
Meyer: "Every second of the day is, 'How do you win a game?' That's the mentality. It's not, 'Are we building for this?' No. I still believe in this locker room. I still believe in this team. We had great momentum. We've got to get it back."
WEEK 9 · Sun 11/07 · 1:00 PM EST
AT