JACKSONVILLE – They have been close – really close. Which isn't enough.
The Jaguars are 2-4 and in third place in the AFC South entering their home game against the New York Giants Sunday. The reason they're not 3-3 or 4-2 – or better – is clear, as Head Coach Doug Pederson sees it.
They haven't made enough clutch plays at big moments.
"The No. 1 thing we have to focus on is us and make sure we make plays in the fourth quarter," Pederson said as the Jaguars prepared to play the New York Giants (5-1) at TIAA Bank Field Sunday at 1 p.m. "We haven't done that well enough this year – or consistent enough."
Sunday's game in that sense is a study in contrasts.
The Giants – one of the NFL's surprise teams – have won all five of their victories by a score or less. They have trailed in all five victories, rallying three times from 10 or more points. The Jaguars' four losses all have been by a score or less. They have led in all four games and led by double digits in three of the losses.
"We're right there, and I'm kind of tired of being right there," Jaguars safety Rayshawn Jenkins said. "I want to turn that corner. I understand, 'Hey, we're right there,' but this team was always right there. It's time to get over that hurdle. It's time to take that next step.
"When the ball comes your way, make the play. That's what it is. It's a performance-based league. That's how we win those situations late in games: We have to have somebody step up and make a play."
The Jaguars in three of their losses – Week 1 at Washington, Week 4 at Philadelphia and Week 5 against Houston – had possession in the final two minutes with time to drive for a winning/tying score and failed to do so. They took possession trailing by seven in loss at Indianapolis this past Sunday with :17 remaining.
The Jaguars in three losses – at Washington, against Houston and at Indianapolis – allowed a touchdown in the final four minutes to give the opponent the final margin of victory.
"That's kind of the way this league goes sometimes," Pederson said. "Give them credit. They're in the right position to make those plays. That's something that each week we learn from ours – and try to be in position each week to come up with the ball or to make the play that wins the game."
Pederson on Wednesday said he believes the Jaguars are getting closer finishing games successfully.
"It's something that's a want-to; it's a desire," Pederson said. "You see it from the guys. You see it from the team. That's why they're dejected and kind of ticked off at the end of the game. For many reasons, but that's the main reason: Just not being able to finish a game, to close out a game in the fourth quarter.
"Whether that's the offense running for first downs, or getting first downs, or the defense getting off the field on third down – those are all hand-in-hand things that we haven't been able to do yet."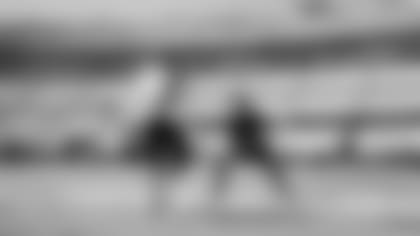 Defensive end Foley Fatukasi practiced limited Wednesday after missing the last two games with a quad injury. "Obviously, he's day-to-day still and we're hoping he makes it until Sunday," Pederson said. "We need all hand on deck with [Giants running back] Saquon [Barkley]." Cornerback Shaq Griffin missed practice with a back injury and wide receiver Jamal Agnew missed practice with a knee injury sustained against the Colts this past Sunday. Wide receiver Marvin Jones Jr., who missed the loss to the Colts with a hamstring injury, also practiced limited Wednesday – as did nose tackle DaVon Hamilton (foot) and inside linebacker Foye Oluokun (calf).
Pederson on the Giants: "This team is playing well, obviously. They're 5-1. They're opportunistic. They're creating some takeaways in key moments, especially late in the fourth quarter. They're playing well and playing with a lot of confidence."
Pederson on an option play on fourth-and-one in the fourth quarter Sunday on which running back Travis Etienne was tackled for a two-yard loss: "I take credit on that one. Sometimes you just line up and play football. It was a bad decision on my part and put our team in a bad situation."