JACKSONVILLE – Leon Searcy celebrated, pumping his fist in the air.
Yes, Thursday night was former Jaguars offensive tackle Tony Boselli's Hall-of-Fame moment – his wait finally over, his football immortality secure. But he was far from alone celebrating.
"He's one of ours," Searcy said. "We understood what it took to win, and Tony was a part of that. It's not just Tony going in. It's our era going in."
Boselli, the Jaguars' first-ever draft selection and first member of the Pride of the Jaguars, on Thursday was announced as a member of the 2022 Pro Football Hall of Fame class. He became the first player in franchise history named to the Hall.
The players who played with Boselli during a four-year postseason run in the late 1990s? Players such as Searcy, quarterback Mark Brunell and running back Fred Taylor?
Thursday was emotional for those franchise-defining players, too.
"He more than deserved it," Fred Taylor – a Pride of the Jaguars member and a teammate of Boselli's from 1998-2001 – said while on Super Bowl LVI's Radio Row Thursday. "It's taken some time, but I think you throw all that out the window. Someone told me, 'No one will remember how long it took to get in. What they remember is you'll be in Canton forever.'
"It's a special moment for Bo. He's well-deserving of it. I'm just happy for him. I felt it in my gut a little bit, but I'm just happy it's here. It's done. He's going to be enshrined forever."
Brunell, also a Pride of the Jaguars member and a close friend of Boselli's since the two played together from 1995-2001, attended a Thursday dinner hosted by Jaguars Owner Shad Khan at the University of Southern California.
"I got to see first-hand just how great he was on the field," Brunell said of Boselli, who made the Hall after five consecutive years as a Hall finalist and six as a semifinalist. "I'm so happy for him. He has had to wait a long time and it's great for him to finally be recognized as one of the best to ever do it.
"He is joining an exclusive brotherhood unparalleled in sports. Good for him. I'm excited for him as a former teammate. I'm excited for him as a friend."
Searcy started at right tackle opposite Boselli from 1996-1999, forming one of the NFL's best tackle tandems during that span.
"There couldn't have been no one more excited than me when he went into the Hall," Searcy said. "I gave the fist pump because I battled with this guy. I broke down film with this guy. I bled with this guy. All that makes it personal for me.
"I was elated when he got into the Hall of Fame, because not only is Tony going into the Hall of Fame, this city is going into the Hall of Fame, this fan base, the organization, his family, everybody. It's a heavy load he's carrying into Canton (Ohio, site of the Hall of Fame) but it's well-deserved."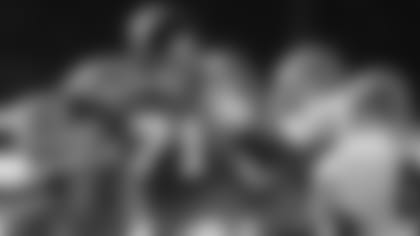 The Jaguars never missed the playoffs during the four seasons Boselli and Searcy started opposite one another. The Jaguars ranked second, seventh, 10th and seventh in the NFL in total offense those four seasons.
"There's nothing like having Boselli across from you as a left tackle if you're a right tackle," Searcy said. "If you're game wasn't on point, it was definitely going to show. We were fierce competitors, but we kept each other's game tight.
"Tony was the focal point. He definitely was. He was the focal point of the franchise – not only because he was the first guy drafted, but he was the first Jaguar to get recognition for being the great player he was. Boselli neutralized people."
The Jaguars made Boselli the No. 2 overall selection in the 1995 draft – their first draft in the NFL. He made five Pro Bowls, was named first-team All-Pro three times and was the cornerstone of the Jaguars teams that made four consecutive playoff appearances from 1996-1999 and played in two AFC Championship Games in that span.
"Hopefully as we go forward, maybe there's a place for [wide receiver] Jimmy Smith and for Fred [in the Hall]," said Brunell, now a quarterbacks coach with the Detroit Lions. "I hope so. I think both of those guys deserve it, but Tony was going to be the first to go in.
"That word great is often overused in sports, but when you talk about Tony Boselli and his career and how he played … he truly was great. To be in the Pro Football Hall of Fame? For Tony? It's very fitting and well-deserved. I'm excited for my buddy."
Added Brunell, "The Hall of Fame is really reserved for the great players. There's one trait that makes those guys stand out and that's that they make the guys around them, their teammates better. I can speak to that. Tony made me better. He made me a better player. He held me accountable. I wanted to play hard for him and the rest of the guys. I didn't want to let him down.
"I could go on and on about his presence and leadership, and what it did for us as teammates. He was the cornerstone. He played with passion and fire. He was good, but it went far beyond that. What he was as a player is exactly who he is as a person:
"He just what he is as a person: he just simply makes people around him better. I'm forever grateful for that guy – to be his teammate, but more importantly to be his friend."