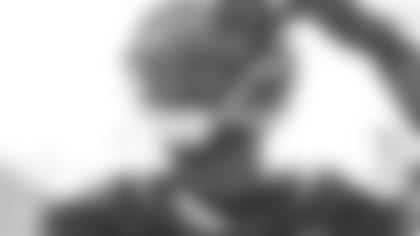 ](http://bit.ly/MarcedesBday)

JACKSONVILLE – Marcedes Lewis treasures this. Truly.
That may sound odd, considering Lewis at 6-feet-6, 272-pounds is as tough and physical as any player at his position in the NFL.  Or maybe it's that he's a nine-year veteran who has seen a lot of the league's good and a lot of its bad.
Yes, Lewis is tough – and grizzled, too. But the Jaguars' tight end, too, is experienced enough in the ways of the NFL to know things don't always work out for the best. And because Lewis figures things right now are pretty darned good …
Yeah, he's treasuring this – and savoring it, too. Absolutely and without question.
"I'm in a good spot," Lewis said. "It just feels good, you know what I mean?"
Hear that? That's the sound of a happy player, and a motivated one, but it's something else, too.
It's the sound of a player with a second life, who wouldn't want to be anywhere else, and who feels fortunate – really, really fortunate – to be where he is. It's the sound of a player with as positive an outlook as you can imagine, something not lost on the Jaguars' coaching staff.
"You can see him helping those guys in the (tight end) group," Jaguars Head Coach Gus Bradley said. "He's one guy we're counting on and he's coming through."
Fortunate? Is that what we said Lewis feels? No doubt, and speaking recently during OTAs, he said he feels that in a big way. And the second life stuff isn't an exaggeration, either. That's because where Lewis remains is with the Jaguars for a ninth season.
Forget for a moment how rare it is for a player to play nine seasons with any team, consider what has gone on around the Jaguars the past three seasons. Lewis during that span has played for three different head coaches, two owners, two general managers, three offensive coordinators and three position coaches.
That's a career's worth of different, and not all pleasant stuff.
Lewis has made no secret that the 2012 season was a difficult one. He wasn't nuts about the approach of Head Coach Mike Mularkey, and has spoken often since of being physically and mentally worn down by the end of that season.
"That coach really took it out of me," Lewis said. "He took my joy away."
Partly because of that, perhaps, the first part of last year was somewhat uncertain for Lewis. Not that he didn't love what he heard from Bradley, then in his first season with the team. Everything the positive-vibe-producing, smiling, upbeat head coach said about competing, and about improving every day and letting the rest take care of itself, made sense to Lewis.
"It was like, 'Oh, this is how it's supposed to be,'" Lewis said. "You are supposed to be able to have fun playing football."
At the same time, Lewis said part of any veteran player watches any new coach with at least a touch of skepticism, and Bradley's persona – high-energy, focused on the positive whatever the circumstance – seemed …
Well, it just seemed like it might be hard to maintain, was all.
"Then, he's bringing the same energy, the same positive force— day after day after day," Lewis said.
It was the day after day after day part that convinced Lewis that Bradley was for real.
"I tell people I'm close to, 'The people I believe in the most are the people who give you the same thing every day,'" Lewis said. "Gus hasn't changed."
Here's where Lewis said he feels most fortunate, though:
He knows that as much as he likes what Bradley brings to the Jaguars – and as good as he feels about the direction – that that doesn't always matter. He knows, too, that as good as he feels physically it doesn't always matter, and Lewis said on that last part, it's almost weird how good he feels.
He said while preparing for the Jaguars' offseason program he reached a point shortly returning to Jacksonville where he realized just how good he felt.
"I felt like I had a great offseason – the best offseason I've had," Lewis said. "I just got to a point where I felt really good. I thought, 'I can't believe I'm going into my ninth year and I actually feel this good. Not just my body, but my spirit.'"
But Lewis knows that in the NFL even that doesn't matter, and that's where as he sees it fate, kismet or just plain being at the right place at the right time fits in.
"Some coaches don't like certain players," he said. "Some general managers don't like certain players in their organization. There are so many levels to it."
So, yes, when the Jaguars opted to have him return this season when many speculated his contract might be too large, Lewis appreciated it. And when he hears offensive coordinator Jedd Fisch talk about how he could have career numbers in this offense, he appreciates that, too. So, when he returned to Jacksonville this offseason, he made a point to tell Bradley he had seen enough head coaches around the Jaguars and around the NFL that he knew what is happening here is special.
"It's just a blessing that they believe in me," he said. "It's a blessing that they believe I fit."
And that joy? How is that doing?
"My heart is rejuvenated," he said, and as he does, it's easy to see this is one tough, joyous guy as he prepares for a ninth NFL season.
It's also easy to see it's a guy treasuring and savoring the moment. Absolutely and without question.