The list of Jaguars rookies with unresolved contract situations now is at one.
Bryan Anger, a third-round selection and the top punter in the 2012 NFL Draft, agreed to terms on a contract with the Jaguars late Tuesday night, ensuring he will be in attendance when the Jaguars hold their first training camp practice Friday morning.
The Jaguars are scheduled to report to training camp by Thursday afternoon, with Anger expected to officially sign his contract Wednesday evening.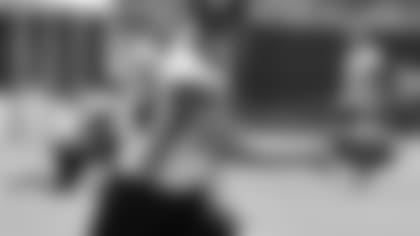 Anger, who played collegiately at California, became the fifth of the Jaguars' six draft selections to sign or agree to terms. Second-round selection Andre Branch (defensive end, Clemson), fifth-round selection Brandon Marshall (linebacker, Nevada), sixth-round selection Mike Harris (cornerback, Florida State) and seventh-round selection Jeris Pendleton (defensive tackle, Ashland) already have signed contracts.
Anger (6-feet-4, 208 pounds), the No. 70 player selected in the draft, impressed coaches and team officials during minicamp and the offseason with his hang time and distance in practice. He was the earliest punter selected in the NFL Draft since 1995.
He had at least one punt of 50 yards or more in 38 games at California.
*BLACKMON UNSIGNED: Wide receiver Justin Blackmon remains the lone rookie with an unresolved contract situation following his guilty plea in the case of a June drunken driving offense.
Blackmon, the No. 5 overall selection in the 2012 NFL Draft, had the guilty plea entered in a Stillwater, Okla., court by his defense attorney, Cheryl Ramsey on Tuesday. Special judge Michael Stano imposed a one-year deferred sentence, which means Blackmon will not serve jail time provided he fulfills the terms of his sentence.
Blackmon was ordered to complete 50 hours community service with a $500 fine. Like all unsigned NFL players, Blackmon may not report to training camp until he signs a contract.
While the duration and finances of rookie contracts are typically slotted under the new Collective Bargaining Agreement with little room for negotiation, the Jaguars are expected to seek terms safeguarding them in the event of future off-field problems for Blackmon. That could delay his arrival in training camp.
*PRACTICE BEGINS FRIDAY: With players expected to report Thursday, the next key date of Jaguars training camp is Friday. That's when practice officially begins.
The Jaguars will hold their first official practice of 2012 training camp at 9:45 Friday morning. That's a walkthrough, with the day's first "full" practice scheduled for 2:15. The schedule essentially is the same on Saturday, with the 2:15 practices Friday and Saturday open to the public.
The Jaguars will have six more training camp practices open the public: Monday, July 30 (8:30 a.m.); Tuesday, July 31 (8:30 a.m.), Wednesday, August 1 (8:30 a.m.); Thursday, August 2 (8:30 a.m.); Friday, August 3 (6:30 p.m. scrimmage inside EverBank Field); and Sunday, August 5 (3 p.m.).
*OPENING UP: Jaguars players won't just be reporting to camp Thursday. They'll be among the first to get a glimpse at the team's new locker room facility.
They can expect to be impressed with what they see.
The $3 million project began in mid-March and is being completed just in time for training camp. The state-of-the-art facility is expected to rival that of any locker room facility in any major sport, and the few who have seen it will tell you it's impressive stuff.
Among the features: LED-lighted locker panels, steam and dry sauna areas, illuminated mirrors, elevated plunge pools, individual toilet rooms with European style lavatories, two self-contained waterfalls  in the plunge pool area, custom locker chairs, computer work stations, 20 full HD LED displays ranging from 42 to 80 inches and a 41,600-watt sound system.
"It's an amazing place, and (Jaguars Owner) Shad (Khan) has gone out of his way to make it first class," Head Coach Mike Mularkey said.
Look for coverage of the Jaguars' locker room on jaguars.com Thursday.
*BRING IT IN: Among the Jaguars' new initiatives this season is an improved fan experience, and toward that end, the team has developed a new game-day food policy.
Fans for the first time fans will be allowed to bring outside food into EverBank Field during home games, with the food policy written as follows in the team's 2012 Fan Guide:
"Food is permitted inside EverBank Field for Jacksonville Jaguars home games provided that it is unwrapped and placed inside a one-gallon clear plastic bag no larger than 11" x 11" (standard freezer bag). All food items are subject to visual inspection and may be subject to a more thorough inspection if deemed necessary. Stadium security and the Jacksonville Jaguars reserve the right to deny any food item from entering the gates. No outside liquids or beverages will be permitted to enter EverBank Field. If food or beverage is required for medical purposes, please contact the Jaguars Fan Services Department."
The Jaguars recently hired Hussein Naqi as Senior Vice President, Fan Experience. He had been Vice President of Business Planning and General Counsel at MetLife Stadium in East Rutherford, N.J., the past four seasons.
Expect more fan-experience initiatives to be announced in the coming weeks.