JACKSONVILLE – Senior writer John Oehser and Jaguars/NFL media analyst Bucky Brooks examine the Jaguars' wide receiver position in this position-by-position look at the '22 offseason:
Position: Wide receivers.
Others: Jeff Cotton Jr., Terry Godwin, Josh Hammond, Tim Jones, Jaydon Mickens.
2021 at a glance: This past season was difficult for the Jaguars' passing offense – and for this group of receivers; injuries and lack of deep speed contributed to the Jaguars' receivers as a group producing just nine receiving touchdowns. Perhaps the group's key moment came in a Week 4 loss at Cincinnati, with Chark – a 2019 Pro Bowl selection and the group's best deep threat and overall player – sustaining a broken ankle that kept him out the final 13 games. Chark finished his shortened season, with seven receptions for 154 yards and two touchdowns receiving, and the Jaguars struggled to stretch the field in his absence. Jones, a veteran who signed as an unrestricted free agent in the 2021 offseason – emerged as the team's most reliable, consistent receiver and led the team with 73 receptions for 823 yards and four touchdowns. Shenault, a second-round selection in the 2020 NFL Draft, played in 16 of 17 games and finished second on the team with 63 receptions for 619 yards and no touchdowns. Agnew, who signed primarily as a kick/punt returner as a 2021 unrestricted free agent, caught 24 passes for 229 yards and a touchdown with Treadwell – a first-round selection by the Minnesota Vikings in the 2016 NFL Draft – developing into a reliable option late in the season, catching 33 passes for 434 yards and a touchdown.
Offseason storyline: This area figures to be a major offseason focus for the Jaguars, with a speed, depth, playmaking ability and reliability all likely to be addressed in a big way. With Chark, Austin and Treadwell all scheduled to become unrestricted free agents, a receiver group that underwent change throughout the 2021 season and offseason as the team looked for deep speed and playmaking ability could be transformed again in the coming weeks. The Jaguars have the second-most salary cap space in the NFL entering the March 16 start of the 2022 NFL League Year and they also have 12 selections in the draft. Getting receivers who can make plays around quarterback Trevor Lawrence figures to be a priority, and a major investment at receiver in both the draft and free agency appears possible – even likely.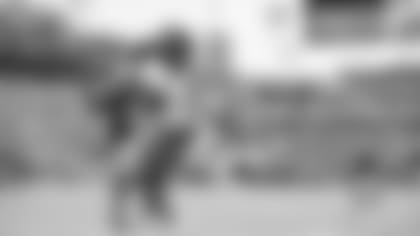 Free agents as of March 16: Chark, Austin, Treadwell, Godwin (exclusive rights).
Bucky Brooks' top three free-agent wide receivers: Davante Adams, Green Bay Packers (franchise tagged by Green Bay; Chris Godwin, Tampa Bay Buccaneers (franchise tagged by Tampa Bay); Odell Beckham, Jr., Los Angeles Rams.
Bucky Brooks' top three wide receiver prospects: Jameson Williams, Alabama; Treylon Burks, Arkansas; Drake London, Southern California.
Oehser analysis: If there was a theme throughout the 2021 season when analyzing the Jaguars' offense, it was that the receivers lacked speed and big-play ability. That constricted the offense and made it difficult for the offense to make plays in the short and intermediate passing game, also making it more difficult to run effectively against defenses that didn't need to defend the deep passing game with safeties helping cornerbacks. The receivers also dropped too many passes at too many critical times. A key to the offseason will be how the franchise approaches Chark, who has big-time skillset and who played at a high level in a 2019 Pro Bowl season but who has been inconsistent and/or injured throughout his other three seasons. Chark has the ability to be a multi-year 1,000-yard, 10-touchdown receiver but signing him to a long-term contract also carries risk. The guess here is the Jaguars enter the 2022 season with a wide receiver selected somewhere late in the first round to early in the third and a higher-profile free agent than they have signed at this position in recent memory.
Brooks analysis: The Jaguars' wide receivers were the weakest link on an offense that lacked explosiveness at the playmaking positions. The lack of team speed and big-play ability made it challenging for Lawrence to stretch the field vertically or horizontally. Although Jones, Treadwell, Agnew, and Shenault occasionally flashed as playmakers, the Jaguars' slow-footed receiving corps needs an infusion of athletic pass catchers to increase their scoring potential in 2022.