The new school year is about to begin, but Jaguars legend Paul Posluszny knows this year that experience will look at a lot different for many students.
"With everything going on with COVID-19 and all the other implications of social distancing, it's important for them to still stay connected especially as the 2020 school year starts," said Posluszny. "You want kids to still have access to information and education."
On Saturday, Aug. 8, Posluszny joined Big Brothers Big Sisters of Northeast Florida to provide 210 school-age children with a new laptop to complete their back-to-school preparations via a COVID-friendly drive-thru in Downtown Jacksonville. Posluszny's lead financial contribution was matched by Inspire Change grants from the Jaguars Foundation and NFL Foundation to fund laptops provided by Urban Mining. Each student selected to participate is an active Little in the Big Brothers Big Sisters program.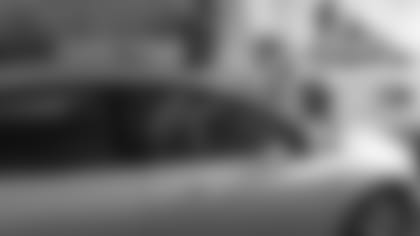 "We're giving out 210 laptops today. Almost 50 percent of our active youth are receiving them," said Sara Alford, CEO of Big Brothers Big Sisters of Northeast Florida. "These are youth that are in every program that we offer, community-based and school-based partnerships, workplace mentorships and Bigs In Badges mentees. The vast majority of our kids are just sometimes under-resourced and so with the way the world is working right now, especially how digital-centric we are for work and socialization in school, this is an incredible leg up for them for the school year and will help make them successful."
Parents and kids drove by and waved hello to Posluszny, Jaxson de Ville and members of THE ROAR of the Jaguars. Their new laptop and additional school supplies were loaded into their trunk to take home and begin the new school year.
"We want them to know that the opportunities for them are truly endless," said Posluszny. "They might not have the chance to see that every day, but it's organizations like Big Brothers Big Sisters and the Jaguars Foundation that give those kids an opportunity to see what is truly available to them and let them know that they have the potential to do whatever they want as long as they are willing to work for it and dedicate themselves to it."